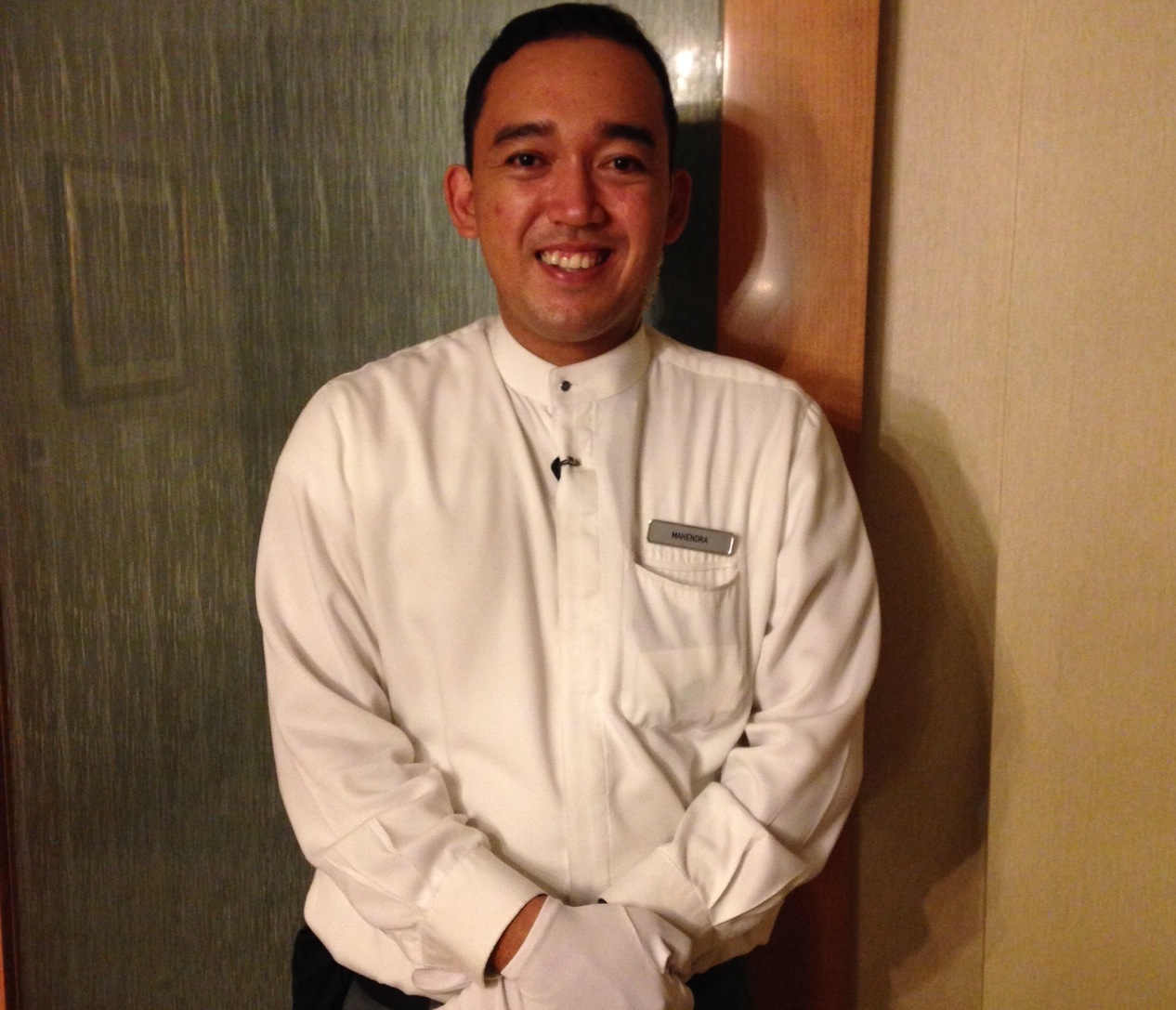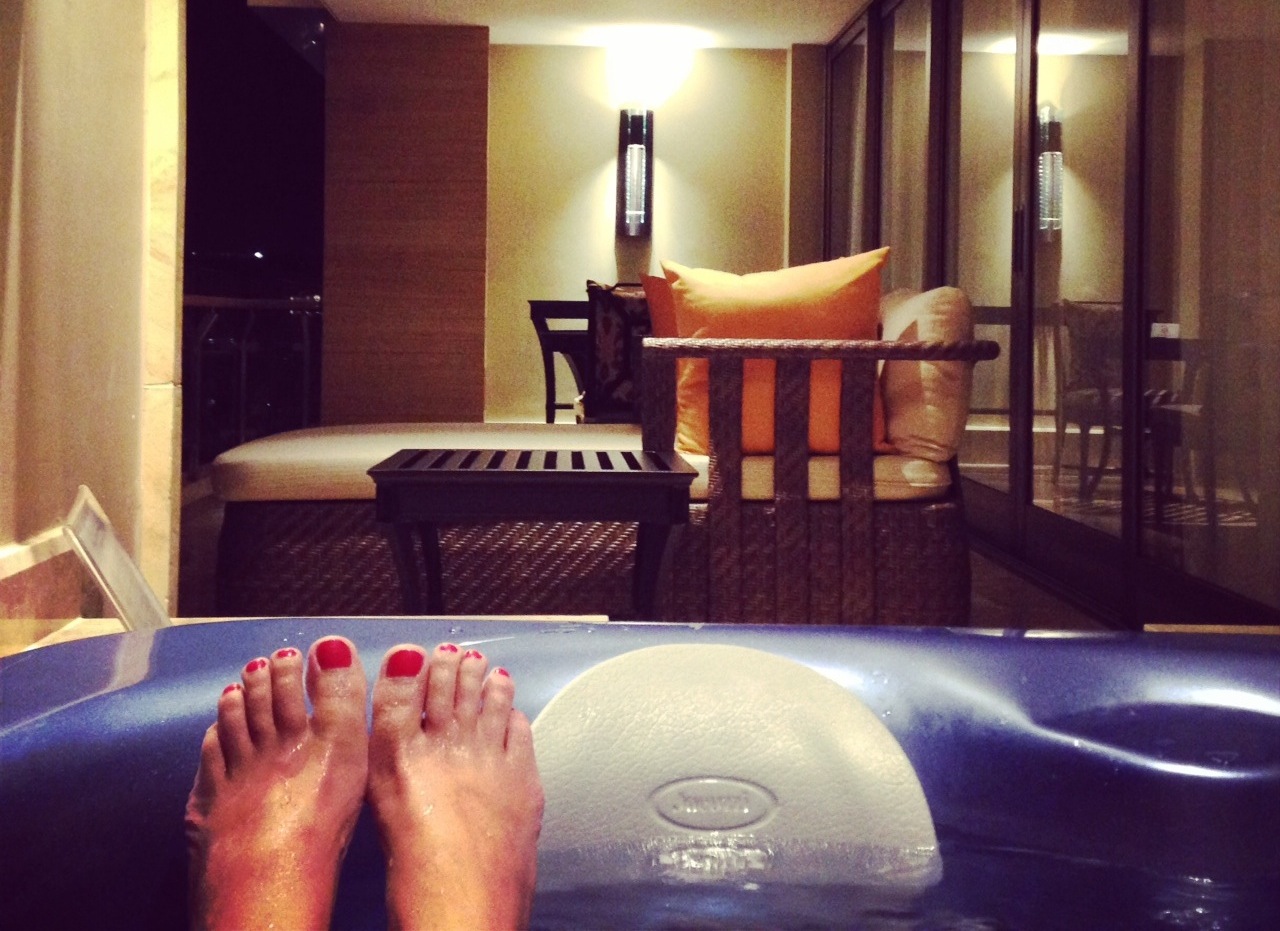 Americans are not very good with help. I don't mean the somebody-needs-an-intervention kind of help, but rather the people who help us – as the popular Emma Stone-starring movie put it: "The Help." Though I, for example, would be considered by many to be a take-charge kind of person, when it comes to ordinary things like ordering a drink or telling the eyebrow threader to leave a little left, I sometimes hesitate and get shy: In our democratic society, is it right to order anybody around?
So as I headed off to my suite at the five-star Mulia hotel in Bali to snuggle down in the lap of beachside luxury for a week, I was slightly anxious about one thing: I'd have a butler. This is understandable, as it's been almost a century since anyone in my family spent any time fretting over butlers. (Grandma's aunt, a well-known Minneapolis socialite, had married the inventor of Alka-Seltzer and moved into a butler-equipped mansion in Beverly Hills, but that was quite a while ago.) My mother was of no assistance, suggesting via email that maybe I'd want to run away with the butler. I wasn't sure if she'd been watching too much Downton Abbey, if she's that desperate for me to find a man, or if this is simply 21st century parenting. I put her off with some excuse about not wanting to jeopardize the butler-client relationship.
The truth was, as a self-sufficient 21st century woman, I had no earthly idea what to do with a butler. Would he fluff pillows? Help me into a cumberbund? Prod me awake and fix me raw-egg concoctions after a late night? Would he even be a "he"? Should I address him in a fake upper-crust English accent – and if so, was "Old Boy" or "Old Chap" more proper? Did I tip him every time he lit my cigar or turned my private outdoor jacuzzi into a rose-scented bubble bath? Could I dictate Instagram entries to him while I lounged in said bubble bath? Could I call him Jeeves? I only hoped the hotel would have some kind of handy pamphlet, or at least a link to a recent Buzzfeed post, titled something like: "Making the Most of Your Butler in 10 Easy Steps."
As it happened, I needn't have worried. As soon as I arrived, I was whisked to check-in, then casually placed into the care of my butler: "Let us know if you'd like to dine in your room or in the Café – your butler can arrange it." Before I had a chance to stutter, "Butler?" he glided up. I knew him by his spotless white gloves. He was young, perhaps in his early thirties, with a big, genuine smile and and a name tag that said "Mahendra." He hoisted my backpack and lead me upstairs to my suite, chattering genially the whole way while I tried my best to act like the situation was totally normal.
Mahendra gave me a tour of the suite, which, given that it was about twice the size of my New York apartment, I actually needed." And now for the best part", he announced with a flourish, throwing open the doors to the private balcony. We stepped outside and took in the view, which looked over what seemed like several acres of pool, and many acres of sea beyond that. Mahendra pointed out the cabanas. "I know where I'll be tomorrow," I enthused. "Can I make a reservation?" He informed me that they were first-come, first-serve. "Even if I call my butler?" I teased. "Well, I do have some connections down there," he replied, winking. We were already joking around… This was going perfectly!
After pointing out a few more essentials, like the location of the room service menu and the direct "Butler" line on the telephone, Mahendra took his leave. "I'd like to thank my butler," I announced, producing a couple of dollar bills that I'd sneakily extracted earlier (wallet-rummaging being one of my most anxiety-producing aspects of tipping). He ducked his head and protested with his hands: "Oh no! But if you need anything, just call – I'll be there." Apparently I had a friend, and I didn't even have to tip him.
The next day I met a female butler, Rani, who was manning the morning shift – Mahendra would be back in the afternoon. Rani wore a crisp white shirt with a pressed gray skirt and bright red lipstick, and she'd styled her hair in a neat chignon. I found myself wondering if I should try to popularize the butler-chic look in New York (minus the white gloves). Rani told me Mahendra had mentioned me to her. "And?" I asked breathlessly. "He said you were a very nice girl." I felt thrilled at my butler grapevine popularity.
Later I asked Rani to help me with a few things – extra hangers for the closet and a long extension cord so I could laptop away from the cushy all-weather love seat on my balcony. "Do you need me to unpack your suitcase?" she inquired, and with deep regret I told her I'd already done it myself. "Well, we can at least store your bags downstairs so you have more room," she said brightly. My walk-in closet was pretty giant already, but hey, why not! When I returned later, I found that not only had Rani removed my luggage, but she'd corrected my messy clothes-folding job in the walk-in's drawers – my wardrobe now delightfully resembled a GAP ad.  
It didn't take long for me to suspect that one requirement for butler-hood at the Mulia was a strong mind-reading ability. Heading off my second night to dinner at Edogin, the Japanese restaurant that's one of a half-dozen places to eat on-site, I waltzed into the lobby and flagged down a golf cart to drive me there. As the buggy pulled up, I gasped in surprise – there was Mahendra, driving it himself, having anticipated my reservation. He might as well have jumped out of a cake.
The next day, as I emerged from boot camp class, there stood Mahendra waiting for me at the exit looking fresh and jaunty in his white button-down and gloves. How did he always know where I was? I wondered aloud, feeling tickled. He smiled a mysterious smile – apparently butlers have their ways. And apparently I wasn't the first one to notice: "Guests sometimes ask me, 'Are you a detective?'" he laughed. As he hefted my gym bag, I felt like I'd acquired not a P.I. but the best kind of platonic high-school boyfriend: He waited for me after class, carried my things, and laughed at my jokes. I could really get used to this.
As the week wore on, a funny thing happened: I got better at being waited on. My thinking changed so much that as I jammed a capsule into the Nespresso machine or puzzled over showerhead technology that might be better easier to understand with a physics PhD, I found myself wondering if there wasn't someone who could take care of these pesky tasks for me. And I knew that at the jab of the "Butler" button, there would be.
It was strange, too, that I – occasionally more impatient than I ought to be – didn't mind the constant attention and daily butler chitchat. Sure, I had to be on perennially polite behavior, channeling Lady Grantham as I made sure to treat the staff graciously and respectfully, but their genuine pleasantness turned out to be contagious. It was funny how having clearly defined roles – I asked, and they served – made all these social interactions much easier than with, say, my local New York barista. In just a week, I'd become the kind of person who could use "butler" and "cabana" in a sentence without breaking out laughing.
It made me think that maybe my usual discomfort in asking for things is because nowadays, in the U.S. anyway, we're all expected to treat each other as equals, all the time. It wasn't that I thought I was better than Mahendra and Rani, or that they felt inferior. It was just that when they were on duty we each knew our respective roles, and consequently, we had a much easier time fulfilling them. I'd expected to kick up my heels and get a tan in paradise, but I hadn't imagined I'd come away with a sense of how to be a better customer – by feeling more comfortable in my position being the one asking for things. You might call it the Mulia butlers' parting service.
Read these luxury travel stories on Food Republic: