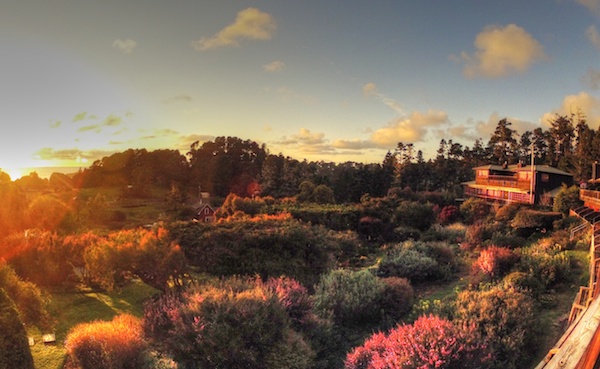 Over the next two months we'll be taking a, shall we say, laid-back look at the California lifestyle with the help of our sponsor Hangar 1 Vodka. This series, Grilling It Up, is a look at some classic Cali grillables (read: not your ordinary grill fare) along with fantastically paired Hangar 1 cocktails.
Los Angeles native Sid Garza-Hillman doesn't just preach a healthy California lifestyle—he lives it. His book, "Approaching the Natural: A Health Manifesto" gently guides readers towards a more grounded mental, physical and emotional way to live by focusing on health and nutrition. He works as a certified nutritionist and program director at the Mendocino Center for Living Well on the Pacific Ocean. In between recording his widely popular podcast, foraging for mushrooms, and working with private clients, Sid came up with a tasty and nutritious grilled vegan Cauliflower Napoleon recipe for us, and an old-school Hangar 1 Vodka martini to pair with it. Though his emphasis is always on health, he believes that cocktails are one of the modern world's pleasures. We couldn't agree more. 
How do you use food to help you stay fit?
On my podcast and in my book, I repeatedly say that food is the foundation of health. For me, nutrition accounts for about 80% to 90% of fitness. How you support your body nutritionally is first and foremost in the body's ability to be healthy. Exercise is fantastic when it enhances one's health and happiness, but can easily be very stressful (and potentially harmful) if the body lacks the tools (i.e. nutrients) it requires to perform the exercise efficiently and with minimal wear and tear.
What was the inspiration for opening the Mendocino Center for Living Well? 
Joan and Jeff Stanford started the wellness center as an expression of their values—to teach and help enable guests to engage more fully in life in compassionate and conscious ways. A few years ago they asked me to come on board as a Program Director and Nutritionist to help brand and promote the center, and  create and develop programs, classes, and retreats (cooking, nutrition, art playshops, gardening, Chinese medicine, yoga, and more). 
How does living and working in California inspire you? 
I am a California native, so part of the picture is that it just feels like home to me. The diversity of the California landscape and climate is also incredibly enriching and inspiring. On top of that, Mendocino is one of the most beautiful counties ever, so I'm appreciating California even more since moving here eight years ago!
Can you talk a little more about the foraging and cooking classes at the Mendocino Center for Living Well?
At MCLW we offer mushroom foraging walks or nature walks (depending on the time of year). The general public can sign up for these year round and literally head out into the forest with one of our incredible guides who point out some of the thousands of wild mushroom species and wild edibles local to our area.
MCLW also offers plant-based cooking classes throughout the year (both individually scheduled private classes and set-date group classes). I work directly with guests to create a class that fits their interests, covering everything from sauces, soups, dressings, and desserts, to baking, vegan cheeses, plant-based comfort foods, fine dining entrees, raw chocolate and more. Upon arrival, guests head into the kitchen with our Chef Instructor for a hands-on, super informative and fun class!
What are your tips for making a BBQ memorable?
Use a wide variety of plants not typically used. People tend to stick with the potato/corn/burger (veggie and not) model, but we love the out-of-the-ordinary BBQ ingredients like cauliflower, portobellos (and other mushrooms—oyster, trumpet royale etc.), zucchini, red onion and more…Add to that plant-based cheeses, sauces, and marinades and it gets ridiculous (you know, in a good way). Also, hang out with whomever is stationed at the grill, for crying out loud.  Don't leave them stranded and alone…Come to think of it; I probably should've dealt with this in therapy.
You're a certified nutritionist; can a cocktail fit into a healthy diet?
A cocktail fits into a healthy diet in much the same way that coffee, processed/refined plants, or meats do. I've found a balance whereby I can enjoy a drink now and then (coffee too for that matter) in a way that does not compromise my health and fitness. The fact is that some things we consume in the modern world are purely for pleasure, and cocktails are one of these things. It's about finding a balance with them such that they don't compromise your health and happiness.
Grilled Cauliflower Napoleon
Grilled cauliflower forms the base for stacked garden vegetables. If desired, vegetables can be oven roasted and quickly finished on the grill before serving. Take special care with the tomatoes.
The following "cheese" and sauces should be prepared ahead of time:
Hemp Ricotta
2 cups

Hemp Seeds
½ cup

Vegetable Stock
½ cup Filtered Water
1 Lemon, juiced
1/2 T Golden Balsamic Vinegar
1t Ume Plum Vinegar
½ T Salt
2 T Olive Oil
½ t White Pepper
1 T Dried or Fresh Basil, minced
1 T Fresh Chives, chopped
1 T Fresh Thyme, minced
1 T Dried or Fresh Oregano or Marjoram
2 T Nutritional Yeast
½ to 1 t White Mellow Miso Paste
Add all ingredients into food processor except herbs
Blend until smooth, then fold in herbs 
Balsamic reduction
4 cups Balsamic Vinegar
1 cup Maple Syrup
1 cup Red Wine
Pinch of Salt
Cook on medium flame in double bottomed pan until reduced to roughly half. Chill before using,
Basil or spinach oil
1 bunch Basil or Spinach
1 cup Olive Oil
Pinch of Salt
Squeeze of Lemon
Steam greens for two minutes
Place in blender and blend with salt and lemon juice
Stream in olive oil slowly until emulsified.  Store at room temperature until use
Grilled Vegetables
Vegetables can be grilled at the same time with the exception of the cauliflower which underlies the dish, and whose flowerets are particularly delicate. Preparation directions are by vegetable.
Grilled Cauliflower (forms the base of this stack of grilled garden vegetables)
3 cauliflowers, green leaves removed. Slice from the head through the stem, each slice about ¾" thick with stem. Slices should be thick enough to allow the florets to remain intact.  
2 T Olive Oil
2 t Salt
2 t White Pepper
Brush each cauliflower lightly with olive oil or use a light olive oil spray
Season with white pepper, lemon zest, fresh parsley and salt
Because cauliflower is delicate, first grill the slices until "grill marked" and then place in a 425 F oven and roast until tender
Grilled Eggplant, Tomatoes, Zucchini, and Red Onion
2 eggplants, peeled and sliced into rounds, ½ inch thick; small Japanese eggplants should be sliced lengthwise
2 T Salt
Salt eggplant and place in a strainer or colander for 10-20 minutes. Let water sweat out in a bowl underneath
Rinse and pat dry, or if there's time, dry at room temperature or in oven for 5 minutes at 350 F
Spray with minimal oil and cookon hot grill for 5 minutes on each side until tender
Grilled Tomatoes
3 Large Beefsteak or other Solid Tomatoes 
2 T Olive Oil
Sprig of Fresh Basil
Dried Oregano
Salt, to taste
Slice tomatoes into ½ to ¾ inch rounds
Let drain for 30 minutes. If smaller tomatoes, cut in ½, drain with cut side down
Lightly spray or brush with olive oil, then season with salt, basil, and oregano
Place on grill, cut side down if small ½ tomatoes, turn after 4-6 minutes, and continue grilling until tender
Grilled Zucchini
2 Zucchini, sliced on a bias, ½ inch thick
1 T Olive Oil
Thyme
Salt, to taste
Season zucchini with thyme and olive oil
Grill 4-6minutes per side or until each side has grill marks and the slices are tender
Grilled Red Onion
2 Red Onions, thin skin layer removed and sliced into ½ inch slices
2 T Olive Oil 
Spray or lightly brush onions with olive oil
Grill each side 4-6minutes or until each side has grill marks and the onion slices are tender
Presentation
Two Bunches of Arugula, rinsed and drained (can use spinach, radicchio, mixed greens, etc.)
¼ cup Chopped Parsley or Chives for garnish
Calendula Flower Petals
Grilled Vegetables:

Cauliflower
Tomatoes
Zucchini
Eggplant
Red Onion
Place the greens on a plate
Set cauliflower on top of greens and begin making layers with the roasted vegetables using the hemp ricotta in between the layers as the "glue" to hold together the vegetables
Drizzle with herbed green oil and balsamic reduction
Garnish entire dish with chives or parsley and a light sprinkle of Calendula petals
Vodka Martini (after all of that hard work!)
In a mixing glass, pour in the vodka, dry vermouth and a scoop of ice. Stir gently (James Bond had his reasons for shaking a martini, but they were flat out wrong) for 18-20 seconds. Strain into a chilled martini glass, garnish with olives.