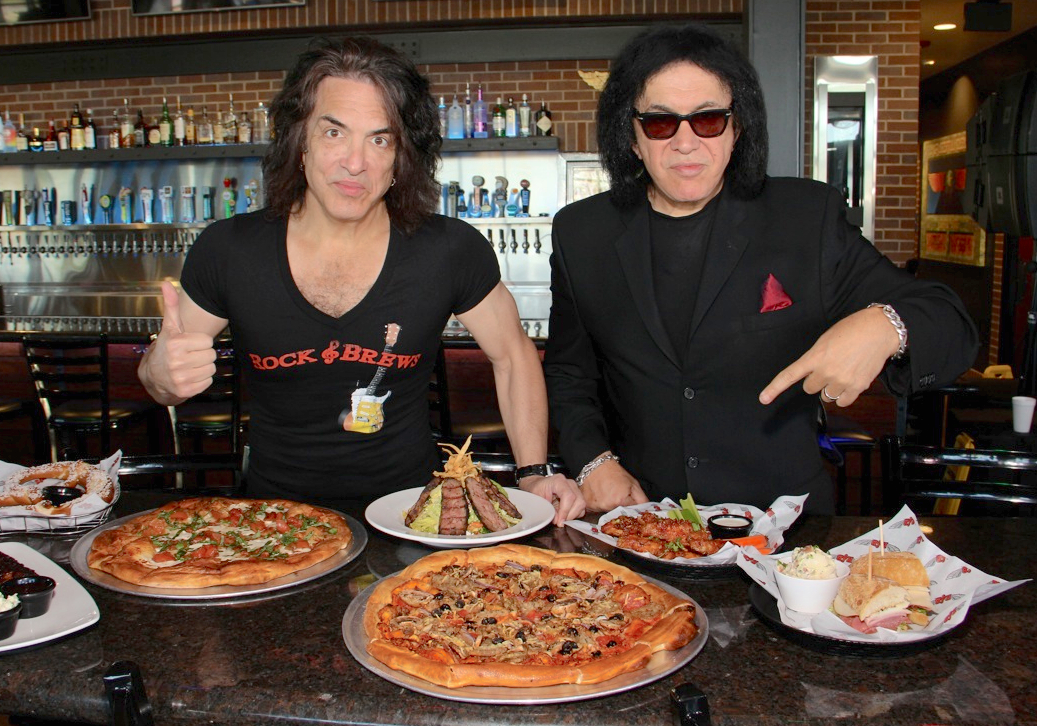 There are questions in life that always require you to say yes. "Do you want fries with that?" Yes. "Would you prefer to be seated far away from the mariachi band?" Yes. "Do you want to go to Kansas City with Gene Simmons and Paul Stanley from KISS as they open up a new location of their chain restaurant Rock & Brews?" YES.
I was asked that question a week ago. Nine days later I was on a plane from LA to Kansas City with two men who have made millions off of nocturnal rocking, spandex and face paint.
My first glimpse of rock royalty comes just past the cluttered security checkpoint at LAX. A tall 64-year-old Jewish man in a black blazer and even blacker hair is making his way through the terminal and leaving all sorts of hushed whispers in his wake. "That's my first celebrity sighting!" says one guy excitedly. "It's him! It is! It is! It is!" says another woman who must think that saying the man's name would make him disappear like some sort of reverse Beetlejuice. It's Gene Simmons, the top-knotted "Demon" who first made a name for himself with his trademark tongue and continues to stay relevant with reality shows, over-the-top KISS merchandise (*cough* the KISS Kasket *cough*), and, now, a chain of burger and craft beer restaurants that serves as temples to classic rock, but with chocolate-filled beignets instead of communion wafers.
As I continue through the terminal to the first airport location of Rock & Brews, I see the beginning of what becomes a monotonous ritual: Simmons shows up somewhere, fans approach to take photos with him, Simmons obliges, Simmons leaves. Over the course of three days, I feel like I see Simmons and Stanley take roughly 14,000 photos with fans. The poses and gestures change slightly, but the end result is pretty much the same: Midwest Molly (or Southern Sally or Northwest Nelly) gets to prove to all of her social media friends that she met an aging Rock God. The amazing part is that I buy into it, too. It IS exciting to be around these guys. When it comes time to take my very own photographic memento with Gene and Paul, I'm genuinely excited – until I see the result the next day. It looked like this:
I assure you that no directions were given when taking the photo, but I like to imagine they would have been something like: "Gene! Stand there as if you're a cardboard cut-out! Paul! Choke Jason! Jason! Look like you might be hiding a secret about your sexuality!" While I can't say that this photographic masterpiece (by famed rock photog Mark Weiss, no less) will be framed on my wall, I'm at least glad to have evidence that I once spent three days with the only two members of KISS who have been there since day one.
Rock & Brews is the corner tenant of a brand-new complex called Prairiefire in Overland Park, KS, an upscale suburb of Kansas City. If you ask Gene, Prairiefire is about the stupidest name in the world for a place like this, but that's why it's a bad idea to ask Gene. In the grand scheme of chain restaurants, it's just in its infancy: a few stores in California, one in Mexico, another in Hawaii and now Overland Park. This is just the beginning, though. There are franchisees salivating at the chance to open their own Rock & Brews and plans for locations all over the US and beyond. Kirk Williams, an amiable Kansan who started in the franchise game with a whole slew of Wendy's locations, owns this Rock & Brews location and his excitement is palpable from the moment he starts talking.
"When I got out to California and tried the food, it all seemed to come together for me," he said. "I love the classic rock and roll, I love the fact that the concert footage is on the TVs, I love the craft beers. But the food is really so many steps above what people have unfortunately come to expect in the sports bar/casual arena." As I come to find out, his excitement is shared by pretty much everyone who works with Rock & Brews on every level. There's a feeling amongst everyone that this is going to be the next big thing in the chain restaurant world and the key to that success seems to hinge on the celebrity endorsement of Gene Simmons and Paul Stanley.
When we arrive Wednesday night for dinner with most of the partners behind Rock & Brews, the place erupts. I've been to a lot of chain restaurants in my life and never felt that kind of kind of energy. The mere presence of Simmons and Stanley is enough to make it feel like a concert is about start at any minute. Instead of an impromptu trip to Detroit Rock City, though, we eat delicious Asian wings, BBQ chicken flatbreads and all sorts of other kitschy rock-themed menu items while the collective population of Overland Park pretends they're not staring at us. Before we eat, Gene and Paul take photos with fans. After we eat, Gene and Paul take photos with fans. It's a non-stop bonanza of capturing these two guys on digital film (and tonight isn't even the main event).
The KISS guys are shuttled away before I get the chance to talk to them. In the only true Almost Famous corollary of my visit, I'm promised twice more a chance to talk to them before I actually get to find out if these two are just there to collect paychecks or if they actually like food.
Finally, after a benefit lunch where Wounded Warriors and assorted veterans of the armed forces are treated to pulled pork sliders and family-style bowls of Strawberry Fields salads (as well as a super-generous check to the KC V.A. for $25,000), it's time to talk to Starchild and The Demon.
The first thing I learn is that these guys are really good at being professional spokesmen for the brand. "I don't know if you've had any of the food," Simmons says, "but it's goddamn good." He goes on to extol the virtues of their gluten-free pizzas while Stanley talks up the sweet potato fries. It feels less like an interview and more like a living infomercial hosted by celebrity endorsers. Talking point begets talking point. It becomes very clear that Paul Stanley cares a lot about the food (he uses the word "mouthfeel" like a pro) and Gene Simmons cares a lot about marketing the restaurant. "It's a division of labor," Simmons says before he launches into a harangue about the care they take in selecting their franchisees. Then, finally, something awesome happens.
We start talking about food – not Rock & Brews food – but food as a concept, and I get to see who these guys are behind the corporate mask. "He's on the Chet Atkins' diet," Paul jokes when Gene starts talking about the types of food he really likes (pizza, cake, burgers, etc.). I find out that Paul is a legit food-lover who can name-drop Spago, Mozza and Robuchon before proclaiming Vegas as the world's best food city. He gives a shout out to The Weiner Circle in Chicago and Per Se in the same sentence, then declares: "It's not about anything other than a great experience, whether it's eating a hot dog or Thomas Keller."
A few minutes later, we get into the idea of food as memory. I learn that Gene's favorite food growing up was fasírt, a Hungarian version of a hamburger on slightly-toasted pumpernickel that his mother used to make with chopped onions and homemade hot mustard spiked with horseradish. I find out that Paul was a heavy kid growing up and tried his hardest to get his immigrant parents to give up the local bakery and buy him some good ol' American Chips Ahoy. We talk about school cafeteria cheesecakes and blintzes with cottage cheese and cookies from Jewish bakeries in New York that still taste the same after decades. We turn into three regular guys debating the real nature of what food means in people's lives. "There's more to it than just stuffing your face and running out," says Paul. And he's right. When the publicist comes to remind Gene of an impending radio interview, I'm genuinely bummed that the conversation has to end.
That night, Rock & Brews Overland Park celebrates its grand opening with a massive party. Drinks are flowing, wings are winging and KISS performs. Well, not actual KISS – "Almost KISS," a KISS tribute band. They play a full set for the assembled crowd in full KISS makeup and costumes. In what may be the most surreal rock experience of all time, Gene and Paul get up onstage for the first song and belt out "Rock And Roll All Nite" with Almost KISS as their backing band. It's a perfect metaphor for the entire trip. When you really think about it, a new location of a chain restaurant is just a cover band for the original success story. If Rock & Brews didn't take off in El Segundo, CA two years ago, there wouldn't be any franchises at all.
With Gene and Paul lending their celebrity to the brand, it appears there's going to be a KISS Rock & Brews Army spreading through the world soon enough. For business-minded rockers, that means more photos with fans, more pizzas named after rock songs and more trips to America's legion of suburbs hungry for new chain restaurants in which to watch old music videos of Poison and the Dave Matthews Band. All this brings up a new question: are Gene Simmons and Paul Stanley at the helm of America's next big chain restaurant? It's looking more and more like the answer is yes.
More hanging out with bands on Food Republic: