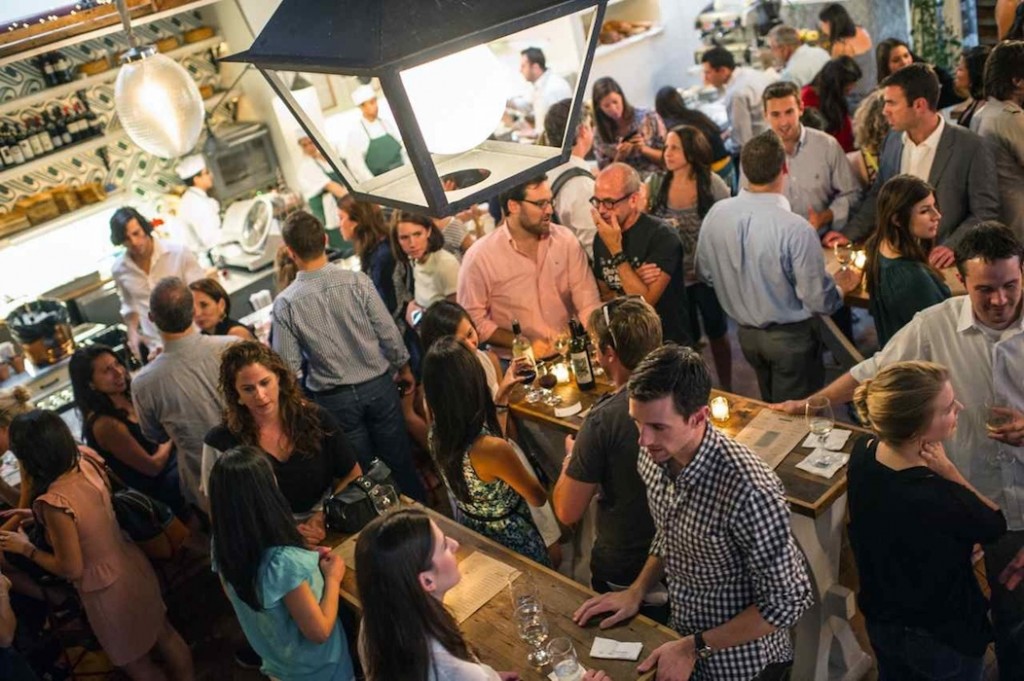 Restaurateur Amanda Cohen is incredulous about the idea of her diners having to pay a fee simply to make a reservation. "I think it's the funniest thing I've ever heard," says Cohen, chef/owner of New York's 18-seat vegetarian oasis Dirt Candy.
Not funny enough, though, for Cohen to blow off this bold new experiment in Big City dining.
Cohen's hard-to-book East Village venue is one of at least 50 NYC restaurants currently partnering with Zurvu, a new service that helps customers snag otherwise improbable reservations at some of the city's most notoriously tough-to-crack hotspots. For a modest fee, of course.
The $5 service charge allows diners to bypass the usual rigmarole of haggling with a reservationist over the phone, often weeks or months in advance, or competing with countless other customers on a free booking site such as reservation giant OpenTable.
As uncomfortable as she might be with the whole pay-to-play concept, Cohen says the service does make her life a little easier. A hands-on kind of owner, Cohen generally handles the reservations herself. "We can't afford to have a reservationist," she explains. And, amid all the other hectic duties involved in running a restaurant, she can't always find the time to negotiate with patrons over seating times on the phone. (On an average night, Cohen says she turns away about 30 to 40 would-be customers.) "Sometimes, someone will call and say that they want to come any day this week. That's hard for us to enter, especially in the middle of service, but now we can just send them to Zurvu," she says.
Under the conventional model for online reservations, Cohen normally would have to pay her own sort of "convenience fee" to have some internet service interact with reservation-seekers on her behalf. OpenTable, for example, charges restaurateurs about $200 per month in addition to $1 per reservation for the privilege of participating in its popular booking service. (Dirt Candy participates in the OpenTable system, as well.)
Zurvu, however, doesn't charge her a dime for its "patent-pending" booking service. Instead, the cost of the service is passed on to the customer (via the $5 fee); Cohen and Zurvu split the proceeds.
Zurvu founder David Levin says the $5 fee further decreases the likelihood of no-shows. (Guests who cancel four hours in advance are refunded in full, he notes.)
Zurvu's new type of business model is one of several recent efforts by the tech sector to shake up the online reservation status quo, as we know it. A similar service, called Resy, backed by Eater.com co-founder Ben Leventhal and WineLibrary.com founder Gary Vaynerchuk, is expected to launch later this summer. Both services are attempting to legitimize an already active and largely unregulated online marketplace for scalpers looking to cash-in on the high demand for scarce seating in the city's most sought-after dining rooms.
The rise of these new sites casts a rather unflattering spotlight on just how useless the usual mechanisms for booking online can be. Looking to score a table at one of NYC's "hottest" restaurants for your birthday in three weeks? Chances are that OpenTable will have limited options. You can likely forget about a meal at Bobby Flay's Gato or Sushi Nakazawa, altogether. If you're lucky, you might be able to squeeze into a 5:45 or 10:30 seating at Carbone or Betony. Maybe.
That's because high-profile restaurants like these are saving their primetime seats for VIPs; the average Joes on OpenTable are merely jostling for the leftovers.
"The idea that restaurants are democratic today is a myth of epic proportions," says Resy's Leventhal. "Save for a small percentage of tables, what they're not doing is offering them up to the general public."
Leventhal's forthcoming service aims to flip the script, by giving restaurants a financial incentive to make more tables available online. Like Zurvu, Resy will be sharing a cut of its service fees with partnering restaurants.
Exact figures are unclear, as the Resy system has yet to launch. But preliminary indications point to a more fluid type of payment structure than Zurvu's flat $5 fee. According to figures provided on Resy's promotional web site, a premium table on a Saturday night could cost $25 per person, compared to $10 on a Tuesday. Leventhal says the daily cost differential would be comparable to other forms of entertainment. "If you go to the theatre on a Saturday night, the tickets are more expensive than they are for a Wednesday matinee," he says. "Shouldn't restaurants be allowed to improve the business model?"
The emergence of apps like Zurvu and Resy appears to follow the path blazed by popular ticket site StubHub. Realizing that ticket scalping was both inevitable and widespread, StubHub became Major League Baseball's "official secondary ticket marketplace" in 2007. Since then, the site has become the undisputed leader in secondhand tickets to sporting events and theater productions outside of the traditional box office or ubiquitous Ticketmaster online service.
Like professional sports, the restaurant industry presently faces its own realization in regard to scalping and the collateral costs associated with it. A coveted 8 p.m. Saturday table at The Clam in the West Village is no longer just a "dinner reservation." It has become an asset, capable of being resold online for a significant upcharge. One such scalper-friendly site, called Shout – described as "a new kind of marketplace" – reveals tables available this week at hotspots Narcissa, Mission Cantina, The NoMad, Carbone, Toro, Bar Bolonat, Gato, Minetta Tavern and Dirt Candy, for prices ranging from $20 to $60 (yes, that's just to sit). The restaurants are unable to do anything about their tables being shopped on the open market, and, in many cases, are entirely unaware of the reservation ever exchanging ownership. For example, several of the restaurants listed on Today's Epicure – an app that charges an annual fee of $1,000 and makes reservations under pseudonyms for its members – expressed surprise that their tables were available on the site.
The recent rise in this type of unregulated reservation scalping poses serious consequences for restaurants. "Reservation scalpers, especially those masquerading as legitimate restaurant reservation platforms, threaten to gouge prices and increase no-shows as these scammers waste slots they often never sell," says Zurvu's Levin.
By partnering with Zurvu, Resy or a similar service, restaurants can better ensure that precious seats are going directly to people who want to dine there—and will actually show up to eat as scheduled.
So far, restaurateurs appear to be taking a cautious approach with these new pay-to-play services.
Paul Shaked, co-owner of Nolita's popular newcomer The Cleveland, for one, has been careful to not sacrifice too much of his prime seating real estate in the name of progress. Shaked reveals that the venue has just "a couple of tables set aside for Zurvu" and makes it clear that he "w[as] sure to not get rid of any of our walk-in tables."
So, what exactly does the future hold for the increasingly crowded field of restaurant reservation methods? Shaked speculates that he "can see a scenario in which there's a symbiotic relationship between OpenTable and products like Zurvu." In March, OpenTable debuted its own alert system – called "Hot Tables" – that notifies users when custom requested tables become available. Seeing that the program caters towards "impossible reservations," there is overlap between the established OpenTable and the newer kids on the block.
Selling "tickets," similar to the system employed by Grant Achatz's Chicago fine dining establishments Alinea and Next, is another option. Such a system—which charges customers the all-inclusive price of dinner before seating— would remove the negative stigma that might otherwise accompany an à la carte "convenience fee" associated with the simple act of booking. Dirt Candy's Cohen says ticketing "is a smart thing, especially if [the restaurant] has a tasting menu."
Of course, all this noise about the possibility of paying for restaurant reservations might simply take the route of countless other dining gimmicks and soon fizzle. Only time will tell. Until then, you'll find us still searching for that elusive 8 p.m. slot at ZZ's Clam Bar.
Read about restaurant openings on Food Republic: