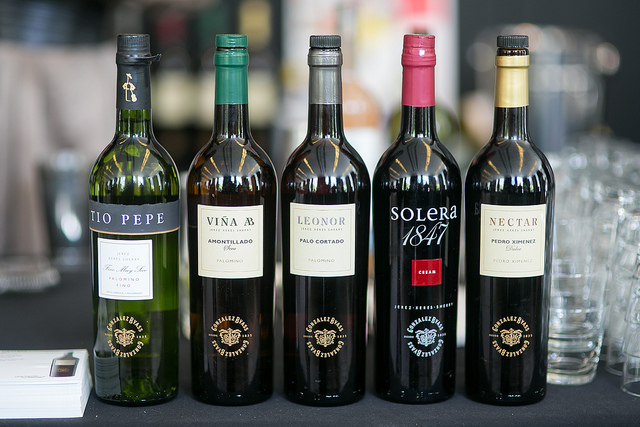 Bartenders across the country want you to drink more sherry, and with good reason.
The lightly fortified Spanish wine, which slowly fell out of popular favor around the middle of the 20th century, has been making a comeback in recent years as more and more people are "rediscovering complexity," says Derek Brown, owner of the sherry-centric bar and restaurant Mockingbird Hill in Washington, D.C., and one of the nation's most outspoken advocates on the subject.
With multiple vintages blended together, sherry contains more compounds than most wines, Brown explains: "It's not Pinot Grigio. It's not Chardonnay. But, that makes it a shade more interesting, I think."
Versatility, too, is a big reason for sherry's resurgence. Styles range from bone dry to syrupy sweet, meaning there's an expression to suit everyone's fancy. Brown also believes it pairs beautifully with all kinds of food. "I believe it's the best pairing wine in the world," he says. "That's part of Sherry's charm and something I think more people will embrace: Sherry should be drank alongside a meal."
It also works exceptionally well in cocktails. "We've been mixing it in drinks practically since it came to America," says Brown, noting that sherry was the first wine to arrive in the New World aboard Columbus' ships. Offering such a broad spectrum of flavors, Brown says sherry goes with "the full gamut of liquors." His favorite is the "crisp, almost-salty Manzanilla with tequila, or using a rich, sweet PX as a replacement for sugar," he says. Sherry also works really well with pear, lemon and bitters of all kinds, he adds.
With the arrival of International Sherry Week (June 2-8), now is a good time to get reacquainted with this historic and all-around accessible beverage.
Spanish Origins And Styles
For the uninitiated, sherry is a wine that's lightly fortified with spirits and aged for anywhere from three to 50 years, or even longer (thanks to the intricate solera aging system, where sherry is rotated through barrels at different intervals, creating blends of various ages).
Sherry comes in a wide spectrum of styles — age, grape varietal and region of origin all influence the final flavor. But, in order to be called sherry, the wine must be produced within the "Sherry Triangle" of Spain, which includes the cities of El Puerto de Santa Maria, Sanlucar de Barrameda and Jerez.
Beyond those parameters, the kind of sherry one might drink will typically fall into one of several categories, separated by the parameters of the aging process.
The first group, which includes Fino and Manzanilla, undergo a natural aging process, wherein the liquid develops a thin layer of yeast, or flor. This yeast stops the wine from interacting with oxygen, keeping the flavors clean and crisp.
Fino is made in the Jerez or Puerto Santa Maria areas from Palomino grapes and aged for approximately four to 10 years. It represents the driest and lightest-bodied category, ranging from about 15 to 18 percent alcohol by volume. Manzanilla sherry is very similar to Fino. But, because it's made in Sanlúcar de Barrameda, a coastal town, a fresh salinity defines its character.
Pairing tip: try fino with fried chicken, says Brown
More medium-bodied styles include Amontillado and Palo Cortado, which take on a darker color and deeper flavor because of oxygen exposure as the flor lining breaks up during aging. Amontillado is still relatively dry, while some Palo Cortados can lean slightly sweet; the alcohol percentage for both hovers around 18 percent.
Pairing tip: Brown recommends Amontillado with Chinese food
The other set of sherry—Oloroso—undergoes an even longer aging process where the flor is intentionally discouraged and the liquid is purposefully exposed to oxygen. This results in a much louder and supple flavor profile with more residual sugar and a high level of alcohol (16 to 22 percent).
Pairing tip: Brown suggests Oloroso with sausage and eggs
Finally, PX or Pedro Ximénez is a sweet sherry made with the Pedro Ximénez grape. The texture is thick and viscous, with a lot of residual sugar, making it a favorite for bartenders to use in cocktails as an alternative to simple syrup or other liqueurs.
Pairing tip: PX goes excellently well with rich desserts.
Cocktail Recipes
Check out the recipes below for cocktail inspiration and let the sherry revolution begin:
"Adonis," created for Broadway's first mega hit show, late 1800s; recipe provided by Derek Brown, Mockingbird Hill, Washington, DC
Ingredients:
2 ounce Alexandro Amontillado
1 ounce Cocchi Torino Vermouth
Dash Aromatic Bitters
Dash Orange bitters
Directions: Stir all ingredients and strain into chilled wine glass. Garnish with orange peel.
"Hartwood Cocktail," recipe by Chris Ware, Arcade Midtown Kitchen, San Antonio, TX
Ingredients:
1 ounce Amontillado sherry
1 ounce reposado tequila
3/4 ounce lemon juice
1/2 ounce pear ginger shrub*
Directions: Shake and strain over a large piece of ice.
*The shrub Ware uses is sourced locally in San Antonio, but Hudson Standard also sells one online: thehudsonstandard.com
Read more about sherry on Food Republic: