N
ot everyday do you hear someone say that their cooking suffered 
after
 moving to Italy, but that was the case for Evangelia Koutsovoulou. When she relocated from rural Greece to Milan, Koutsovoulou no longer had access to the wide range of herbs she was used to cooking with on the Mediterranean coastline. The 29-year-old entrepreneur took matters into her own hands, launching a Kickstarter campaign to raise funds for distributing fresh sage, bay leaf, oregano and thyme around the world. 
Koutsovoulou
 called her company Daphnis and Chloe as an homage to the novel by Longus in the Hellenistic era of ancient Greece. The story revolves around Daphnis and Chloe, whose names correspond to spontaneous plants often encountered in the Greece: Daphne is the Greek word for laurel (also known as bay leaf), and Chloe means grass.
"Greece is where some of the highest-quality cooking herbs grow," explains Koutsovoulou. "Greek oregano, for example, contains up to 30 times more essential oil (a parameter that defines its quality) than other types of oregano found on the market," she continues. Greece is also home to an infinite list of endemic plants. From the legacy of the Vikos doctors to the Cretan elixirs handed down through dialectic poems, Greek folklore is infused with herbal rituals and zestful eats. 
Daphnis and Chloe herbs are hand-picked by Greek farmers and foragers who run small, seasonal operations. Koustovoulou traveled extensively around the country to source her selection, tasting 100 variations of oregano before deciding on a rich, vibrant varietal that grows on the summer slopes surrounding Peloponnese's Mt. Taygetos. The gray-green sage varietal is foraged from Epirus, while a family of experienced foragers collect the whole-bud thyme on the Ionian coast.
Koutsovoulou created a strong brand identity, designing stylish paper foldable bag with a sleek name tag and information card affixed to the front, with the help of designer friends at Apartamento magazine. A tiny yellow sun at the bottom of the card contrasts the blue sans serif type. The aesthetic evokes the cool, blue Mediterranean with its powder-soft white sandy beaches. Fast forward one year from the Kickstarter campaign, and Daphnis and Chloe is available at over 20 stores around the world and online. It's the beginning of an impressive mythology in its own right.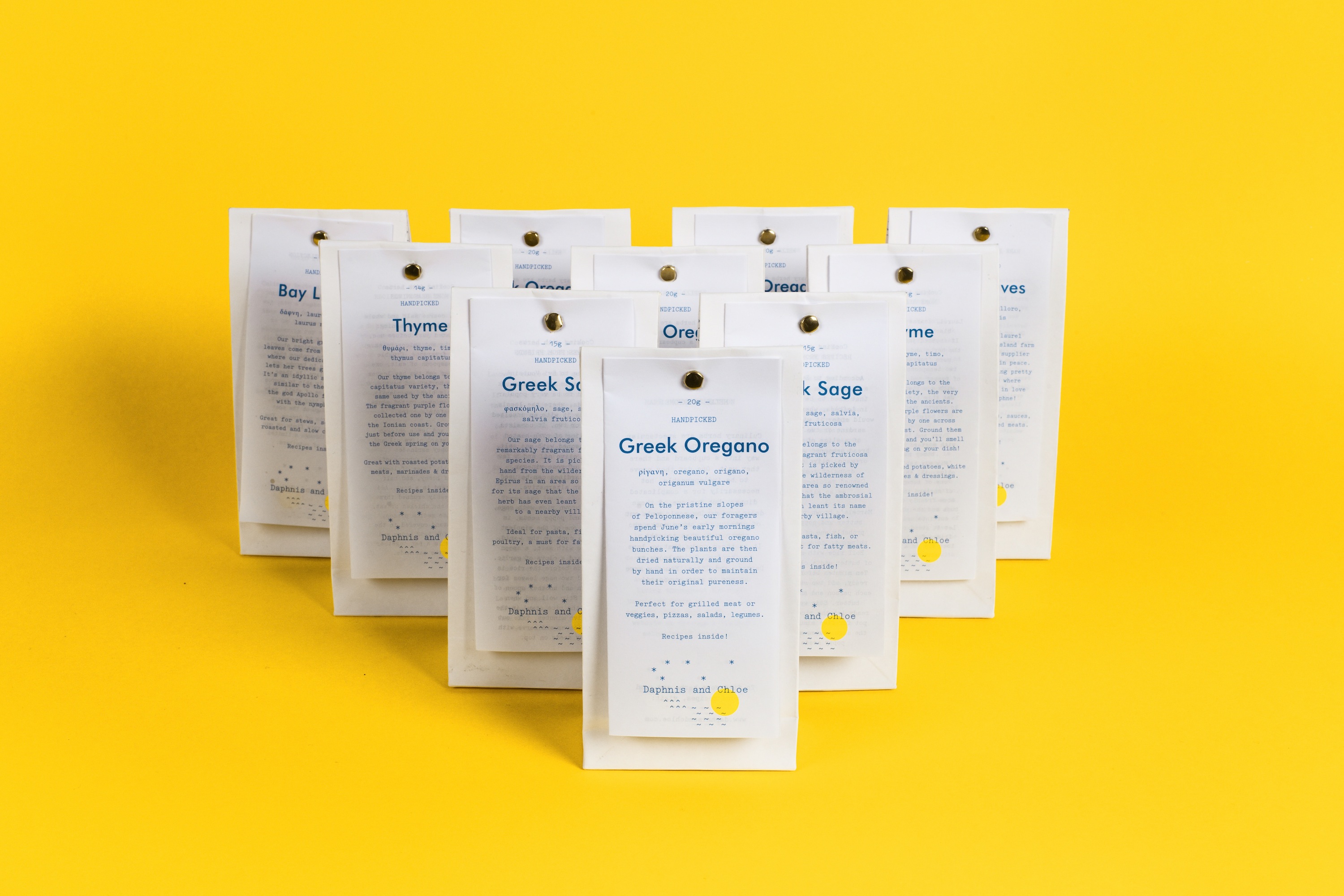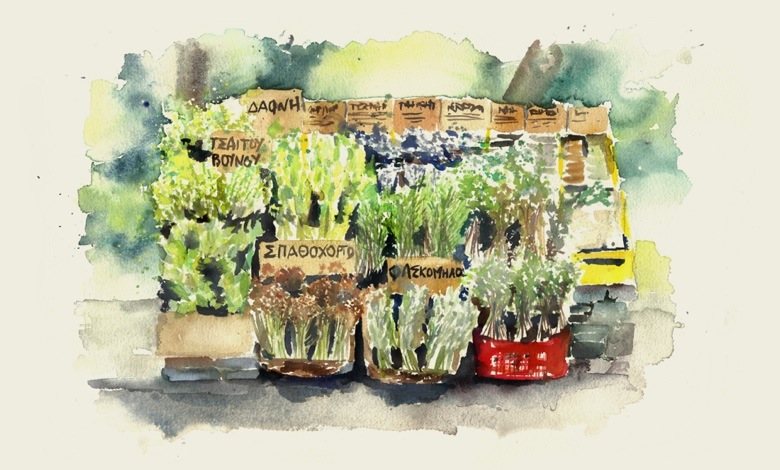 More design coverage on Food Republic: