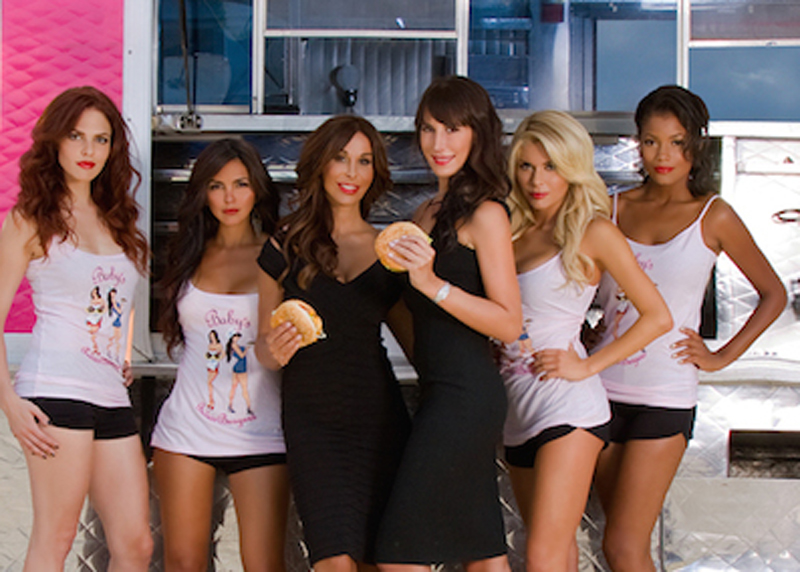 Over the next two months we'll be taking a, shall we say, laid-back look at the California lifestyle with the help of our sponsor Hangar 1 Vodka. This series, Grilling It Up, is a look at some classic Cali grillables (read: not your ordinary grill fare) along with fantastically paired Hangar 1 cocktails.
Erica Cohen and Lori Barbera's fun and flirty hot-pink food truck combines two of Los Angeles' favorite things: beautiful women and burgers. In 2009, Cohen and Barbera took their combined skills as a Hollywood event planner and caterer (Barbera) and ex-New York restaurateur (Cohen) to launch the Baby's Bad Ass Burgers food truck brand. And with a write-up in People magazine plus celebrity regulars like Gwyneth Paltrow, Jay Leno, and the cast of Entourage, the pair is proving that decadent ingredients on half-pound juicy burgers served by women in skimpy (but still health code–approved) uniforms is more about California's commitment to fresh food on the go than sex appeal. 
Ms. Cohen came up with the Original Beauty as the first menu item for the truck after a fruitless search for the "perfect, quintessential cheeseburger." She created her own version topped with sautéed mushrooms, grilled onions, and a secret sauce. Further burger inspiration on the Baby's Badass Burger's seductive menu includes the Hot Mama burger with cream cheese stuffed jalapeno poppers and sides of crispy Sweetie Pie sweet potato fries. We asked Ms. Cohen to come up with something special for grilling month — and a Hangar 1 Vodka cocktail to pair it with. Oh, and she wrote her recipes in pink ink — naturally.
Any tips for grilling the perfect burger?
When cooking a burger, don't flip it until it is seared on one side and never press down on the burger once it is cooked, as it will leak out all the juices!
What's the inspiration behind the food truck?
(Our inspiration is our) amazing gourmet half-pound burgers served by a fun, friendly, and attractive staff…(it's) very playful and a feel-good experience.
How does living and working in California inspire you to create new burger recipes?
There are so many local, seasonal ingredients to work with here that it is always inspiring to create new burgers and take advantage of great produce.
What's the strangest ingredient you've cooked with?
I don't know that I've cooked with that many ingredients that are strange as much as they are decadent. We use black truffles on our burgers and those are certainly a luxurious ingredient to work with!
Who are your biggest fans? 
Our fans really do cover a large spectrum of all ages. One would think that because of the flirty appeal of our truck that our customer base would be male driven, but that's not the case. Women love our burgers and our truck as much as men. I suppose the bright pink truck and fantastic burgers appeal to all!
Baby's Badass Burger
Serves One
Ingredients: 
1/2 lb Ground Angus Chuck meat with 80/20 fat ratio
1 Kings Hawaiian Sandwich bun
1 ounce Shredded Lettuce
1 hearty Slice of Tomato
1 slice of Smoked Cheddar Cheese (can substitute Smoked Gouda)
2 slices of Thick Cut, Crispy Bacon, already fried
1 Egg
1 tsp of Old Bay Seasoning
1 tsp of Chili Powder
1 tsp of Salt and Pepper
1 ounce Russian Dressing (brand of your preference)
Sriracha Hot Sauce to taste
Method:
Hand-shape the meat into a burger patty and sprinkle generously with all spices on both sides.
Cook on grill until medium rare (about eight minutes) or to the temperature of your liking.  
Add cheese and cook until it is melted and gooey.
Grill the bun so it is warm and toasty on both sides.
Fry the egg in a pan until over easy and set aside.
Place the shredded lettuce on bottom bun and then add Russian dressing and a light swirl of Sriracha (more if you like it very spicy!).
Add tomato to the bun.
Place cheeseburger on top and add two slices of criss-crossed crispy bacon on top.
Set the over easy fried egg on top of the bacon.
Finish with the top bun and enjoy.
Hangar 1 Bloody Mary:
Serves One
Ingredients:
1 Lemon Wedge
1 Lime Wedge
2 ounces Hangar 1® Straight
4 ounces Tomato Juice
2 dashes Tabasco Sauce
2 tsp Prepared Horseradish
2 dashes Worcestershire Sauce
1 pinch Celery Salt
1 pinch Ground Black Pepper
1 pinch Smoked Paprika
Celery Salt for the rim
Method
Pour some celery salt onto a small plate.
Rub the juicy side of the lemon or lime wedge along the lip of a pint glass.
Roll the outer edge of the glass in celery salt until fully coated.
Fill with ice and set aside.
Squeeze the lemon and lime wedges into a shaker and drop them in.
Add the remaining ingredients and fill with ice.
Shake gently and strain into the prepared glass.
Garnish with a celery stalk and a lime wedge.