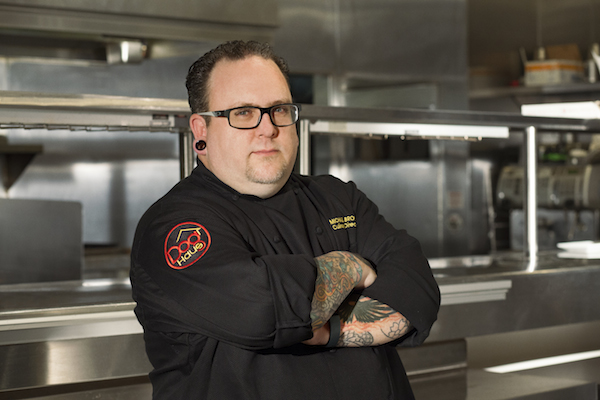 Over the next two months we'll be taking a, shall we say, laid-back look at the California lifestyle with the help of our sponsor Hangar 1 Vodka. This series, Grilling It Up, is a look at some classic Cali grillables (read: not your ordinary grill fare) along with fantastically paired Hangar 1 cocktails.
Michael Brown, the culinary director at Southern California's Dog Haus restaurant, loves to see his edible creations bring someone back to that childhood place of sheer enjoyment. And what all-American food does that more often than a hot dog?  Brown uses 100% Angus beef skinless dogs and tops them with classic Californian ingredients like fresh avocados, leafy arugula and salty cotija cheese. His tongue-in-cheek menu is big on word play, but delivers the gourmet goods—with a side of tater tots. We asked him for some grilling tips and a brand new hot dog recipe, plus a Hangar 1 Vodka cocktail to pair with it. He came up with a fun take on a charcuterie plate in a bun along with a sweet and spicy libation to wash it all down. Oh, and though the Dog Haus currently has three locations in Southern California, the franchise is expanding to Utah and Colorado this year. So a bacon wrapped dog may be coming to your neighborhood soon. Get your inner child ready.
All-time favorite hot dog topping?
I love some sort of chili, topped with some sort of slaw. The hot-cold element to the dogs are a lot of fun for me. I may do a classic country style chili and slaw, or I may go with an Asian inspired chili and slaw. Tons of possibilities!
Any tips for grilling amateurs? How about the pros?
As far as the amateurs go, assuming you are using charcoal, make sure you learn how to properly heat up the coals in your BBQ grill for optimum heat and flavor. Make sure your actual grill is not too high above the charcoal when they are ready, and make sure your actual grill is clean and well oiled or sprayed, so the meat doesn't stick. If you are a pro and you have the basics down, then experiment with different cooking temperatures, times and flavors. Experiment with hardwood chips for flavor (hickory, apple wood, cherry wood, etc.)
What about living and working in California inspires you cooking wise? 
Everyone loves to live and work in California for many reasons. My reasons have to do with the bountiful fresh produce that grows in the state year-round and excellent local varieties of seafood, harvested only a few miles away. Many people in California have advanced palates when it comes to food. They appreciate the quality of ingredients and the combination of flavors being created by local chefs. Over 300 sunny days a year in Los Angeles doesn't hurt either!
What makes a great BBQ?
A great BBQ starts and ends with quality. The quality of the food, the drink, and most importantly, the company you are with. If you are excited about these things, your guests will be too.
Make the buns or buy them? 
If you have the wherewithal and the time to make your own bread, then by all means, bake fresh bread. Nothing beats soft, warm and toasty bread that just came out of the oven within a few hours. If not, visit your local bakery, or do like we do, use amazing King's Hawaiian Rolls!
The Pig & The Fig
Serves 4
We created "The Pig & the Fig" to represent a charcuterie plate served in a bun. The balance of fatty pork, European cheese, sweet fresh figs, peppery arugula and toasty almonds, encompasses the best qualities of this timeless classic.
Ingredients:
4 German, Cheese-Stuffed Sausages (at Dog Haus, we use a sausage called Kase Krainer, an emmentaler cheese-stuffed sausage)
4 Buns of your choice griddled with butter (at Dog Haus, we use King's Hawaiian Buns – three buns, still connected, split down the side)
2 ounces Butter, melted
2 ounces Wild Arugula (you can substitute baby arugula if you can't find wild arugula)
0.5 ounce Whole Grain Dijon Mustard
12 ounces Grilled Summer Fig & Onion Relish (recipe below)
2 ounces Sliced Almonds, toasted
Grilled summer fig & onion relish:
3 large Onions, peeled and chopped
2 T Olive Oil
2 T Butter
4 cups Figs, chopped
0.5 cup Honey (we use Chestnut Honey)
1 cup Sugar
4 T Balsamic Vinegar
1 t Fennel Seeds, crushed
Salt and Pepper
Method:
In a heavy pot, heat the oil and butter together and then add the onions.
Slowly cook the onions, stirring often until they are deep golden in color and very soft, about an hour.
Add the figs, honey, sugar, and fennel then bring to a boil.
Season with salt and pepper, then reduce the heat and cook until thick and jam like, about 30 minutes.
Add half the vinegar and mix well.
Taste and add the rest of the vinegar if needed.
Cool to room temperature before using.
The build:
Grill the sausages on the grill, about five to six minutes, getting nice grill marks without overcooking.
Brush your buns with melted butter and toast lightly on grill.
Line the buns with the wild arugula.
Place the grilled sausages in the buns, on top of the wild arugula.
Zigzag the whole grain mustard from end to end of the sausages, using a squeeze bottle.
Top the sausages with the fig and onion relish.
Sprinkle the toasted almonds on top of sausages from end to end.
Fire Blossom Cocktail
Serves 1
1.5 ounces Hangar 1® Mandarin Blossom
3.4 ounces Orange Liqueur
3.4 ounces Creme de Noya
3.4 ounces Fresh Lemon Juice
2 muddled Jalapeño Slices
Combine ingredients in a cocktail shaker. Shake with ice and strain into a Collins glass over ice.
Garnish with jalapeño slice.