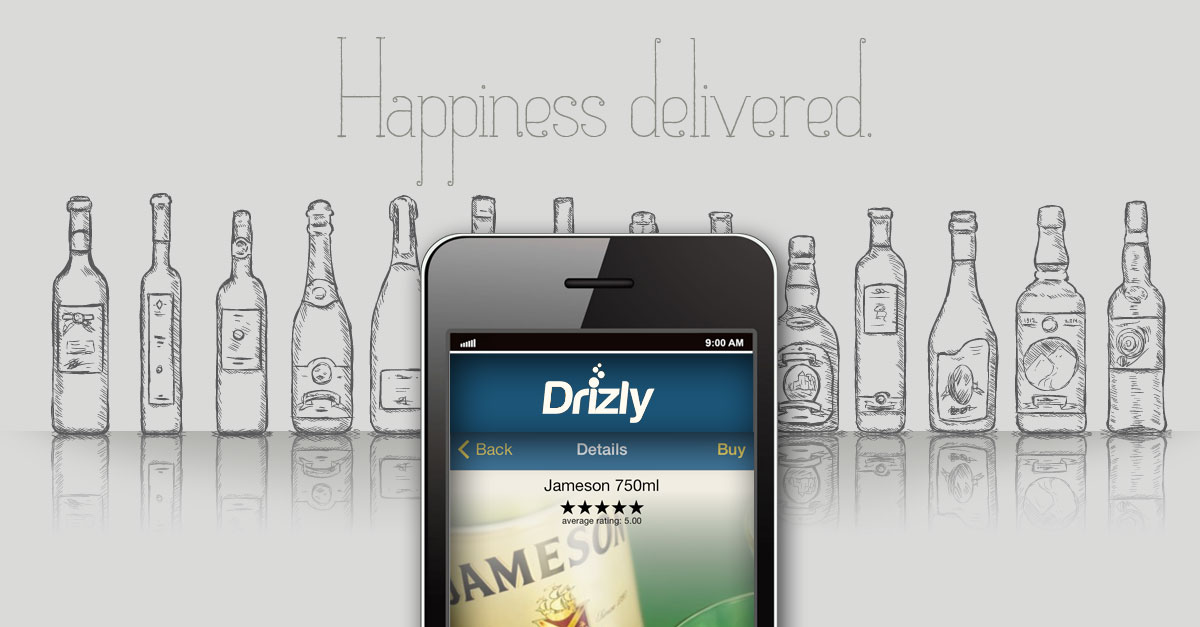 When they came for the record stores, I said nothing. Because I was too busy stealing the life work of my favorite artists.
When they came for the video rental places, I said nothing. Because The Sopranos was on.
When they came for the bookstores, I said nothing. Because have you seen Internet porn? If I don't start now, there's no way I'm getting through all of it. Reading's just going to screw up my schedule.
When they came for the electronics retailers, I said nothing. Because nothing is more terrible than an electronics store.
Now they have come for the liquor stores, and there is no one left to speak for me.
I suppose it was just a matter of time. The app-toting barbarians of Silicon Valley, having successfully wrested cab-hailing, hotel-booking and music-buying away from the real world are now trying to take away what I see as the last sliver of our humanity: in-person booze purchasing. They want to "free you" from the burden of walking the actual, touchable, non-virtual aisles of your local Qwik-ee Liq-ee. Remember when Steve Jobs tried this with porn? This aggression will not stand.
According to an article in last week's New York Post, Drizly, a mobile app that facilitates home delivery of alcohol, has secured millions in funding to finance its fast-paced expansion in major cities across the country. All this despite the fact that its name sounds more like a symptom of an STD than an enabler for lazy drunks.
Now, Drizly may sound terrible, but it's downright Shakespearean compared to the names of the booze-on-demand apps it's competing with. Nestdrop, Minibar and Saucy sound more like sections of InStyle magazine than something an adult would use to get themselves a goddamn drink. You'd be justified in wondering if anyone involved in these operations has ever seen the bottom of a whiskey bottle or survived a weekend bender without pissing themselves.
And seriously, what legitimate reason could anyone in New York City who isn't paralyzed or agoraphobic have for using Drizly? This is a city where you could go out blindfolded, walk into any door on any block, and have at least a 50-50 chance of coming out with a 6-pack. (I don't recommend actually trying that, however, as there's also a 90 percent chance you'll be shot, robbed or sold into indentured servitude making iPhones for 10 cents a month.)
And I know what you're thinking: "Shut up old man! Get with the app economy! What's so bad about a service that delivers my favorite rum to my door at the click of a button?"
First off, I'm not old, I'm a grown-up. There's a difference. (That difference is that I still only need half a Viagra for a good time in Vegas.) Secondly, I thought booze on demand sounded like a pretty good idea at first too. Until I came to the part in the Post piece where Roddy Radnia, the 24-year-old founder of Nestdrop, said, and I quote, "our generation wants things efficiently and quickly."
He's right, but it would be a better world if he were wrong. Think about it: Roddy Radnia has only been of legal drinking age for three years. He hasn't had time to let the shabby majesty of a good liquor store get its hooks into him. The sublime pleasure of walking into a joint without really knowing what it is you came for, and seeing all those possibilities lined up on the shelves waiting to be explored. Slowly walking down the aisles, picking up bottles and admiring the contents and the shape. Reading the labels even though you don't understand half the crap that's on them. Wondering if forking over $50 for an "ultra-premium" vodka really is worth it when you can pick up a liter-and-a-half of Georgi or Popov for less than a 10-spot (hint: if you're older than Roddy Radnia, it's worth it. If you're younger, invest in a Brita filter.)
Most 24-year-olds have likely never engaged in a 30-minute conversation with an enthusiastic store clerk about the varying levels of peatiness in Islay malts or the viability of winemaking in the American Southwest. And they probably don't care to, either, because going down to the liquor store takes time. So does talking to a real person in the real world. And time is a commodity Radnia and his ilk seem intent on speeding up rather than savoring. Because the more time they save, the more they have to devote to the things that really matter to them. Like Snapchatting pictures of dog buttholes. (That's what the kids are into these days, right?)
Look, I get that millennials have as much right to spend their time not interacting with people in the real world as I do to mack on chicks in the liqueur section at Beekman Liquors. (Tip: women who drink green Chartreuse are usually hot to trot.) But this shift away from forging actual human ties to almost total reliance on inorganic electronic communication has happened virtually overnight and is fraught with all sorts of unintended consequences.
What legitimate reason could anyone in New York City who isn't paralyzed or agoraphobic have for using Drizly?

It wasn't all that long ago when a world without Borders (or Blockbuster or Sam Goody) would have been hard to imagine. But then, in a flash, they were gone. And maybe that isn't so terrible in the grand scheme of things, I don't know, what I do know is that I've got a lot of great memories of hanging out in record and bookstores, of meeting people and discovering new things. I've yet to experience a single transcendent moment placing an order on Amazon.
There's just something terribly desperate and sad about a guy sitting home alone ordering Bushmills using Drizly or Saucy (or Dopey or Bashful). This is a man who's voluntarily locked himself up in a cell, communicating through the slot in the door 140 characters at a time. It's only a matter of time before you show up to find he's completely lost it and has created a wall-sized self-portrait with his own feces. Pity the Drizly delivery man.
Not to worry, though. As usual, I have a solution. Today I'm proud to announce a new app I'm developing. It's called Drunkr, and like most apps it's a shameless ripoff of something else. In this case I stole Grindr's idea almost wholesale. Both apps' primary purpose is to help men connect with other men for real world fun. The only difference is that with Drunkr, they're meeting up to polish off a bottle of Jameson instead of each other's knobs.
Just login to the app to see the other schlubs near you who could use some company and what their preferred hooch is. When it finds a match, the two of you are directed to the closest liquor store where, hopefully, the seeds of long-lasting meaningful relationship will be planted as the two of you get plastered.
And if it turns out you aren't a good fit — say, he's a buttoned-up gin guy and you like to get crazy on the tequila — well, don't worry, there's a real easy out should things start to get awkward. Just feign discomfort and scratch at your nether-regions a few times. When he asks if everything's okay that's when you tell him, with feigned embarrassment, that you think you've got a nasty case of Drizly. That's almost guaranteed to scare him off. And chances are, he'll leave you the bottle.
Follow Dan on Twitter and Instagram @TheImbiber.
Read more The Imbiber columns on Food Republic: