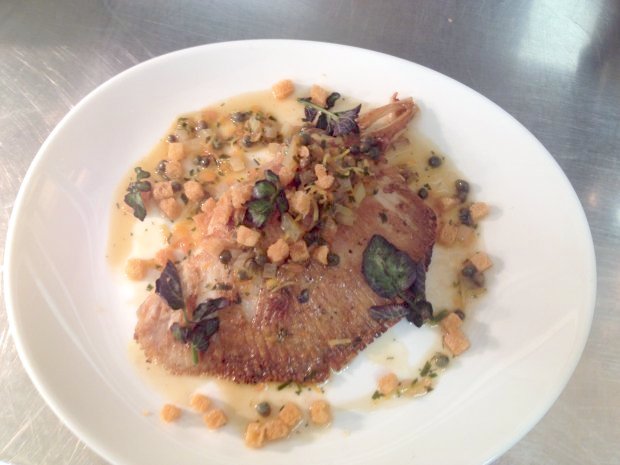 Chef David Burke built his reputation by taking traditional fish by-products and elevating them to star attractions — making pastrami from salmon belly, for example, back when "fish belly" was more commonly used as a derogatory term for unsightly tan lines.
The tradition continues at Fabrick, the newest New York restaurant under the Burke brand, which opens soon with a "roasted skate chop" on the menu.
Skate, of course, is a former throw-away fish that modern chefs have promoted to an almost-everyday entrée, albeit usually in fillet form, sliced from either the top or bottom of the sea creature's wing.
Skate chop? Well, that's a bit more unusual.
Burke, who developed the concept and menu for the new restaurant but left control of the kitchen to executive chef Adin Langille, explains that the "chop" is essentially the whole wing— both sides, skinned and trimmed, served bone-in, similar to a rib-eye steak.
Part of the allure, Burke says, is the marketing potential: "You get to tell people it's served on the bone by calling it a 'skate chop.'"
The enhanced flavor is an even bigger perk. "When cooking fish on the bone, of course, the integrity is much better," Burke explains. "You don't fillet it. It doesn't lose moisture. It's more natural."
At Fabrick, the skate chop is prepared with Burke's take on a classic Grenobloise sauce, featuring diced grapefruit and candied fennel amid the standard mixture of brown butter, lemon, parsley and croutons.
But the best part, according to Burke, is the skate itself. "Skate, obviously, has good fat," he says. "It's good stuff."
David Burke Fabrick
47 W. 38th St.
New York, NY
212-302-3838
Read more fish tales on Food Republic: