20 Things To Look Forward To This Summer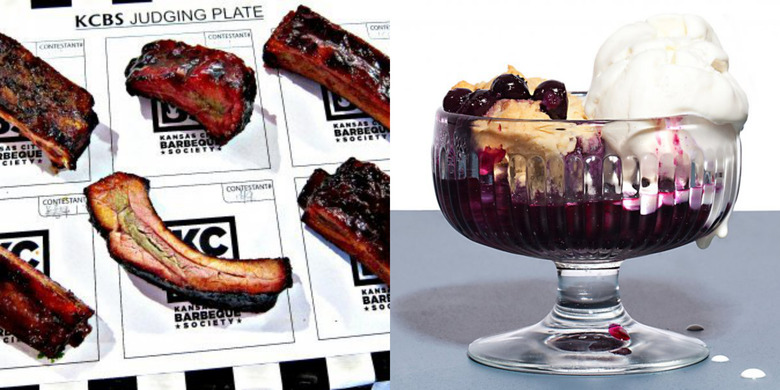 We may receive a commission on purchases made from links.
Summer doesn't officially begin until June 21. But, really, who isn't already in the summer mindset? Thought so. With that, the editors got together to list some of things that are getting us excited for the next three months.
1. The Paloma
We were so into the Negroni in 2011. Now, we are so over the Negroni. Why? Because it's summer and Negronis are just not right for the summer. What is right? The Paloma. Never heard of it? Well, it's kind of like a grapefruit margarita, but less strong and sweet — and more bitter and refreshing. Take two ounces of good (but not too good) tequila and stir together with six ounces of grapefruit soda over ice (the Mexican brand Jarritos is great, but Squirt will work as well). It's kind of like the Cuba Libre of Mexico.
2. The World Cup
The world's best 32 international sides will convene in Brazil for the month-long quadrennial football ("soccer") tournament. Early favorites include the host country, offensive-minded Argentina and a seasoned German squad. Will the U.S. make it out of this year's Group of Death? Doubtful. But be sure to check back for Food Republic's upcoming World Cup-themed food, drink and matchups preview.
3. BBQ festivals around the country
If you only go to one food-focused festival all year, it should be barbecue-themed. We're personally psyched for the Bourbon City BBQ Festival in Bardstown, KY, and, of course, the Big Apple Barbecue Block Party in NYC. But those are only a couple. You can find out which festivals are going on year-round in our guide to barbecue festivals across America. Just remember the golden rule of barbecue festivals: don't get distracted by rolls, sides or desserts — it's the meat you need to focus on.
4. Frat boy melon 2.0
There is a new vodkamelon, and it's blowing the vodkamelon right out of the water...melon. In summation, switch up the bottles you invert over the holes you lovingly drilled into that poor unsuspecting fruit to correspond to the ingredients in a Long Island Iced Tea: vodka, tequila, rum and triple sec. Yes, that's a lot of booze for one melon. That's why it's called the frat boy melon. Make one for your next shindig and ask questions later. If you're able.
5. Food-focused music festivals
Summer means music festivals like Governor's Ball (June 6-8), Electric Zoo (August 29-31) and the Chipotle-curated Cultivate (various dates). And, in the year 2014, music festivals mean...a ton of local restaurants and food trucks selling their best dishes. Get ready for some Good Food, Rocks.
6. Marinating meat in shitty booze
If you haven't found the only good use for Bud Light Lime-A-Rita, let us enlighten you: cheap booze + cheap meat = a good time had by all. If you're not going to drink it (and if you have to think twice about it, you shouldn't) put the swill to good use by allowing it to tenderize your meat. Cheap tequila makes great carne asada. Cheap whiskey can enhance your rib or chop brine. And cheap beer, while perfectly fine to chug, does wonders to a steak.
7. Cool ice for cocktails
Good ice in cocktails, as our columnist Simon Ford points out, is the most important ingredient. In the summer months, especially, ice in cocktails is not only important for taste, but also practicality. Nobody really wants to sip something up in the sweltering backyard. So, here's the deal. Invest in some quality ice molds, like the Tolvo perfect cube or the Casabella block cube tray. You could even go all tiki-inspired if you want.
8. Music City Hot Chicken Festival
You could spend your July 4th watching grown men stuffing themselves with a whole bunch of tubesteaks. Or, you could head down to Nashville for the annual Music City Hot Chicken Festival, where the city's best vendors come together with amateur cooks to fry up the tastiest (and spiciest) bird you've ever had.
9. Wimbledon
We collectively enjoy us some professional tennis here — we waver between Team Nadal and Team Djokovic — and the finest of the four majors is most certainly Wimbledon. But, not because of the strawberry and cream and the all-white wardrobe. We love going to Wimbledon because London is such a great place to visit in the summertime — and, obviously, food and drink is on our minds. On our agenda: Restaurant Story, Lyle's (from Young Turk James Lowe), 69 Colebrooke Row, Green Man & French Horn and Callooh Callay, to name a few.
10. Counterintuitive crockpot cooking
With the Farmers' Almanac predicting a full-force scorcher ahead, we're quickly coming around to Mark Bittman's unexpected suggestion from last year. That is, dusting-off the slow-cooker that we stashed away at winter's end and putting it to unseasonally good use this summer. Think about it: firing up the old Westinghouse makes no sense when your apartment is already an oven. The crockpot won't make it any hotter at home. And, it's quite possibly the laziest style of cooking imaginable, which is pretty ideal at a time when simply standing still is enough to break a sweat.
11. Paleta madness
Don't know what a paleta is? If not, this summer is your time to learn. The Latin American ice pops (flavors are either water- or cream-based) have been showing up in stores and carts around big U.S. cities for a couple of years but haven't yet acquired the cult-following they're bound to soon receive. Our money is on this summer.
12. Picnicing
While you can technically by definition still "picnic" in the cold fall, winter and early spring months, it's going to suck. That's why we've dedicated our late spring test kitchen to the art of the picnic — portable, delicious snacks and salads just waiting to be packed into your carryall of choice. Even a basket. These recipes should last you until Labor Day, at least. Think kimchi-pickled deviled eggs and za'atar-smoked eggplant potato salad.
13. Food & Wine Classic In Aspen
The annual Food & Wine Classic in Aspen (June 20-22) is like summer camp for celebrity chefs, media and jet-setting food fans. Tens of thousands decamp to the sleepy Colorado resort town to attend seminars, cooking competitions, grand tastings, porcine blowouts and plenty of parties fueled by premium tequila. This year marks the 32nd anniversary and we're pretty sure Jacques Pépin has been to every one. Dude knows how to live. For more information, visit the festival's website.
14. Revelatory rosé
Every summer brings another surprise stunner made with some varietal you didn't previously associate with the pink stuff, like last year's Zweigelt zinger from Austrian producer Artner. Our wine columnist, Chad Walsh, has pointed out his 7 essential bottles for the summer.
15. New York City barbecue
Texas-style barbecue has been all the rage lately in previously smokehouse-deprived New York. And rightly so — beef ribs and brisket, when done right, is boss. Now, a different regional style of barbecue, with similarly strict traditions, will turn our attention to porkier pursuits. Modeled on the slow-cooked whole-hog style of renowned Carolina pit master Ed Mitchell, Tyson Ho's new Brooklyn spot Arrogant Swine promises to turn us city slickers on to the rural pleasures of chopped pork, kissed with smoke and vinegar — and, in an airy beer garden-like setting, to boot.
16. Fast food milkshakes
We had some debate in the office about whether the opening of the first Dairy Queen location in Manhattan was a good idea or a bad idea. Grub Street also offered its take in a sharp essay, "Please Don't Actually Go to Manhattan's First Dairy Queen." And, true, we're ever of the opinion that the local option is typically better. But, in the summertime, particularly when hitting the road, we like to indulge in a fast food milkshake. Some of our favorites include the creamy, sometimes malty, almost always chocolaty versions from Steak 'n Shake, Sonic, Culvers, Carl's Jr. and, if we're lucky to be on the West Coast, In-N-Out.
17. Daytime drinking
There are many reasons why we are big proponents of daytime drinking. An early start time means an early end time, which translates to no hangover the next day. It's also more sociable than drinking at night, since it usually consists of some sort of activity that doesn't include sitting in a dark bar. So what to drink during the day? How about a version of the Pimm's Cup, or one of these 17 beers to drink in the great outdoors.
18. Making ice cream at home
Making ice cream at home can be as simple or difficult as you make it out to be, which we found out recently when we checked out three recent cookbooks dedicated to the topic. Stone-ground grits pudding cake ice cream, anyone?
19. Philadelphia Beer Week
Established in 2008, Philly's annual Beer Week (actually, 10 days) is the largest celebration of its kind in the country. Starting tomorrow, the City of Brotherly Love will highlight its diverse brew scene through festivals, dinners, tours, pub crawls and tastings in its bars, breweries, taverns and restaurants. Sounds like our kind of way to kick off the summer.
20. The U.S. Open — the world's largest restaurant
The U.S. Open, which runs August 25 through Sept. 8, is the world's highest-attended sporting event, attracting a ridiculous 700,000 tennis fans over the course of the two-week tournament. In this food-obsessed day and age, where jeers about a team's crappy stadium food can overshadow even poor play, it is essential to the Open planners that they get concessions right. We've covered the Open's food scene in the past, having witnessed a dedication to working with local vendors (Pat LaFrieda Meats, Blue Marble Ice Cream) and celebrity chefs (Susan Feniger, Tony Mantuano). The best thing to order: Mantuano's Mediterranean small plates, like tomato bread with Serrano ham and a really good ouzo shrimp — the flaming crustacean is blasted with a burst of lemon. You might order it twice.
By George Embiricos, Jess Kapadia, Matt Rodbard, Chris Shott