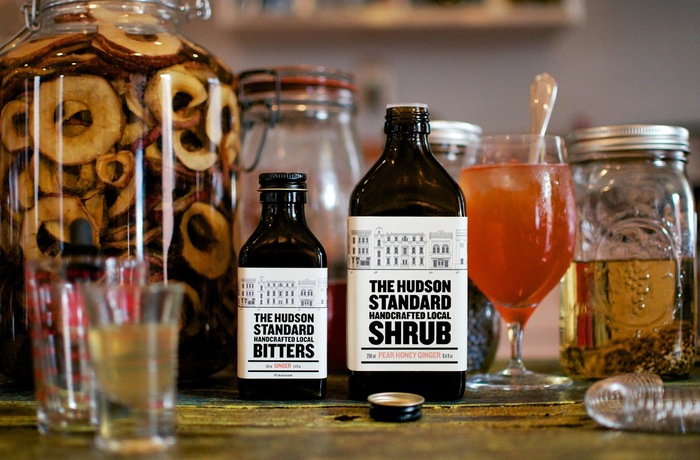 We're big fans of Kickstarter here at Food Republic. The website is the world's largest funding platform for creative projects, allowing users (dreamers?) to outline ambitious projects backed by donations from visitors, who are often able to give as little as $1 to furthering a worthy cause.
We've become somewhat obsessed with shrubs — high quality cocktail syrups — here over the past few months. We've run stories on making shrubs at home and scouted the best small-batch bottled syrups to add to drinks. So, naturally, we were pretty stoked when we got word that a group of people based in Hudson, New York was coming out with a collection of small batch, locally sourced bitters and shrubs for cocktails and cooking, called The Hudson Standard. Editor Richard Martin got a taste of the shrubs and bitters during a weekend trip this winter, and is an early fan. Now, they've launched their Kickstarter campaign page.
The three founders of The Hudson Standard began their shrub-making efforts last summer and quickly found the demand greater than their production capabilities. Looking to raise $12,000 in the next month to increase production, purchase ingredients and supplies and hire someone to work in the kitchen, they are offering rewards to contributors including product samples, farm tours and private dinners.
Their current flavors include ginger bitters, pear honey ginger shrub, strawberry rhubarb shrub and spruce shoot bitters. Take a look at The Hudson Standard's fundraising video below and head to Kickstarter to help get them on their way.
Try making these shrubs at home on Food Republic: