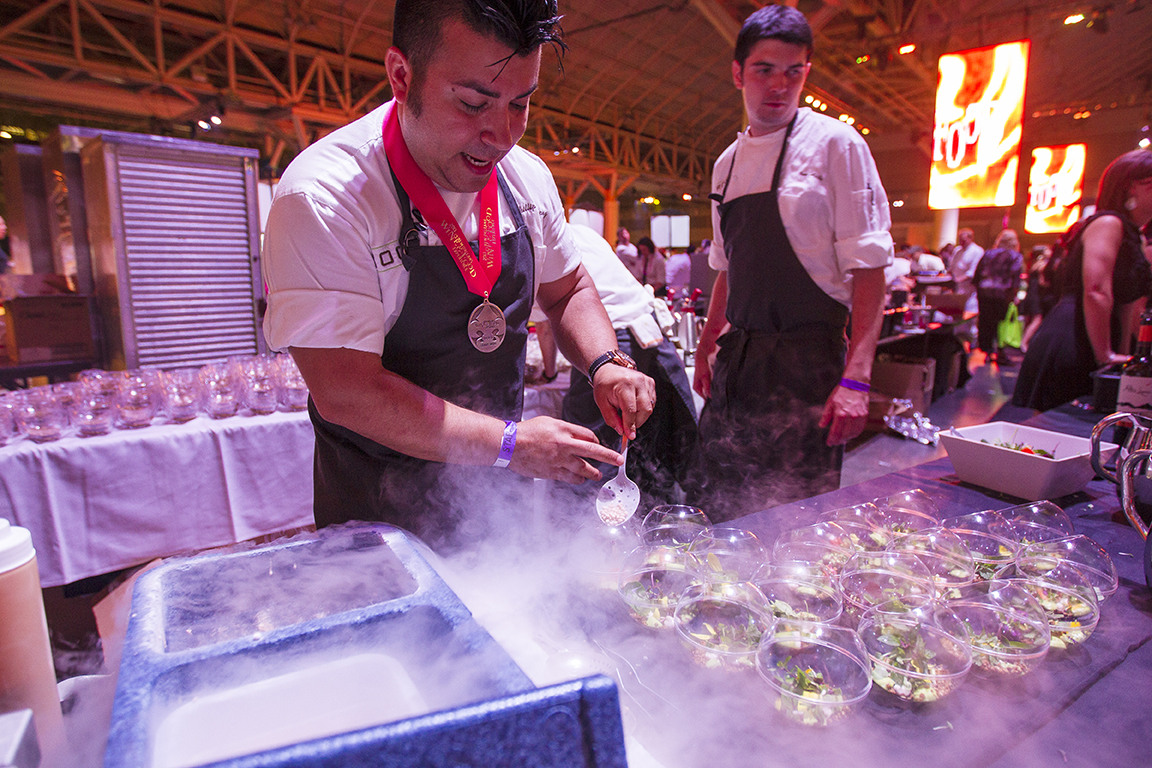 Count on great food this Memorial Day Weekend, whether you're grilling out or by hitting your nearest food festival. Learn about the art of chocolatiering at the New Orleans Food & Wine Experience, and if you're hanging around New York, stroll up and down STREETS International for some Southeast Asian street food and out west, Portland, Oregon's BeerQuest walking tour might just be the perfect event for the craft beer-loving history buffs among us. These and more events, coming right up.
New Orleans Food & Wine Experience
New Orleans, LA
May 21-24
The New Orleans Food & Wine Experience attracts more than 10,000 gourmands to celebrate the talent of local chefs and winemakers from around the country with a lineup of wine dinners, seminars and tastings. This year, learn the secrets of top chocolatiers with pastry chef Rhonda Ruckman, get schooled in the importance of soil for winemaking in Clay Mauritson and Jay Somers' seminar "Talk Dirty to Me" and stroll down Royal Street to enjoy a beautiful 8-block stretch of antiquing/wine-tasting. The festival culminates in Saturday's grand tasting, where, in between food and drink samples, you can watch chefs compete in a cook-off for the title of "King of Louisiana Seafood."
Taste of Cincinnati
Cincinnati, OH
May 24-25
Cincinnati celebrates Memorial Day Weekend with food from 40 of the city's best restaurants and a constant stream of local musical acts and more. In between sets from The Zinzinnati Bier Band and stand-up from Sally Brooks, head over to The Taste Experience in the P&G gardens, where fine dining restaurants show off the best of their menus. Order a champagne ice from Aglamesies, and indulge in booze and dessert at the same time.
BeerQuest PDX Historic Bar & Brewery Tour
Portland, OR
May 24-25
This Memorial Day Weekend, the BeerQuest PDX tour guides take you on a walking tour of Portland's Old Town, stopping at the city's oldest bars: PINTS Brewing, Rock Bottom Brewing and Old Town Pizza. Learn all about the city's first saloons and speakeasies and go behind the scenes to see how the stuff is made today — all while sipping on 12 unique beer styles. History just got way more fun!
STREETS International
New York, NY
May 28
The STREETS initiative helps disadvantaged youth find success in the hospitality business. This Wednesday, contribute to the cause by coming out for Southeast Asian street food from the city's best chefs and drinks and specialty cocktails from top mixologists. Show up early to the VIP Hour to converse with guests chefs like Richard Kuo of Pearl & Ash and Andy Ricker and Brendan Newell of Pok Pok, and then enjoy the food, drinks and silent auction.
Brooklyn Uncorked
Brooklyn, NY
May 29
At Brooklyn Uncorked, presented by Edible Brooklyn at the Skylight One Hanson event space in Fort Greene, you can taste a variety of New York wines and sample some of the best food the city has to offer. Enjoy small plates from Gramercy Tavern, Murray's Cheese and The Dogwood paired with wine from Channing Daughters Brotherhood and Finger Lakes Wine Alliance.
Upcoming:
Atlanta Food & Wine
Atlanta, GA
May 29-June 1
Savor the flavors of the South with award-winning chefs and sommeliers at the Atlanta Food & Wine Festival. The weekend kicks off with a champagne-toasted sweet and savory breakfast prepared by six all-star chefs. Don't miss the raw chocolate seminar from Cacao Atlanta owner Kristen Hard and join James Beard nominee Andrea Reusing and specialty wine importer Jon-David Headrick for spicy food and champagne pairings.
Wine & Food Festival of New Paltz
New Paltz, NY
May 30-June 1
Pay a visit to New Paltz's Mohonk Mountain House for a weekend of tastings, seminars and cooking demos hosted by an exciting lineup of chefs and mixologists. Attend the Wine & Food Gala and sample offerings from students at the Culinary Institute of America. Chat with local Hudson Valley winemakers and producers at Saturday's Grand Tasting and learn all about high-altitude Italian wines with The Centurion Club's wine director, Anthony Giglio.
Kennebunkport Festival
Kennebunkport, ME
June 1-8
Maine Magazine's annual Kennebunkport Festival kicks off summer with a celebration of Maine's most talented chefs, sommeliers, artists and musicians. Attend one of the festival's 21 Art of Dining Dinners held in private homes and indulge in local fare from top Maine chefs like Jason Paul of The Gothic and Cara Stadler. Check out the Cellardoor Grand Tapas Party, with food from eight countries and sip local beers while jamming to the sounds of Portland singer/songwriter Spencer Albee at Saturday's Brews & Tunes outdoor concert.