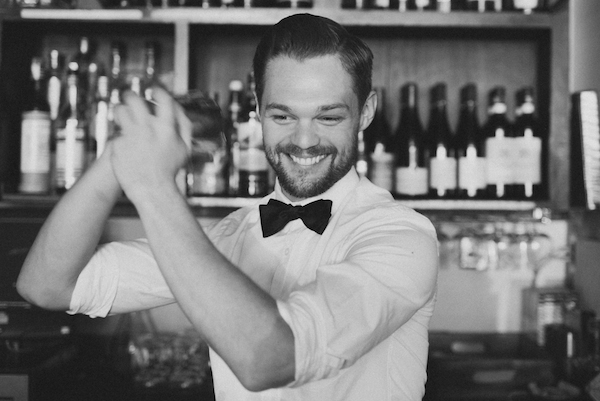 Over the next two months we'll be taking a, shall we say, laid-back look at the California lifestyle with the help of our sponsor Hangar 1 Vodka. This series, Grilling It Up, is a look at some classic Cali grillables (read: not your ordinary grill fare) along with fantastically paired Hangar 1 cocktails.
It takes a special couple to encourage invited strangers into their living room for cocktails, but mixologist Dan Scott and his photographer fiancée Marie Buck are bringing Los Angeles residents a fun and friendly alternative to the Friday night bar scene. They started The Whaling Club, an invite-only cocktail party hosted in their glamorous West Hollywood apartment. It's a fun and relaxed way to meet new people without having to battle Los Angeles' infamous velvet ropes and club lists. The concept is one part Mad Men and one part communal-lifestyle with a dash of California's laidback attitude.
We asked Dan where he finds cocktail inspiration and his tips for a memorable BBQ. He also created three original Hangar 1 Vodka cocktails (and suggestions on which grilled foods to pair them with) to serve at your next gathering, just in case you can't make it to Los Angeles this week.
How did you come up with the idea of The Whaling Club?
My fiancée  and I started the concept because we love small intimate parties. And the name? It's inspired by the old New England style fishing taverns, pubs and saloons and the inviting environment those places fostered for conversation and gatherings.
What is it about living in California that inspires you to make cocktails?
The seasonal ingredients are by far the most exciting part of mixing drinks in Southern California. We're lucky to have an abundance of local markets that really dictate the availability of fruit and herbs. 
What's the most important thing to keep in mind when pairing vodka with food?
When pairing vodka with food, you're really working with a blank canvas. Unlike most spirits, vodka has a subtle flavor, so you really have an opportunity to highlight the other ingredients in the cocktail and pair them with food. The ultimate pairing: a cold martini and fresh oysters — but we're talking about grilling. 
Have you ever worked with celebrities?
I've tended bar for a few pretty high profile clients here in Los Angeles, but who likes a name dropper?  
Any tips for making a BBQ extra fun or memorable?
Stick to your cocktail menu! Your guests may bring cheep wine and beer, but don't let them drink it. 
Blind Date
0.75 oz St. Germain
0.75 oz Lillet Rose
0.75 oz Lemon Juice
Add ingredients to shaker. Shake and strain into a coupe glass. Garnish with a grapefruit twist. 
**Impress your friends by pairing the bright acidity of the Blind Date  with grilled vegetables like spring onions, asparagus, & rapini. Perfect match.
Dockside
1 oz Watermelon Juice
0.5 oz Grenadine
0.5 oz Lime Juice
Add ingredients to shaker. Shake and strain into a coupe glass. Garnish with a wedge of lime.