Montreal Vs. New York: A Matchup That Transcends Hockey. Bagels Involved.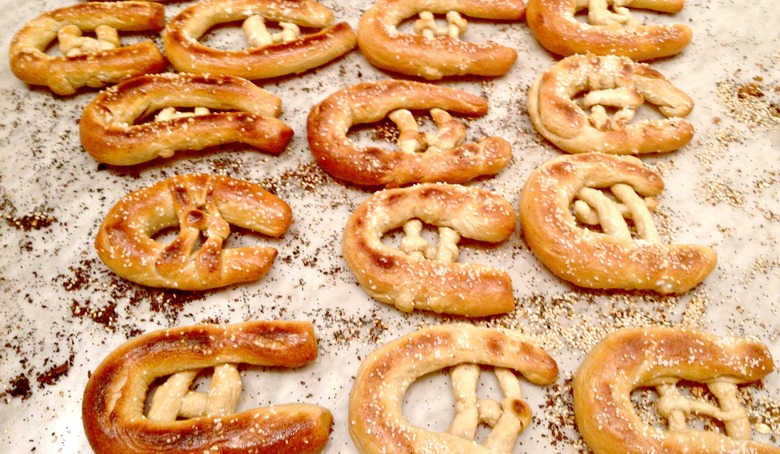 UPDATE: On Tuesday, the Canadiens defeated the Rangers 7-4 in a wild game, though New York still leads the best-of-seven series 3-2. The series continues Thursday night with Game 6 at Madison Square Garden.
As a 13-year NHL veteran, Jeff Halpern has suited up for several teams, including two of the league's storied "Original Six" franchises: the Montreal Canadiens and the New York Rangers.
He also knows a thing or two about food. Off the ice, Halpern is the proud co-owner of the acclaimed Astro Doughnuts & Fried Chicken in his native Washington, D.C. — champion of the Washington Post's best doughnut competition in 2013 (arguably the Stanley Cup of the Mid-Atlantic fried-dough scene).
Currently a free agent, the journeyman forward will be watching intently as his former clubs face-off tonight at New York's Madison Square Garden in a crucial Game 3 of the best-of-seven Eastern Conference Finals; the Rangers currently lead the series 2-0.
It's a matchup of two cities with strong traditions, both in terms of hockey and also food. Each town could be considered the culinary capital of its respective country. Bagels, deli food and fine dining, especially, are points of pride in both locales.
Halpern, who actually spent parts of the 2012-2013 season with both the Rangers and Canadiens, isn't letting on as to which team he favors to win the playoff series. (The guy still has friends on both teams.) But he's a lot more forthcoming about his opinions on each city's strengths when it comes to eats.
New York-based restaurateurs Noah Bernamoff and Joel Tietolman, meanwhile, are a lot less diplomatic when it comes to their loyalties. Both Montreal natives, the partners are rabid fans of the Canadiens, or "Habs," as the diehards call 'em. And their restaurants, Mile End Deli and Black Seed Bagels, draw heavily on Montreal-style culinary traditions. Mile End, in particular, has become a pre-game meeting place for Habs fans in New York during this year's playoffs. A Montreal radio station will be broadcasting live from the Bond Street location from 3 to 6:30 p.m. on Thursday. Earlier this week, Tietolman hand-made 20 bagel-pretzel hybrids in the shape of the Habs' iconic CH logo. He's hoping to have another batch ready for pre-game festivities today.
Of course, Bernamoff and Tietolman also do business in New York, so clearly there's something that they like about the Big Apple's food scene. Tietolman notes that, while the deli is Montreal-centric with a Canadiens flag prominently on display, the bagel shop, which sells a sort of hybrid round blending both Montreal and New York styles, remains non-partisan on the fandom front.
So far, Tietolman says the Montreal-style New York-based deli has experienced very little pushback for its open support of the away team, though he notes that someone posted a Rangers logo out front earlier this week. It came down pretty quickly.
In the lead-up to Thursday's big game, Food Republic spoke with Halpern and Tietolman to get a better sense of how both food scenes match-up, regardless of the outcome on the ice.
Deli Meats
Both cities have a rich delicatessen culture, separated by slight contrasts in the signature sandwich: New York-style pastrami, like the kind at Katz's, as opposed to Montreal-style smoked meat, such as the standard-bearer at Schwartz's. The primary difference is the curing technique, Tietolman explains: the classic N.Y. pastrami soaks in brine for around six to seven days, while the typical Montreal-style smoked meat gets more of a dry cure over a period of 10 to 12 days.
On this issue, at least, the Montreal native is less of a homer. "I definitely love a good pastrami," Tietolman says. Even at his own Montreal-style deli in New York, the guy doesn't go for his hometown foodstuff as often as you'd think. "I probably eat our corned beef more than I eat our smoked meat," he says.
Halpern, meanwhile, is decidedly New York-centric. "I would take the New York delis over Schwartz's," he says. "It's a little bit fattier. I like the kind of lean pastrami from a New York deli."
Edge: New York
Bagels
Both cities are known for their bagels, but each makes them in their own way. Tietolman sums up the difference thusly, beginning with the dough: A New York bagel is typically made with malt but no egg and it's allowed to rise overnight. Montreal bagels are just the opposite; egg but no malt, and rising for significantly less time—"no more than an hour at most," he says. "That's where some of the density comes from." Both are classically boiled, but Montreal bakers do it differently by adding honey to the water.
The style that Tietolman now employs at Black Seed is a kind of hybrid, he says. The bagels are hand-rolled and baked in a wood-burning oven in the standard Montreal tradition. Yet there's a puffiness to them that's closer to the New York version. "We also here put honey into the dough, which isn't a Montreal or New York thing — it's a delicious thing," he says.
When it comes down to which straight-up regional style is better, Tietolman naturally prefers the Montreal version. In fact, before he was baking his own, Tietolman says he used to pick-up bagels in Montreal and drive them to New York overnight to serve at Mile End.
Halpern, on the other hand, is solidly in the New York bagel camp. "My parents grew up Brooklyn," he says, adding that the bagels in D.C. are somewhat similar. He dismisses the Montreal style as much "thinner and harder."
Edge: Even
Restaurant Scene
Both cities have some outstanding restaurants. In fact, in some cases, there's overlap. Tietolman points out that Montreal's fanciest Greek restaurant, Milos, also has a location in Manhattan.
Looking at the big picture, though, the New York-based restaurateur points to his adopted home as the overall winner. "Generally speaking, you go to a random restaurant and the food is a little better [in New York]," he says. "The standards are a little higher."
Part of that is cultural, Tietolman says. "People dine out a lot more in New York, so the plethora of options is much greater." The sheer volume, though, makes for a tougher time figuring out where to go, he notes. In a city with fewer options, like Montreal, the standouts are a bit more clear-cut. "In New York, especially with some of the old-school ethnic restaurants, you kind of have to know where you're going and somebody's got to tell you which ones to try," Tietolman says. "In Montreal, it's a little more apparent."
Halpern, meanwhile, offers a fairly balanced take. "Overall, I have to say that the restaurants are better in New York," he says. "It's pretty much everything you want." Halpern cites Ippudo, the East Village's heralded Japanese ramen joint, as his favorite New York eatery, though he also digs Michael White's causal Italian spot Osteria Morini.
For ambiance, though, the veteran NHLer picks Montreal. Halpern points to Le Muscadin as particularly popular spot. "A lot of players go there for the pre-game meal," he says, noting that former Hab-turned-Ranger Benoit Pouliot was a regular during his time in La Belle Province. "I guarantee you he was eating there when [the Rangers] were up in Montreal."
Perhaps a better example of distinctively Montreal-style ambiance is the Globe restaurant, Halpern says. "It's a real, uh, how do I say this? The women are probably more of the experience."  The restaurant has a reputation for gorgeous waitresses who are known to change outfits throughout the evening. "It combines great food with the whole model scene in Montreal," Halpern says.
Out-of-towners will find it especially packed after hockey games. "For any male Ranger fan, between the ages of 18 to 60, it's kind of a necessity to go for good food and good ambiance," Halpern says.
Edge: Montreal
Stadium Food
Of all the arenas in hockey, the Bell Centre has a firmly established reputation for its eats. On this, at least, Halpern is adamant: "The best hot dogs in the league are in Montreal."
Tietolman whole-heartedly agrees, though he suggests the dogs were even better back when the Habs played at the old Forum. He notes that Mile End will be serving a version of the old Forum dogs on Thursday. The Niman Ranch franks will be cooked "dirty-water style, which is how they're done in Montreal," Tietolman says, before they're slapped into a bun and slightly grilled, topped with mustard and onions.
Tietolman confesses that he hasn't tried the hot dogs at Madison Square Garden. "I suppose I'm a cheap-o, but my trick is, before I walk into MSG, I grab a hotdog from the stand outside," he says.
Edge: Montreal