5 Los Angeles Chefs Pay Tribute To Danger Dogs. Wrapped In Bacon. Mildly Sketchy.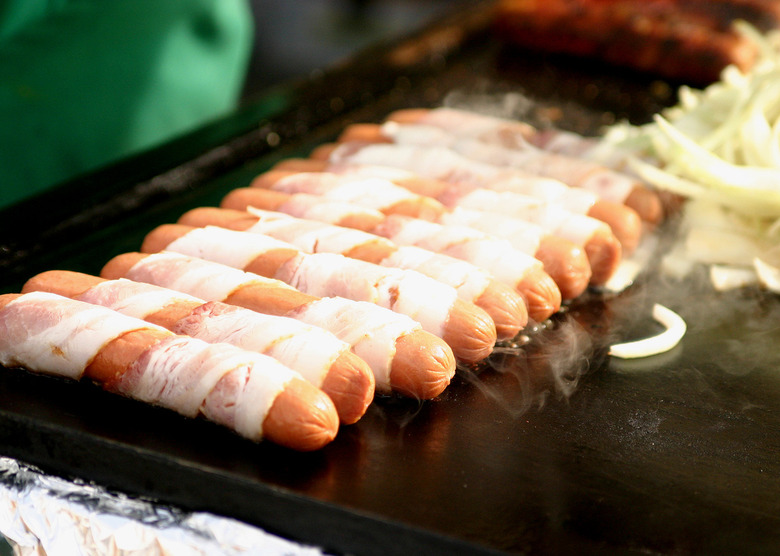 Pop quiz: it's 2 a.m. on a Saturday, you just spent half a week's salary on three cocktails at a club where you waited way too long to get inside and the club just shut down for the night. Now you're drunk, broke and hungry. What do you do?
If you're in Los Angeles, you buy a Danger Dog, a gift from the Drunk Gods: a bacon-wrapped hot dog griddled on a makeshift grill along with sizzling onions, peppers and jalapeños with condiment bottles sitting nearby, just waiting for you to utter the words "with the works." The Danger Dog is ubiquitous on the streets of LA after a certain hour and if your timing is right, they're a revelation. They're called Danger Dogs because they're definitely not being cooked according to Health Department code, but when you're sloshed and famished, there's nothing better. We asked five of LA's top chefs to weigh in on their experiences with the legendary Danger Dog and how they would make their own.
Josiah Citrin, Executive Chef at Mélisse
"In 2002, I was doing a transformational leadership program and we had this exercise where we had to push ourselves out of our normal comfort zone. A group of us in the program ended up going to some nightlife spots in West Hollywood, and we came out of this one place around 3 a.m. to find a Danger Dog stand outside. While food like this isn't something I would usually eat, I was actually excited to see the stand. I ordered a dog and believe it or not, I really enjoyed it. It had this great combination of flavors — spiciness and smokiness — and it was true street food in a city not really known for street food. That was my first and last time having a Danger Dog." Citrin's version: He'd make his own veal sausage and add the jalapeños and bacon into the sausage itself, then wrap it in breading – so it'd be like a fancy pig in a blanket.
---
Megan Logan, Executive Chef at Nick + Stef's Steakhouse
"Being an LA girl, I've been experiencing the wonderfully distinct smell of the "Danger Dog" for many, many years. I'm proud to say that I have only given in and indulged ONE time. The concept is brilliant: stand outside bars and nightclubs right at closing time as people are pouring out drunk, hungry and willing to eat anything. I honestly can't recall how it tasted, which I'm pretty sure is the point. I do know that I felt guilty the whole time." Logan's version: "If I had to make my own Danger Dog, I would do a bacon-wrapped hot dog on a soft bun with roasted tomato mayo, crispy shiitake mushrooms and caramelized onions."
---
Tim Carey, Executive Chef at Papilles Bistro
"I've eaten a dozen Danger Dogs over the years, typically after drinking too much at any number of downtown Los Angeles bars. The first one I actually remember eating was for breakfast camping with some friends. This particular dog was memorable for what it wasn't. Grilled instead of cooked over a plancha, the bacon was burned from charcoal flare ups, yet still flabby from a lack of cooking time. Not what any of us were hoping to eat." Carey's (non)-version: "How would I serve a Danger Dog? I wouldn't. That's not to say I don't like hot dogs. We pick up 1/4-lb Hebrew Nationals and cook them for staff meal, yellow mustard and pickle relish, maybe a bit of sriracha. Other than that, a Dodger Dog or two if I'm at a ball game. But you won't find me crisping jamón Ibérico and serving it with an emulsified veal sausage and a brioche crouton. I like my dogs downscale, not fussed over or made up."
---
Govind Armstrong, Executive Chef at Willie Jane and Post & Beam
"It makes sense that the city that popularized the food truck would embrace the concept of buying a bacon-wrapped hot dog from a cart. Angelenos love kale, light fare, cold-pressed juices, etc. but they can also get down and dirty with a Danger Dog after drinks at a college football game or a concert knowing vendors will be waiting outside. In LA, it's sometimes difficult for people to walk to a diner after a few drinks, so it works to have a late-night snack on every corner." Armstrong's version: "My version would be topped with charred onion, slaw and pimento cheese, just like Willie Jane's burger."
---
Suzanne Tracht, Executive Chef at Jar
"The smell alone of the Danger Dog attracts its fans. They're so good I could eat one right now. After a busy Saturday night, we sometimes make what you call a Danger Dog and what I call Sonoran hot dog, for staff meal. There's nothing like a sonoran hot dog. You don't need to go to a bar or wait until 3 a.m. to have one. They're good anywhere, anytime" Tracht's version: "I get good-quality hot dogs that have a great snap from Huntington Meats at the Third Street Farmers Market. They make their own all-beef hot dogs in natural casings. I wrap very thinly sliced applewood-smoked bacon around the hot dog, put them on a hot griddle with onions and jalapeños, and cook until they're golden brown, so that the hot dog gets the flavor of the bacon, onions and jalapeños. I like to serve them on a steamed bun and add fresh pico de gallo. It's all about the dog."
Need another reason to love chefs loving hot dogs? Check out this video from the last Food Republic Test Kitchen. Michael Psilakis owned it.
More street food around the world on Food Republic: