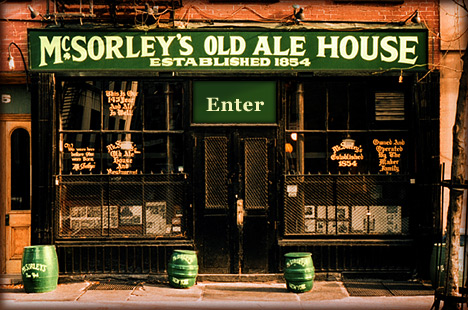 New York City has long been a friend to the Irish pub. Dedicated fans, a mix of office works, college kids and happy hour hounds, have enjoyed pints of Guinness and drams of Jameson for decades — just about as far back as anyone can remember. But is a new generation of barfly, coupled with rising rent costs and a shift in drinking preferences, putting these bars in jeopardy?
In a recent article, Crain's profiles the growing number of Irish pubs that have recently closed their doors in New York City. As the availability of craft beers and dressed-up cocktails has increased, the concept of the local Irish watering hole (serving basic tap beers and well pours, as well as calorie-loaded bar fare) has become increasingly obsolete. As a result, some of the oldest neighborhood drinking venues have been forced to shutter. Simply put, kale salads and gluten-free beers are in demand right now. Slices of Shepherd's pie and heavy ales are not.
Related: 10 Legendary New York City Bars You Must Visit Before You Die
Moreover, the concept of the quintessential Irish pub is changing. Owners hoping to keep their businesses afloat are expanding their inventories, making tweaks to food and drink menus to include more profitable (and, in most cases, less traditional) items. Recent openings are even challenging the very definition of the "Irish bar." Irish-run bar The Dead Rabbit – owned and managed by Irishmen Danny McDonald and Sean Muldoon, respectively – has become one of New York City's most celebrated cocktail bars since its opening, taking home the title of "World's Best New Cocktail Bar" at last year's Tales of the Cocktail awards.
The two-tiered bar features an impressive menu of over 80 complex cocktail selections – divided into eight categories – from the pre-Prohibition era. Whether Rabbit's success is primarily due to drinkers' updated preferences and a harbinger of a new age of Irish bars is up for debate. But as more and more of the city's storied Irish drinking dens run out of business, it would be wise for bar owners to take note and adapt.
Read about Irish food and drink on Food Republic: