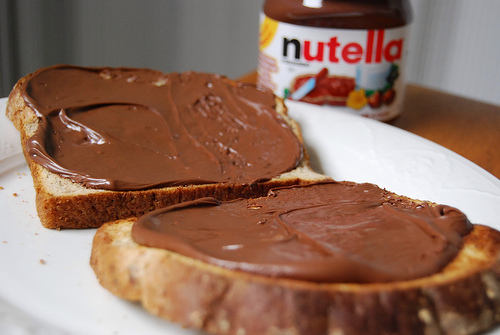 At this point, everyone has heard of Nutella, you know, that creamy brown spread made from chocolate and hazelnuts that came from Italy? While the name might ring a bell — crepes anyone? — there are a lot of things most people don't know about this interesting Italian foodstuff. With that, here are eight Nutella facts to snack on:
1. A Single Person Can Be Credited With Creating Nutella
While so many of our popular snack foods come from teams of food scientists and artisans, Nutella was created in 1940 by pastry maker Pietro Ferrero. Due to a chocolate shortage caused by World War II, Ferrero decided to enhance what cocoa he had with hazelnuts, which grow like crazy in his native Piedmont region. The result was a dish that tasted rich and chocolaty without a lot of cocoa, and the Italians literally ate it up.
2. Nutella Was Named After a Circus Character
Before it was called Nutella, this spread was dubbed "pasta gianduja" — named after a famous Piedmontese carnival character also called Giandoja, who started out as a marionette. It's also the title of a mask in the Italian Commedia dell'Arte, the one that proves most Bacchus-like. Today, most people think of a mixture of chocolate and hazelnut when they see the word gianduja, especially if you happen to be in a gelato shop. The name Nutella came about in 1964.
3. Originally, Nutella Was Sold In Loaf Form
You know, so moms could make a perfect slice to fit on a piece of bread. Sounds good to us, though this incarnation didn't last long, and after a couple of years Ferrero made into a spread.
4. Nutella Can Be Put Into Anything
Forget a piece of toast devilishly smeared with this product, nowadays you can find Nutella in all sorts of forms. For example, at Stephen Starr's Continental Midtown in Philadelphia, pastry chef Chris Burretta has used Nutella in donuts, ice pops, bread pudding, tortellini and cheesecake. "I try to make things that people will identify with, and just about everyone loves Nutella," says the chef, reminiscing over a childhood snacking on the spread at his grandmother's house. "I also think people feel a little naughty when they eat Nutella, like it is truly an indulgence." We have also seen Nutella on pizza, as an ice cream flavor and whipped into cupcakes.
5. It Took the United States 23 Years To Import Nutella
That's right, unless you had an awesome Italian grandmother or a European connection, this delightful dessert wasn't available in the States until 1983. At first, it started appearing in specialty shops, but over time, it became widespread. Today, you can find it in most supermarkets.
6. Chefs Are Feeling It
All over the country chefs use Nutella in their dishes. For sweets, chef John Besh stuffs Nutella into French toast. Rich Byers of The Corner Office Restaurant + Martini Bar in Denver uses it in his waffles, and at Trevelle in Chicago, pastry chef Scott Green makes a Nutella baklava. "I was pretty much thinking, 'I like baklava, but what would make me love it?' The answer, Nutella," says Green. "So, that's what I use for the base component of the filling and it really makes the dish." Then on the savory side, chef Ryan McCaskey of Acadia in Chicago uses it to enhance a Spanish prawn dish that comes with white asparagus, morels, Nutella powder and birch tree ice cream.
7. Nutella Cafes Have Started Popping Up
Technically there are only two Nutella cafes (so far), and both are run by Mario Batali's Italian super-store Eataly. The first one opened in Chicago this year, and had such great success, when Eataly's wine shop in the New York location closed down, they decided to do the same thing in that space. When they launched, the hype surrounding the opening drew over 5,000 people and a wait that lasted over two hours. "Nutella is so popular in Italy and everywhere in the world," says Eataly's brand ambassador Dino Borri. "It's tasty, it's easy to use and you can spread it over everything — when the stuff is so good and simple, it's the most successful." In both shops they have a little cafe with Nutella-based snacks and drinks, plus, you can buy all the accouterments to make Nutella crepes, Nutella-stuffed brioche, crusty bread to smear the stuff on, and of course, Nutella itself.
8. There Are Some Health Benefits
Okay, to be honest, there aren't many healthy merits to this sweet spread. After all, it does pack a lot of sugar and saturated fat in each bite. But, since one of the main ingredients is hazelnuts, you also get a good dose of protein, approximately 20 grams per jar. It also has fiber, iron and calcium, about one gram each in a hearty spoonful.
More things you might not know on Food Republic: