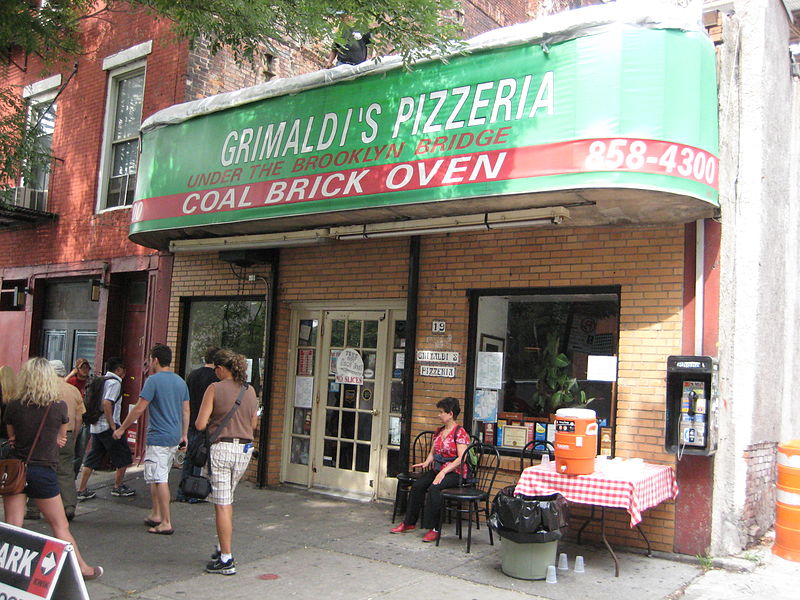 Grimaldi's, the famed Brooklyn pizzeria and tourist magnet, built its reputation on whole pies baked in an old coal-brick oven — a distinctive style of cooking that the restaurant proudly advertises in its signage and online. That same oven is now the subject of a legal fight between the current owner and former landlord of the illustrious pizza joint.
According to the New York Post, Grimaldi's owner Frank Ciolli has filed a $6 million lawsuit, accusing his ex-landlord of preventing him from removing the heralded oven when he relocated the restaurant to a bigger location down the street in 2010. Adding fuel to the coal fire, the lawsuit further alleges that the landlord later got rid of the oven, altogether. The dispute over ancient kitchen equipment is just the latest salvo in a highly litigious recent history surrounding the venerable Brooklyn pizza brand.
Why all the fuss over some sooty old oven? Ciolli isn't unleashing the lawyers out of his love for antiques.
It's about the taste, says Grimaldi's manager Gina Peluso. "It's like the difference between putting something on the barbecue grill as opposed to the [conventional] oven," she says. "That's the same thing that a coal oven does for a pizza. It gives it a different flavor."
Once a flavor rarely tasted outside New York, where the tradition of coal-fired pizza first began at places like Lombardi's, Totonno's and, of course, Grimaldi's, the fossil-fueled phenomenon has been spreading across the country in recent years. As operators nationwide strive to approximate that distinctive New York style, a cottage industry has sprung up to equip them. Manufacturer Wood Stone, for example, now offers a whole line of shiny modern-looking coal-fired ovens — a far cry from the blackened antedeluvian apparatuses of yore.
Peluso tells Food Republic that Grimaldi's now uses a newer, custom-built coal oven, likely installed at far greater expense than simply schlepping the old one down the block. "We make 'em ourselves," she says. (The Brooklyn restaurant also has outposts in Manhattan, New Jersey and elsewhere.)
On its web site, Grimaldi's goes into specific detail about the virtues of its coal-fired operation, with ovens burning up some "100 pounds of coal per day" at temperatures of "up to 1200 degrees." It's a very specific type of coal, too, called anthracite, which comes from Pennsylvania and "actually burns cleaner and more Eco-friendly than gas or wood-fired methods" — not to mention the dirty bituminous type of coal used in power generation and steel production.
 "The oven is hotter. It cooks much faster. It just gives [the pizza] a nice smoky char," Peluso says.