Bordeaux And Biryani: French Winemakers And Indian Chefs Are The Hot New Couple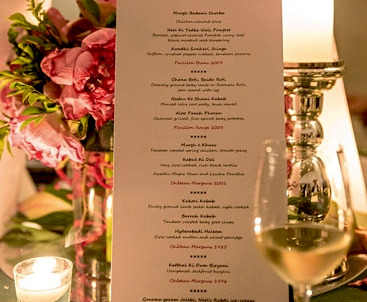 Put down the Kingfisher and take-out chicken tikka masala and listen up: Bordeaux wines might just be our favorite pairing for biryanis, curries and more. When master winemakers and world-ranked chefs team up to launch the most famous bottles around in a brand-new consumer market thirsty for fine wine, the impossible suddenly becomes a very good idea.
I recently spoke at length with good friend and renowned chef/restaurateur Rahul Akerkar, who dropped information about a game-changing dinner he'd be hosting at his restaurant, Neel. I'm now proud to report that winemakers from Bordeaux's legendary Château Margaux traveled to Mumbai for an epic dinner on April 20 — a trip they've made many times in the past few years while promoting their wines to fresh, eager palates — to participate in what might have been India's first super-upscale Bordeaux-pairing culinary event.
Cabernet Sauvignon's strong tannins and firm acidity make it notoriously difficult to pair with India's multi-faceted spice blends, fiery chilis, rich curries and exotic, palate-jarring local vegetables. By selecting the right vintages (some very rare) for Akerkar's spread of more than 20 complex traditional-meets-modern dishes, the experts at Château Margaux shattered the notion that Indian food can only be paired with more "logical" wines like Zinfandel and rosé.
"With those wines it's a marriage made in heaven!" said Akerkar. "As long as you control the chili fire spice, the food is so rich and complex with layers and layers of flavors, 85-spice masalas and whatnot, then it can handle the wines. An '85 or '96 Margaux is so big and layered that its complexity with the food's spices meld together beautifully."
With floral notes of jasmine and violet and a fruity core, the infinitely praised Margaux 1985 was served with tandoori baby eggplant, achar-marinated portobellos, slow-cooked vegetable and okra stew and baby goat chops. The Margaux 2001, often compared to the 1985, has those same floral notes with the added bonus of dark berries, making it the ideal companion to sweet couscous-stuffed morel mushrooms, rich black lentil stew and roasted spring chicken.
For the white, Margaux's lemon and tropical fruit-forward Pavillon Blanc 2009 matched with Akerkar's creamy pine nut soup and light, vegetal seared bamboo shoot and water chestnut patties, then with tandoori prawns and broiled pomfret (a popular local fish) in yogurt sauce.
Still think Indian food and Bordeaux don't go? Looks like you're officially mistaken. See the rest of the proof at Vogue India.
More wine pairing on Food Republic: