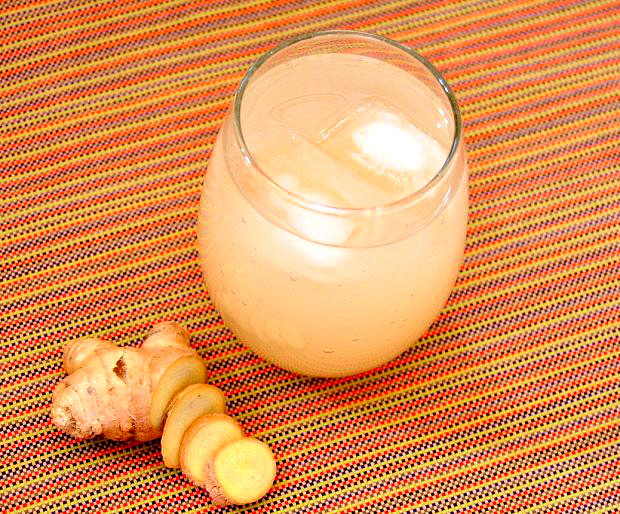 I recently made a few adjustments in my home bar routine, gravitating towards lighter, more refreshing drinks made tall with the addition of sparkling water. Sometimes, that means mixing a classic mojito; others, a glug of Campari or Cocchi Americano with seltzer. Often, though, I want some flavor in my soda — which is when I reach for spicy, not-too-sweet ginger beer, liberally pouring the fizzy stuff into a few fingers of bourbon. Or mixing it with dark rum and plenty of fresh lime juice for a killer Dark 'n Stormy.
Related: How To Make A Dark 'n Stormy
There are a few brands of ginger beer I like, but my favorite version is the one I make at home. I mix grated ginger — naturally rich in yeast and lactic acid bacteria — with water and sugar, creating a starter or bug, like in a sourdough or kombucha starter. As the fungus and the bacteria feed on the sugar (delicious-sounding, I know), they ferment and produce carbon dioxide — the bubbles for your drink. Combine with sweetened ginger water, leave out for a few days to re-ferment, then bottle it up.
The process is easy, but there are a few key steps. First, you must use organic ginger for both the ginger bug and the ginger beer: conventional ginger is irradiated and might not ferment. Second, when you boil the ginger mixture for the beer, let it cool to body temperature before adding the bug. Any hotter, and the living things will die and your beer will fail. Lastly, don't play with fire by bottling your brew in glass: the jars might explode, which can be dangerous. Stick with plastic soda bottles, and in about a week you'll have a tangy, spicy, extra-gingery beer that's just as tasty on its own as it is stirred into your favorite summertime cocktails.
Homemade Ginger Beer
Makes one 2-liter bottle
Ingredients:
For the ginger bug:
1 cup water
2 teaspoons grated ginger (no need to peel), plus more as needed
2 teaspoons sugar, plus more as needed
For the ginger beer:
2 liters water
anywhere from 1-3-inch knob of grated ginger, depending on how gingery you like it
1 cup sugar, or more to taste
juice of 1 lemon
Directions:
For the ginger bug:
In a small glass jar, combine water, ginger and sugar and stir well.
Cover jar with a paper towel or a piece of cheesecloth to allow air circulation and secure to jar with a screw-on lid or a rubber band. Every other day, "feed" bug with 2 more teaspoons each grated ginger and sugar.
When bug becomes bubbly and smells faintly of vinegar or kombucha, after about 1-3 days, you're ready to make your ginger beer.
For the ginger beer:
Add 1 liter water to a large pot and add grated ginger to taste. It's a good idea to start with less and work your way up.
Cover pot, bring to a boil and drop to a simmer. Simmer for 15 minutes, then add remaining liter of water to cool mixture down.
Place a fine-meshed strainer over a medium-sized food-safe plastic container or bucket and strain ginger water. Discard ginger.
Add sugar and lemon juice to ginger water and stir to combine. Touch the ginger water with your finger: if it's body temperature, proceed. If not, allow ginger water to cool.
Once ginger water has cooled to body temperature, place the fine-meshed strainer over the ginger water and add the ginger bug, straining liquid through. Stir well.
Cover container with a towel let sit at room temperature, stirring occasionally, until visibly bubbly, anywhere from a few hours to several days.
Note: If the ginger beer has not started to bubble within a few days, it has failed and you will need to start over.
If you like your ginger beer very fermented-tasting, you can leave it as is for a few days before bottling. If you prefer a fresher-tasting soda, bottle it as soon as it is bubbly by placing a funnel in a two-liter soda bottle and pouring ginger beer through. Cap tightly and leave at room temperature until carbonated, anywhere from 1-3 days: you will know when soda is carbonated when the plastic bottle resists squeezing. Once carbonated, refrigerate ginger beer and drink within two weeks.
More home bar how-tos on Food Republic: