Illustrated Guide: Whole Artichoke Gratin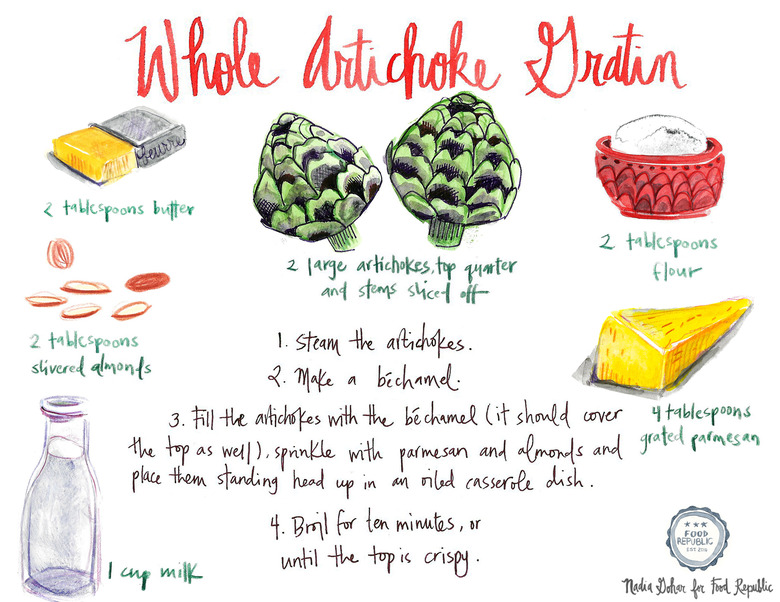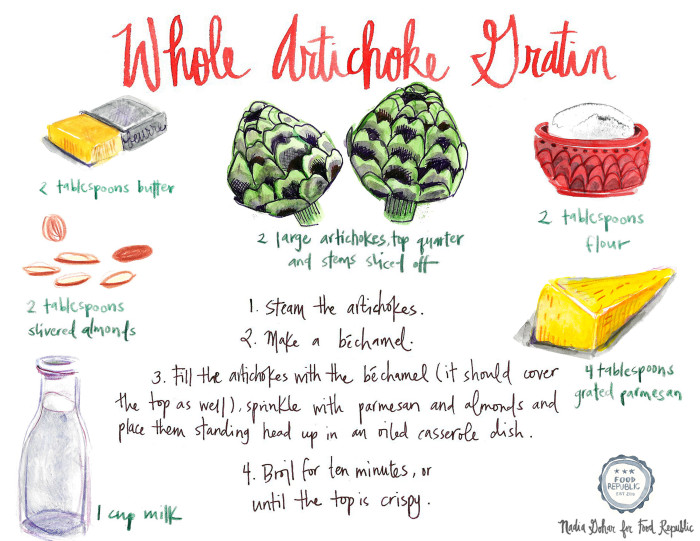 Spring has sprung, and all we want to do is sip rosé and eat artichokes, but how many artichokes can you steam before the novelty is gone? We're bumping things up a notch by making artichokes, French gratin-style. Simply fill with simple béchamel sauce, top with parmesan and slivered almonds, and broil. The best part is that the whole artichoke gratin requires no dipping sauce — the creamy béchamel is already inside!
A quick tip: when trimming the top of the artichoke, take out a few of the tougher leaves from the center to make more room for the béchamel.
Directions:
Prep the artichokes by chopping an inch off the stem. Using a sharp knife, cut 2 inches off the top of the artichokes. Place in a steamer and steam for 30 mins. See how to steam an artichoke here.

Make a béchamel by melting 2 tablespoons of butter in a saucepan and adding 2 tablespoons of flour to the melted butter. Heat one cup of milk in the microwave.
Once the flour/butter mixture is well incorporated, slowly whisk in the warm milk. Continue whisking till the béchamel is smooth.
Fill the steamed artichokes with béchamel using a spoon. Make sure to cover the tops.
Sprinkle 2 tablespoons of grated parmesean and 1 tablespoon of slivered almonds on each artichoke.
Broil right side up for 10 minutes.
More illustrated recipes on Food Republic: