Meet Adam Bernbach, Washington D.C's Cocktail Menu Cartoonist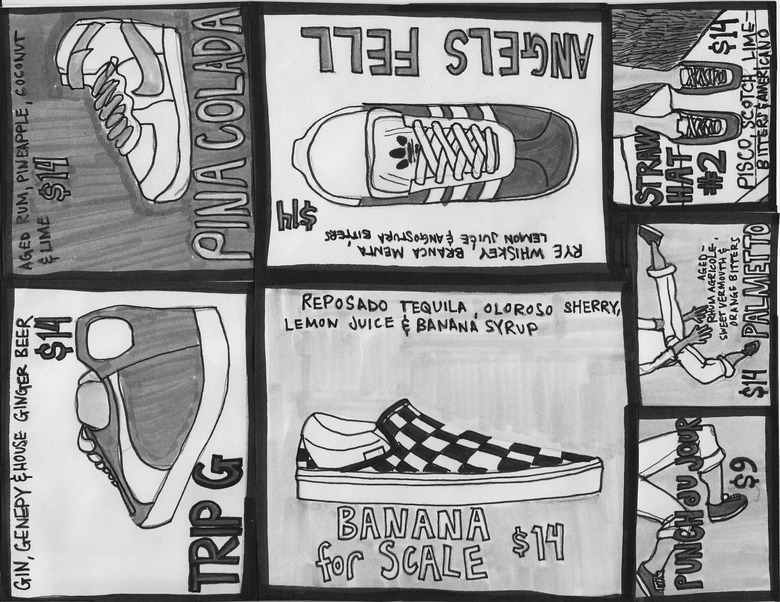 Adam Bernbach varies the theme for his illustrated cocktail menus weekly at 2 Birds 1 Sto
What does tequila have to do with checkered Vans sneakers? Nothing, really, except that both share space in the mixological mind of Adam Bernbach — and sometimes on his drinks menu.
Bernbach, 34, is the bar manager at Washington, D.C., cocktail den 2 Birds 1 Stone, where he also serves as a sort of artist-in-residence.
Every week, the bespectacled barkeep illustrates his latest list of libations in a style cribbed from comic books. Each page-length menu is divided into seven frames, outlining Bernbach's specialty cocktails for the week with accompanying cartoons. His chosen theme is, well, whatever he feels like drawing. The subject matter varies as much as his rotating cast of cocktails, ranging from cats to trashy daytime talk shows to the uniquely 1980s phenomenon known as the Pocket Rocker.
"None of the menus are particularly serious just by the virtue of the fact that I'm not a very serious artist," says Bernbach. "I'm just a guy who draws menus."
On the menu that week, Bernbach sketched four of his favorite pieces of past footwear – the Puma Clyde, the Nike Air Force One, the Adidas Gazelle and the aforementioned checkered Vans – with subsequent panels showing the feet of a jubilant new wearer, prancing about town.
Customer reaction to Bernbach's pedestrian musings was mixed, he says. Some criticized his sneaker selection. Others veered off into romantic reflections on their own former kicks. Yet another launched into logical speculation: "Is next week's [menu] going to be socks?"
If nothing else, the drawings proved to be good conversation pieces, which is sort of the whole point, Bernbach says.
Patrons would be wise to not study Bernbach's cartoons in search of some deeper understanding of the cocktails. "The titles [of the drinks] don't necessarily reference what's going on in the pictures," and vice versa, he explains.
But that doesn't stop people from placing orders based purely on the illustrations. One particularly dramatic scene, depicting a standoff between rivals entangled in a love triangle, seemed to steer guests toward Bernbach's "Bananas Is My Business," a $14 mixture of oat whiskey, amaro, hefeweizen and house-made banana soda. Bernbach says banana-themed drinks are especially well-suited to the comic presentation. "It's a hilarious word," he says. "It just lends itself naturally to whatever it's in."
Likewise, the tightly curated nature of Bernbach's weekly cocktail lineup – six cocktails, one punch – lends itself quite well to the funnies format. Yet, he admits, the artwork was never part of his original business plan. "The way I conceptualized the menu, it was going to be on the smaller side, it was going to change weekly and it was going to give us some flexibility so we could be faster and looser as a crew," he explains.
Things got a little more complicated when Bernbach presented the bar's owner, Mark Kuller, with a hand-drawn guide to making an Old Fashioned as a gift for his boss' 60th birthday – a nice personal touch, with practical consequences. Kuller liked it so much that he decided to add the weekly drawing assignment to Bernbach's list of managerial duties.  "It was a pretty good idea," Bernbach says. "It doesn't make my life any easier."
Now, more than 20 individual hand-drawn menus later, the sketchy spirits-slinger has come to view his regular drawing routine as a fundamental element to the overall vibe of the place. He spends considerable time each week sketching and brainstorming ideas. His home office is hung with sheets of receipt paper offering thematic suggestions from both staffers and guests.
"I definitely enjoy drawing," says Bernbach, who sketches each menu first in pencil before touching up in pen and magic marker. About 60 copies are printed out each week and, in the classic DIY tradition, affixed to slabs of cardboard ripped from emptied liquor boxes. "It's not easy, necessarily," he goes on. "I like that we do it. I think it definitely is a great reflection of what we do here. There's a frivolity to it. I think it speaks to the type of drinks we do, the style of service we have—it's a little more informal and warm and welcoming. It's indicative of who we are."
Check out Bernbach's full menu archive here, or follow him on Twitter, where he posts new menus weekly.
2 Birds 1 Stone
1800 14th Street NW
Washington, DC 20009
2birds1stonedc.comRead about menu design on Food Republic: