The Museum Of Food And Drink Explodes Rice, Serves A World-Class Dinner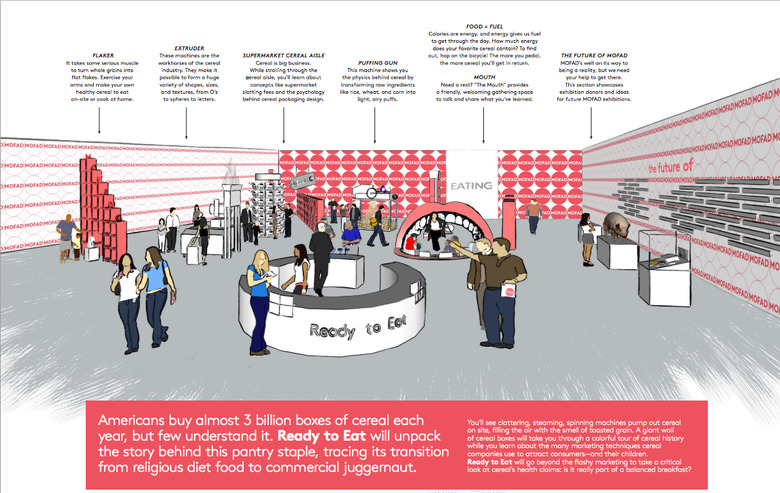 Last night I attended a benefit dinner at the Foundry in Long Island City for New York City's forthcoming Museum of Food And Drink, starring some of the city's most forward-thinking culinary minds. Favorites like Amanda Cohen, Wylie Dufresne, Dominique Ansel and Franklin Becker each took on one of eight courses, interpreting future MOFAD exhibits like "Korea Before The Chili" and "Rastafarian Ital Diet" through cooking.
Props to our friend Nils Noren for crushing the Rasta course, by the way. I could eat that callalloo soup he discovered while living with a Jamaican family every day for the rest of my life. He didn't use canned coconut milk, though; he made his own, because MOFAD's mission is just that: reminding us that coconut milk doesn't come from a can, it comes from coconuts. And cereal, the focus of MOFAD's inaugural exhibit, which we previewed last night, doesn't come from a box. It comes from a 3,200-pound steel puffer gun that applies pressure at about 120 psi and releases with a deafening bang, exploding every grain or kernel into what we buy about 3 billion boxes of every year. The museum's curators set up a puffer gun rig for guests to experience first-hand outside the venue.
Folks, this is happening. Chefs and key players in the culinary world are very, very excited, and so are we. Donate to the cause — they're working on raising a million dollars —and look forward (with relish) to educational and edible exhibits like TV Dinners, Pennsylvania Dutch Food and Food On The Battlefield. Sure, soldiers eat pizza MREs now. But let's learn, and taste, what it was like before. That's food history.
More museums on Food Republic: