Nils Noren's Scandinavian Semi-Holiday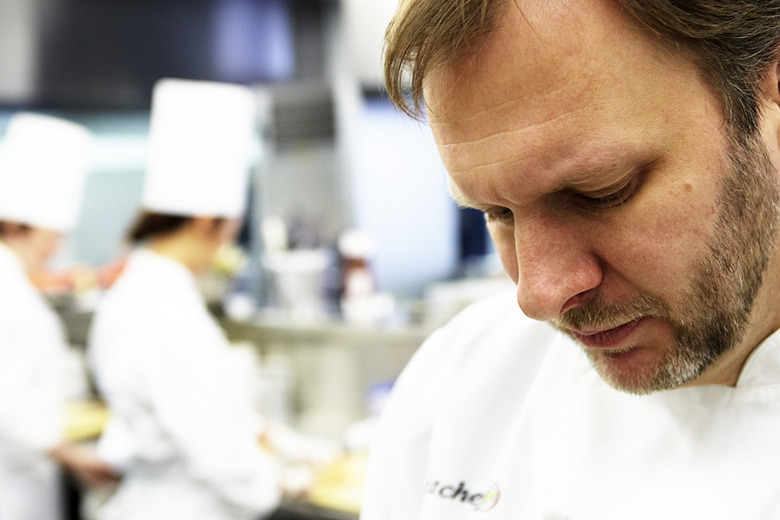 Chefs love to travel — for inspiration, to experience the cuisines of other cultures or just to get away from the heat of their own kitchens. When they return, we hit them with some questions — where'd they stay, what'd they do and WHAT DID THEY EAT?!
As Vice President, Restaurant Operations for the Marcus Samuelsson Group, Nils Noren has an unusual chef's job: he's developing recipes and dishes for multiple restaurants in a variety of locations, then handing off cooking duties to others. Noren and Food Republic co-founder Samuelsson are longtime colleagues, having worked together during the rise of Aquavit in Manhattan during the late 1990s.
Prior to moving to New York City, Noren worked in respected kitchens in his native Stockholm, where he also started his career as an educator. He'd later become an executive at the French Culinary Institute and International Culinary Center in New York, and he co-publishes the website Cooking Issues with his friend Dave Arnold. And Noren isn't done teaching yet. This fall, he'll publish 10 Techniques, 100 Recipes, a cookbook that will help even novice cooks perform like top chefs.
Unfortunately, it's only scheduled to be released in Swedish (until an American publisher is found), but over the next few weeks, Food Republic will feature recipes from the book in English, so stay tuned. And in the meantime, read on to find out about Noren's part-business, part-pleasure trip to Scandinavia.
Where are you just back from?
Two weeks in Sweden and Denmark.
Business or pleasure?
Both, since I like to be efficient and combine them, even though I don't think my wife neccessarly approves of that strategy.
What was the highlight?
A party with family and friends that my mom and uncle threw me and my wife in the countryside up north in Sweden. The party went for two days and plenty of herring and aquavit was consumed and enjoyed by all.
Lowlight?
I don't like to be cold. Yes I know I was born and raised in Sweden, BUT I STILL DON'T LIKE TO BE COLD, and yes I hate to ski — and I listen to reggae. The weather during the day was nice, but at night not so much.
What airline(s) did you fly and how was it?
Combination of American Airlines and British Airways. Had a great experience on both.
Where'd you stay and what's your mini-review of the place?
Big disclaimer here: we work with Clarion hotels in Sweden, and believe me, they are nothing like the Clarion hotels we have here. Nothing against the American Clarions, but the ones in Scandinavia are really high-end with beautiful design. Both Clarion Sign in Stockholm and Clarion Post in Gothenburg are really great hotels to be staying at, and they're really conveniently located right by train stations, since I had to take the train a few times and had my huge orange piece of Swedish design (see below) to carry. And if you don't trust me on how good the hotels are, since I am partial and did put a big disclaimer, USA Today wrote a really nice review of Clarion Post recently.
What was your best meal on the trip?
My mom's Baltic herring. As far as restaurants, I had an amazing meal at this little Island, Utö, in Stockholm's archipelago. It's a one-hour bike ride to the end of the island with pretty much nothing there except the small restaurant, Båtshaket (sorry for the weird Swedish letters, but that's how we roll) that served seafood, smoked sweet shrimps, smoked salmon and other goodies. The combination of the food and environment makes it hard to beat. I do however feel bad for my wife that I took her on a long bike ride even though she had a cold, but I think she forgave me after she tried the food. Other very good meals: Fiskebaren in Copenhagen and Tennstopet in Stockholm.
Did you bring anything back and if so, what?
Swedish candy, aquavit, a blanket and this huge orange light fixture from the '70s that I was smart enough to buy on the second day of my trip so I could be seen carrying it around all over Sweden and all the way down to Copenhagen — really smart. But it is a cool piece and I happen to love mid-century Scandinavian design.
Follow Nils Noren on Twitter at @nilsnoren