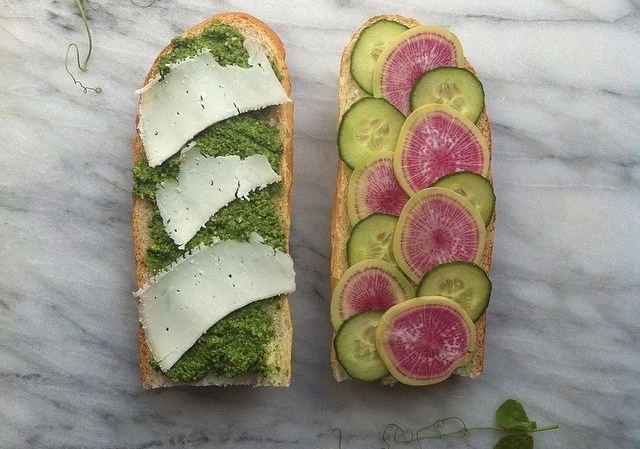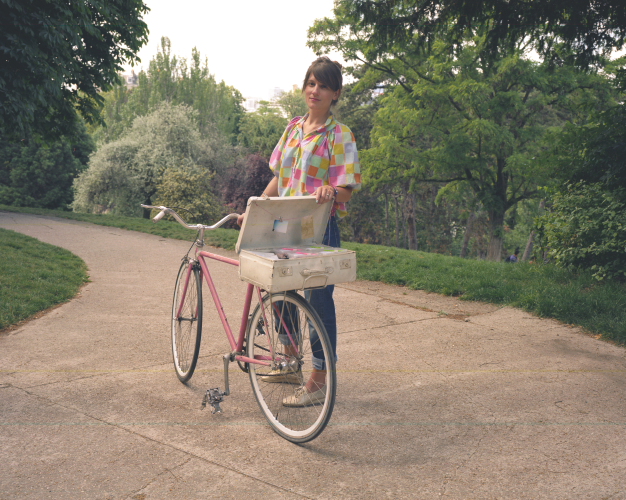 Indiana native Tiffany Iung was sitting at a bar in New York City one night when a Frenchman walked through the doors and literally swept her off her feet. To Paris. The rest was history. But this isn't just any old sappy love story. Prepare yourself for some major life envy: After moving to Paris, Iung decided to combine her two passions — cycling and sandwiches — and started a business selling sandwiches off her pink bicycle. Her inspiration came from the humble PB&Js and scrambled egg sandwiches she grew up eating. Iung wanted to share her love for sandwiches with her adoptive land, and with that, Tifamade was born.
Every week, Iung ventures off to Parisian farmers markets and picks up organic produce for that week's sandwiches. Her repertoire has expanded beyond PB&Js to a veggie báhn mì, eggplant-halloumi, and pea-mint pesto with montealva cheese, watermelon radish and cucumber (pictured below). She assembles the sandwiches in her tiny Parisian kitchen, delicately laying out the ingredients in baguettes or focaccia, packs them into an old metal suitcase and cruises around the city to deliver.
Tifamade's first gig was selling sandwiches outside a friend's art gallery. Word traveled fast, and business took off from there. Iung has since expanded her business to include mini-cakes and can be spotted delivering sandwiches on her pink bike all over the City of Lights.
More Design Finds on Food Republic:
Video: From Apple Orchard to Oven, The Making Of A Classic Tarte Tatin
P hotos: Sockerbit, Home To The Best Looking Candy In The World
Design Meme: Living, Breathing Dining Room Tables