Grilling God: José Enrique Loves Oily Fish, Wants You To Invest In A Caja China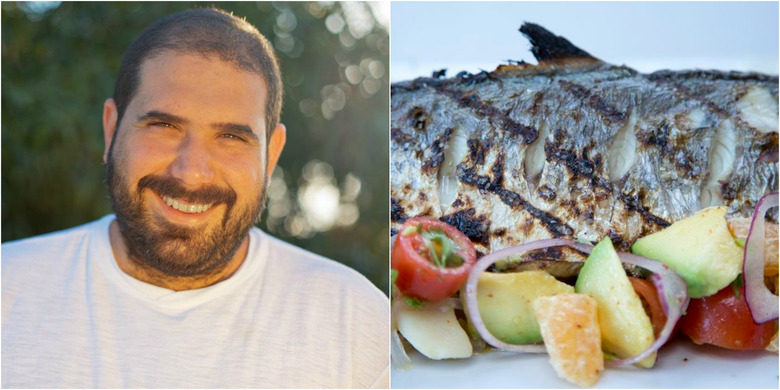 This May marks the Fourth Annual Grilling Month here at Food Republic, where we are offering pro tips from chefs and other well-known grilling gods.
No Puerto Rican chef has received more national acclaim than José Enrique, who has been at the helm of his eponymous restaurant on the island's capital of San Juan since 2007. The twice James Beard–nominated chef (Best Chef: South) plans to open a second establishment, El Blok, on the picturesque island of Vieques in June. The restaurant's menu will make heavy usage of a wood grill and rotisserie, with an emphasis on whole grilled local fish and meats. We caught up with Enrique to kick off Grilling Month with some fish grilling tips, and a simple plantain preparation. Plaintains? You gotta believe.
Do you prefer working with gas or charcoal?
Natural charcoal.
What is the biggest mistake the home griller can make?
I believe a big mistake is cooking with too hot or too cold of a temperature. Another big mistake is cooking with uneven heat.
What is your favorite cut of meat to grill?
Skirt steak. I like using acid (mostly from fruits) to balance the smoky and dark tones of grilled proteins. The acid from a salad with greens, stone fruits (such as guavas and mangos), onions, tomatoes and avocados helps provide the right balance to the meat.
What are the best vegetables for the grill? And how do you cook them?
I love grilling really ripe plantains. I grill them on low heat with the skin on and rotate them. They turn so sweet that it's ridiculous. Just slice them open, peel and serve with hot sauce.
What band(s) are on your grilling soundtrack?
The Rolling Stones.
What is the worst food item you have seen thrown on the grill?
Flaky fish with low oil content. Oily fish are great to grill due to the natural oil. For all other fish, make sure the skin is very dry, add oil and grill the skin side down. You can also grill fish wrapped in leaves (such as banana). Soak the leaves in water and use them as packets to add all types of spices, peppers, onions and citrus – then grill for 8-10 minutes over high heat.
I'm also a big fan of grilling whole fish. Score the fish to help distribute the heat evenly and stuff it with herbs and citrus. Rub it with oil and grill for 3-4 minutes on each side. The eyes will pop and you're done!
What is the most useful piece of grilling gear you have purchased or used?
My father built an awesome grill in Vieques with a pulley system that lets me control the heat better. It's beautiful to grill outside with hardly any light pollution and under the stars.
What was your favorite grilling experience?
In Puerto Rico, on my patio, we have double a BBQ built in bricks in front of the beach. Usually I cook whole pork in a Caja China and I do tons of vegetables on the grill (tomatoes, potatoes, plantains, eggplant.)
In terms of barbecue (we're talking smoke), do you have a favorite region in the United States?
Texas.
Check out some Grilling Month coverage on Food Republic: