What's In Season In Early May: English Peas, Spring Garlic, Horseradish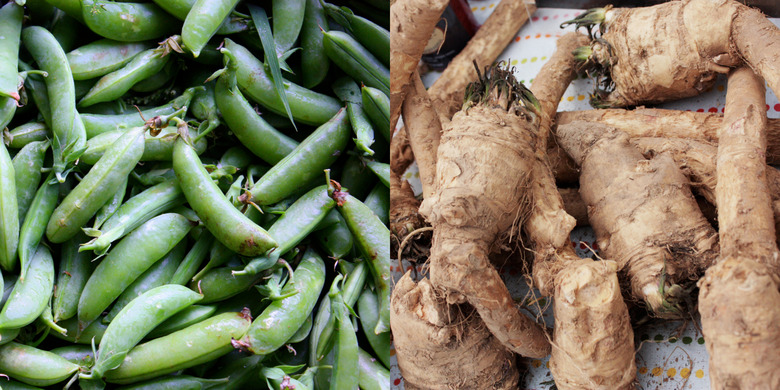 Though in some parts of the country spring has been a little slow to take off, we can now officially celebrate its return. With this glorious rebirth, farmers markets are just starting to show the bounty of the season by featuring lots of green produce including peas, spring garlic, ramps, watercress and leafy salad greens.
"Spring has a limited amount of things, but it is exciting to see the green products coming out," says chef Michael Citarella of the Monarch Room in New York. "The initial products we get are exciting at first, and a prelude to the better months to come — especially if you cook and eat locally and seasonally." During this time, Citarella looks forward to the beginning of soft shell crab season, asparagus, peas, and one of his favorite products, spring garlic — all of which he incorporates into his spring menu at his seasonally focused American brasserie. While Citarella prepares plates of nettle pasta with white asparagus and ramps, salads laced with sugar snap peas, and a pleasing spring garlic and bacon soup, he also find this is a good time to stock up on fresh horseradish and, surprisingly, ostrich eggs. Spring has mostly certainly sprung.
English Peas: Forget the frozen peas of your childhood. Fresh English peas have a completely different nuance to them. Eaten raw from the shell, pureed into a spring soup or cooked with a bit of mint as a side dish, these spring staples have a starchy sweetness to them that packs a hardier bite than your average pea. You will most likely see these larger peas in the shell. And unlike sugar snap or snow peas, the casing is hard, cylindrical, and proves tough, fibrous, and not good for eating. Because these seed-pods have a high sugar content, you need to eat them right away — or freeze them out of the shell. Otherwise, they become starchy, which gives them an unpleasant flavor that no amount of melted butter covers up.
Spring Garlic: "Spring garlic is one of my favorites because it's nice and mild," admits Citarella, who uses this bright veggie in soups, sauces and sautéed with spring vegetables, which he then tops with yogurt and coriander. You will recognize this product by its usual garlic bulb, though instead of loose in a basket, you will commonly see it attached to an edible green stem. Spring garlic, or green garlic, proves tender and doesn't have the hard shell or super pungent flavor as its aged brethren. Instead, the taste is more onion-like with nutty hints and proves akin to an onion or leek. As an added bonus, you don't have to peel the cloves before cooking with them, just open the bulb and start chopping.
Horseradish: If you see fresh horseradish in the farmers market snap it up. After all, this knobby brown root won't make an appearance for long, as its season only lasts for about four to six weeks. However, just because they don't grow all summer, horseradish will last in your fridge for months if you properly store it in an airtight plastic bag. Peel away the rough exterior to reveal snow-white flesh — ideal for adding a snappy spice to just about anything. Grate some on your salad, dice it fine for the ultimate Bloody Mary, or shave a bit into an egg dish to give your breakfast a kick to get you going.
Ostrich Eggs: If you are lucky enough to have a farmer who deals in ostriches at your local famers market, now is the time to hit them up for an ostrich egg. Ostriches are very picky birds that lay one egg every five to 14 days, depending on how they feel. "They lay eggs when they are happy, and the sun makes them happy," says Lou Braxton, owner of Roaming Acres Farm in New Jersey. Braxton says one ostrich egg is equal to about 18 to 24 chicken eggs and the flavor is completely different. Aside from peddling eggs and ostrich meat at the farmers market, Braxton sells his goods to top NYC restaurants like Blue Hill Stone Barns, where chef Dan Barber makes many of his pastas using the oversized egg. Each egg sells for around $30, and though that might seem pricy, think of the fun you will have showing off your purchase to dinner guests. Just make sure to save the shell: it's thick, beautiful, and if you don't want it, rest assured someone does. 
Spring Garlic Bacon Soup
By Michael Citarella of The Monarch Room
Since the spring still offers plenty of cool days and downright chilly evenings, serve up a seasonal soup to warm the body and get the mind thinking about all the fresh produce to come.
Ingredients
1 tablespoon extra virgin olive oil
4 ounces bacon, chopped
2 sprigs thyme, leaves only
6 cloves spring garlic, peeled and sliced.
1 small Yukon gold potato, peeled and cut into chunks
1/8 cup dry white wine
3 cups chicken stock
2 ounces heavy cream
1 cup English peas, blanched
Directions
1. Heat the oil in a pot over medium-low heat. Add bacon and render for three to five minutes. Remove and place on a paper towl lined plate and set aside.
2. Using the same pot add the thyme, sliced spring garlic, potato and salt and pepper to taste. Sweat the vegetables until garlic is softened, but avoid browning.
3. Add wine and reduce by half.
4. Add chicken stock and bring to a simmer, cooking for about 12 to 15 minutes until all the vegetables are tender.
5. Add heavy cream. When the soup begins to simmer, remove from the heat and cool slightly.
6. Carefully blend until smooth, adjusting seasoning. Strain if desired.
7. Return the soup to the pot and bring to a simmer. Mix in the blanched peas and top with chopped bacon. 
This post is brought to you by our friends at Pure Leaf
Read more Market Watch columns on Food Republic: