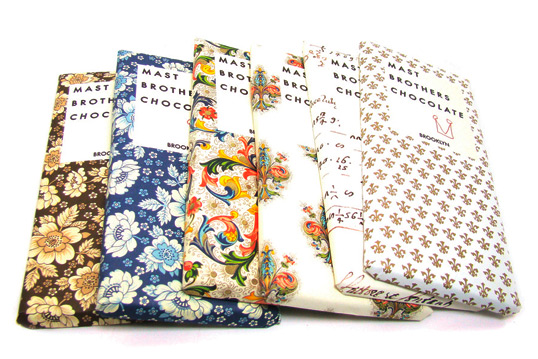 Forgot to make a Mother's Day brunch reservation? Or, silently hoping that you'll be excused from the ritualistic eggs Benedict and mimosa event, and looking for another way to show your appreciation? Or, just want to give a little extra something to that wonderful mother in your life, whether yours or your children's? Here's a list of last-minute gift ideas for any food and drink loving mother that will arrive in time for May 11 (that's this Sunday!) if you order them by tomorrow.
For The Chocolate Lover
Sweeten up her day with some of the most unique chocolate to be found in the Mast Brothers Origin collection. This package consists of three bars of single-origin chocolates alongside one bar of their signature Brooklyn Blend ($40).
For The Cocktail Drinker
Get your mama making Manhattans at home with cocktail staples from Meadow. A jar of classic Luxardo maraschino cherries ($25.95) or Robert Lambert Dark Cherries in Merlot ($13.95) will pair well with a set of Dutch's Spirits artisanal cocktail bitters ($15.95).
For The Condiment Crazed 
Empire Mayonnaise's GMO-free, cage-free-egg, artisanal Sriracha Mayo ($7.50 for one 4 oz. jar) and White Truffle Mayo ($8) are the perfect way to add a little something to her lunchtime sandwiches at the office.
 
For The Fashion Forward Home Cook
Grab her a handmade apron ($20) from Etsy so that she can go wild in the kitchen without worrying about getting flour or grease on her clothes.
For The Cookbook Obsessed Home Cook
Mark Bittman's latest, the Mini Minimalist recipe collection ($15), is a tiny package of cooking wonders, and will look cute on the spice shelf.
For The Food Fiction Fan
Dutch author Herman Koch's best-selling The Dinner ($10.50) may not actually be edible, but anyone who has dined at a high-end establishment will appreciate the setting of this book. The entire story takes place over the course of a long, elaborate meal, during which two sets of parents deal with some ugly truths about their children. I devoured it in one sitting, and I'm still digesting.
The Mom Who Deserves It All
OK, all mothers deserve it all. But if you really want to go all out, order one of Made By Mouth's themed gift boxes full of handmade and small batch goodies (ranging from $45 to $135). If you get the "Breakfast in Bed" package, you can skip the brunch hustle and cuddle instead — everybody wins.
Also see: How 9 Chefs Are Spending Mother's Day This Year. Fire Is Involved.