Grab Your Crayons: There's A Coloring Book For Foodies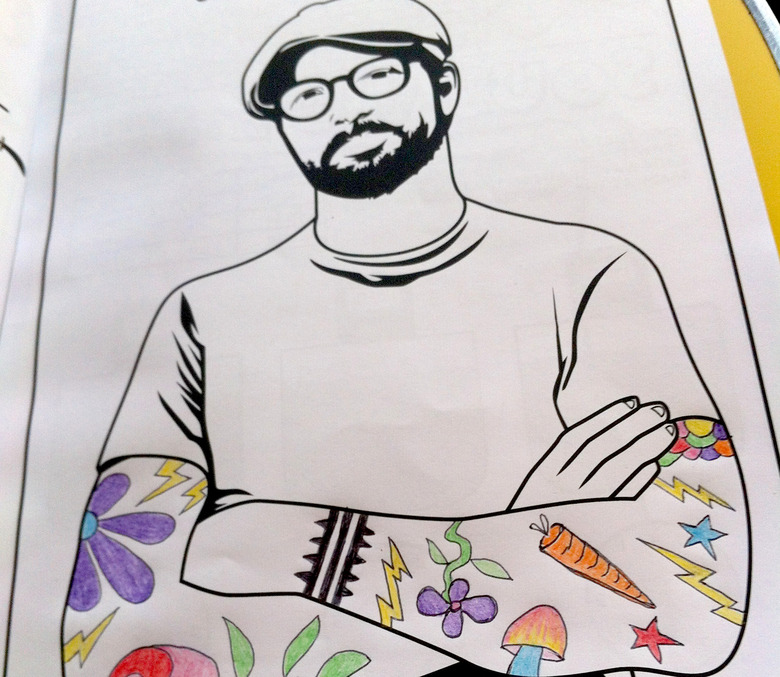 We may receive a commission on purchases made from links.
Coloring books are for children, wine is for adults. Right? Presumably so. So why is winemaker and sommelier Andre Mack's activity book so damn fun? It's full of crossword puzzles, coloring pages and activities tailored to foodies and industry professionals, like writing your own tasting menu or identifying the parts of a chef's knife. Nowhere in the slim book is there any serious discussion of winemaking, drinking or cuisine. No recipes, no food porn. And neither is the book a promotional tool for Mack's wine label, Mouton Noir. It appears put together by a bunch of friends who felt like doing something fun in a culture that just might take food and wine a bit too seriously.
Mack designed the book himself after spending years learning graphics as a side hobby, something that began during his first restaurant job at Red Lobster, when he made T-shirts that read "Dead Lobster" for a staff meeting. What Mack gets right in his activity book mirrors what he does as a winemaker: he finds the fun, playful side of a seemingly serious industry. On Mack's website, you can find a video of him in a Bed-Stuy wine shop, discussing wine pairings for grilled cheese and peanut butter and jelly sandwiches. This, from the former head sommelier of Per Se?
But Mack, 41 and a father of two, is quick to point out that playfulness exists even at Per Se. "Thomas Keller has a really great sense of humor," he says, citing that the menu at Per Se once listed a dish called "Tongue and Cheek" comprised, of course, of tongue and cheek. Although Mack presents himself in a comical light, employing a graphic style inspired by street artists such as Banksy and Shepard Fairey, he takes what he does seriously — and the proof's in the bottle. His Love Drunk rosé is a gulpable concoction of refreshing berries with a dry finish, and his Other People's Pinot is an ideal expression of the marriage between Pinot Noir and earthy Oregon terroir.
Mack, along with master sommelier Richard Betts, whose illustrated "Scratch and Sniff" book offered a fun learning guide to wine, represents a new generation of sommeliers who are compelled to express their unique voices and present wine in an accessible way. Mack's book also portrays a sense of community in the wine and culinary worlds. Thirty percent of proceeds will go to the Charlie Trotter Culinary Foundation, which educates children about culinary arts.
You'll find an impressive array of wine and food professionals in the activity book, ranging from Anthony Bourdain to Dan Barber to April Bloomfield, all supporting a great cause (but it was probably also fun to see themselves portrayed alongside fun food games). All the warm and fuzzy stuff aside, it's nice to be taken back to childhood, when you could fill out the maze on the back of the cereal box during breakfast, only now you're coloring in Chef Sam Mason's tattoos while sipping Pinot. Pair that with a grilled gouda and bacon sandwich, and you're set.
More design finds on Food Republic: