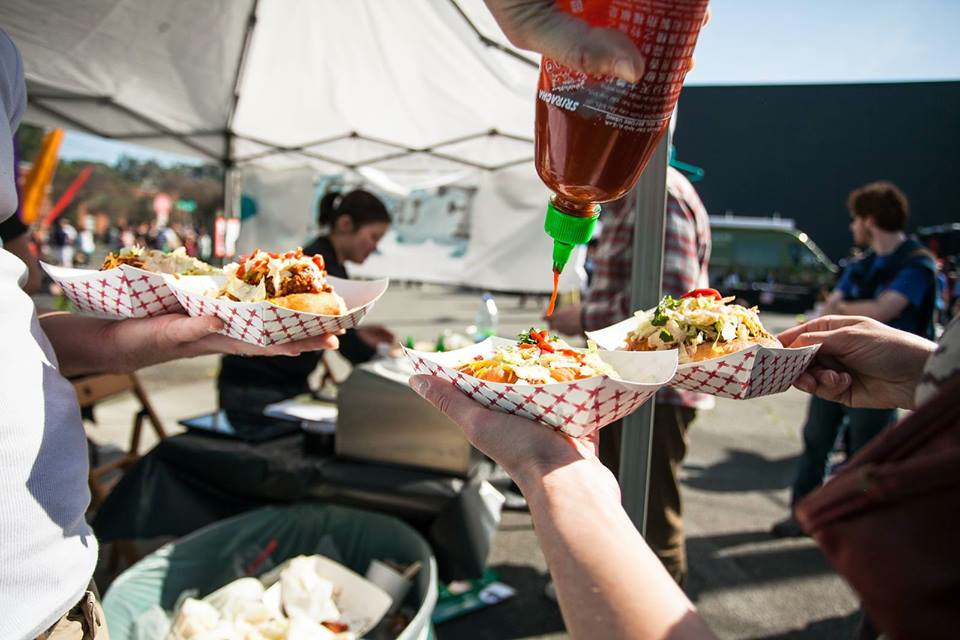 This week, we're serving up a diverse spread of food events located in every region on the U.S. Get a jump start on Cinco de Mayo festivities at Tucson's Agave Fest, where you can sample from more than 50 tequilas, mezcals, sotols and bacanoras. Or if Italian food is more your scene, spend your Friday night with some of the city's best eateries at Boston's Taste of the North End. Feeling fancy? Watch a runway show and then kick back with a cocktail (and a shave) at the Las Olas Wine & Food Festival. And if you believe that the best food comes out of a truck window, you're in luck: Portland, Maine's Street Eats and Beats and Seattle's Mobile Food Rodeo are happening this weekend — so you can get your street food fix on either coast.
The Skylark Roof Deck Grand Opening Party
New York, NY
May 1
The Skylark Roof Deck, NYC's newest outdoor event space, debuts its newly minted 32nd floor rooftop with a night of light fare, good music and hand-crafted cocktails. Order any of the seven seasonal cocktails from mixologist Johnny Swet or visit the bar for a wide selection of beer, port, grappa, champagne and wines, then make a dent in the dinner menu with items like mac & cheese cupcakes and deconstructed beet salad skewers. In between bites and libations, take in the panoramic views of the Hudson River and West Side skyline as well as the Empire State Building right in your face.
Agave Fest
Tucson, AZ
May 2
Tucson's Agave Fest celebrates Cinco de Mayo a few days early with a party featuring the city's most talented bartenders. Guests receive tasting tickets to sample more than 50 tequilas, mezcals, sotols and bacanoras, then vote for Tucson's best agave cocktail of 2014. Last year's winner John Herrera of Tavolino competes to keep his title, along with Tucson favorites Allie Baron of La Cocina and Matt Talevra of USBG. That's going to be a fun afterparty.
The Taste of the North End
Boston, MA
May 2
If plane tickets to Italy seem a little steep, head to Boston this Friday for some seriously good Italian food that won't break your budget. The 21st annual Taste of the North End brings Boston's favorite North Italian eateries under one roof. Ticket proceeds benefit North End Waterfront Health. Sample from a spread of appetizers, cheeses, entrees, desserts and libations from more than 30 of the neighborhood's best restaurants, like Antico Forno, Paliuca and Mike's Pastry.
Las Olas Wine & Food Festival
Fort Lauderdale, FL
May 2
Fort Lauderdale's Las Olas Wine & Food Festival showcases the best of South Florida with samplings from 70 local restaurants and 32 wineries from around the country. Land a personalized bottle of William Hill wine at the VIP party, sip more wine at the Art Institute Fashion Show and make sure to spend some time in the Shellback Caribbean Rum Hut. But take breaks in between, obviously. If your five o'clock shadow is getting out of hand, visit the New Amsterdam Shave Lounge, where you can order a razor-straight shave, a shoeshine and a manly cocktail to wash it all down.
Street Eats & Beats
Portland, ME
May 3
Street Eats & Beats celebrates Portland, Maine's food scene with 12 local and visiting food trucks, cold brews and live music. Stop by Small Axe Truck to get your korean pork belly to-go, pick up an artisanal peanut-butter and jelly sandwich from PB&ME and for dessert, visit KupCakes INC. for a bacon maple cupcake. Throughout the day, catch performances from garage power-pop group Paranoid Social Club, rockabilly band King Memphis and rock and soul trio Wild Adriatic and wash it all down with seasonal blends on tap from Gritty's Brew Pub.
Mobile Food Rodeo
Seattle, WA
May 3-4
This weekend, Seattle's International District transforms into a Mobile Food Rodeo, staffed with "Truck Wranglers" to help you rope in grub from any of the 45 food trucks. Finally, a theme that makes sense! Don't miss the Taco Libre Showdown: 25 trucks sling tacos stuffed with anything from beer-battered cod to smoked pork with Sriracha aoli for the Golden Taco Award. The competition continues later as the Lucha Libre Volcancia troup performs live mariachi and luchador wrestling at the Taco Libre Smackdown. End the night working off the day's eats at the Barrio China Dance Party hosted by DJ Swervewon.
Upcoming:
The Manhattan Cocktail Classic
New York, NY
May 9-13
Over five days and four boroughs, the Manhattan Cocktail Classic brings together master mixologists, cocktail enthusiasts and people who just like a really good drink now and then. The Classic's Industry Invitational is packed with programs geared towards industry professionals, while laypeople can enjoyed the seminars, tastings and of course, parties. Saturday, learn the do's and don'ts of opening a bar while sipping signature cocktails from the Death & Co. team at Tales From Behind the Bar, and on Sunday, join Leblon Cachaça and 11 A-list New York City bartenders in their quest to concoct the world's largest hand-muddled caipirinha.
Greater Northeast Philadelphia Beer Fest
Philadelphia, PA
May 10
Craft-beer lovers, rejoice! The Northeast Philly Beer Fest is back for its 4th year, with beer from more than 75 of the country's best craft breweries. A ticket buys you a tasting glass to sample the featured ales, lagers, porters and ciders. When the hunger pangs hit, head over to the food stands serving up delicious German and American cuisine. Hey, we love German food and beer!
MidAtlantic Wine & Food Festival
Wilmington, DE
May 14-18
The MidAtlantic Wine & Food Festival welcomes 90 chefs and 20 winemakers from around the world to participate in four days of food, wine, spirit and beer events. Attend one of Thursday's line-up of interactive lunches, like sushi and sake with chefs Robert Wood and Yasuhiro Sano or a festival brew lunch at the Dogfish Head Brewery, with pairings curated by Chef Brenton Wallace and Dogfish Head founder Sam Calagione. Try your luck at the blind wine tasting and scavenger hunt at Siena Gold Farm and score a ticket in advance to the Festival's signature event, the Bacon & Bourbon dinner.
Paso Robles Wine Festival
Paso Robles, CA
May 15-18
The 32nd Annual Paso Robles Wine Festival showcases the bounty of wine country with a series of dinners, seminars and more than 130 contingent events hosted by local wineries. Attend the Friday night reserve event and auction, pouring more than 50 wine varietals paired with culinary delights from Apple Farm Restaurant, Vivant Fine Cheese and more local eateries and purveyors. At Saturday's Grand Tasting, put your sampling glass to work as you taste from the complete lineup of Paso Robles wineries to live music from Próxima Parada.