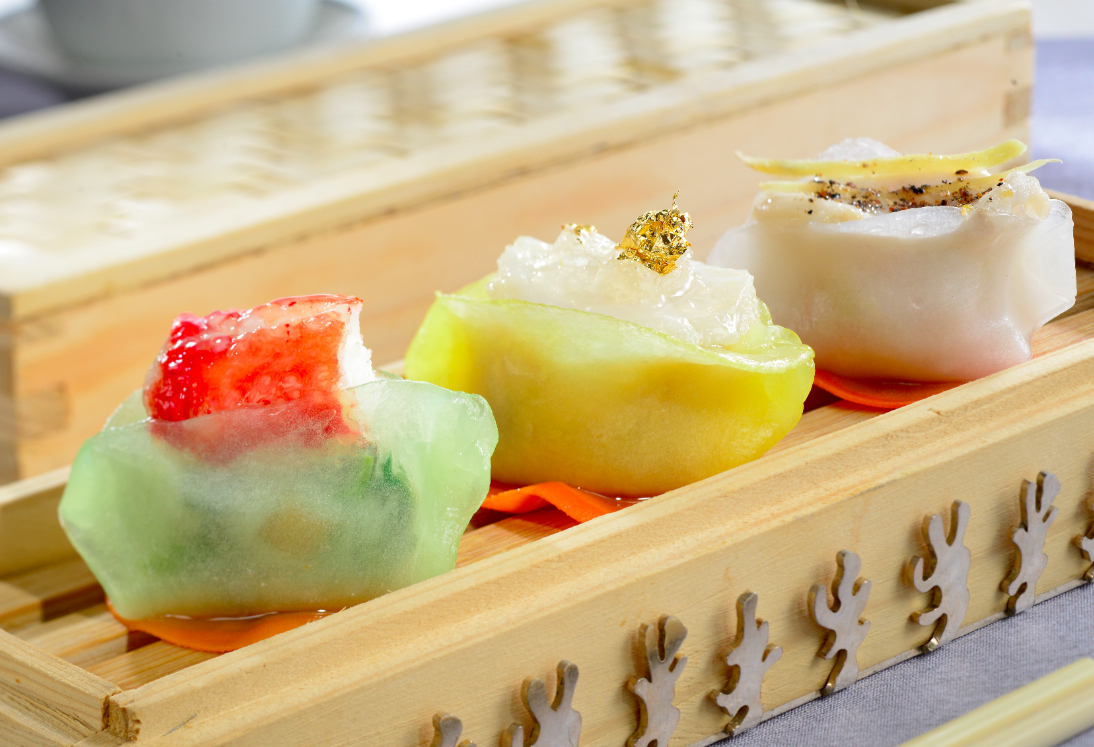 Michelin stars are easy prey. Unlike other big game, they can't move. When they see your hungry maw approaching, they have no choice but to just sit there and give up their delicious bounty. Sadly, there's no special society for Star Hunters like myself. We don't have an obscure channel dedicated to our exploits and we don't wear camouflage. After a recent trip to Hong Kong, though, I'm becoming one of the best hunters out there. In four days, I consumed 17 stars. Two days later, I bagged my 18th. For the math averse, that's an average of three per day. Whoah.
Like any good hunter, to enjoy my catch I had to understand my prey. To that effect, I kept three questions in mind with each meal:
1. If I were a Michelin inspector, would I have assigned the same rating?
2. Is a three-star experience really that much better than a two-star? And, subsequently, is a     two-star much better than a one-star?
And most importantly:
3. Do Michelin stars even mean anything?
Let's start with the most easily comparable spots. I ended up at three different French restaurants and hey, as it turns out, most of the fine dining in HK is in luxury hotels. These all happened to garner two stars each: a perfect control group.
Over two days, I visited Pierre Gagnaire's eponymous Pierre at the Mandarin Oriental, Caprice at the Four Seasons and Spoon by Alain Ducasse at the InterContinental. They were all French, but to varying degrees. Pierre and Caprice were both really French with menus and service that easily could have existed in Paris. Spoon, on the other hand, felt a little more casual, kind of a "I'm going to make a model/singer/artist my first lady" French. They all shared impressive views, but based on food alone, the fight came down to Pierre and Caprice.
While Pierre's milk-fed lamb was outstanding, the star of the evening was – surprisingly – a vegetarian dish. Fresh morels, drunk on creamy wine sauce, topped vibrant spring vegetables. Caprice won my heart with a knockout oyster dish — at $40 per oyster, it better be good — and the chef's signature Le Pigeon Fermier, a Moroccan-inspired pigeon breast with vegetable couscous. It tasted like French colonialism, and I don't mean that negatively. I had cheese plates and dessert at both, and the dish par excellence was the stacked selection from Caprice's private cheese cellar: Brillat Savarin, Briquette de Joursac, Mimolette and more of the fromage you dream about.
Each of the French restaurants displayed the hallmarks of Michelin standards: exorbitant prices, ultra-attentive service skewing just to the edge of pretension and artful plating using the best ingredients available (locavores be damned). If these were two stars, I was very excited to see what three looked like.
While Hong Kong clearly does French to the nines, I was just as excited to see how the Michelin guide translated to local cuisine. First, I hit Lung King Heen, the first Chinese restaurant in history to be awarded three stars. After the superb wok-fried Australian Wagyu beef, sautéed lobster in X.O. sauce and one of the best soups I've ever had, "Superior Pottage with Shredded Chicken," I realized that I'll have to travel back to Hong Kong or the mainland from now on if I ever want Cantonese. Nothing in our gloppy version of this cuisine even comes close.
One-starred Yan Toh Heen, transforms dishes that I tend to think of as heavy and unappealing into much lighter fare using quality ingredients and traditional techniques. The golden stuffed crab shell was the most elegant take on crab cakes I've encountered.
In contrast, fellow one-star Tim Ho Wan, a.k.a. "the cheapest Michelin-starred restaurant in the world," seemed like your everyday dim sum joint complete with large communal tables and stacks of dumpling-laden bamboo steamers. Here, I couldn't help questioning the rubric for awarding Michelin stars. Where was the focused service and precise attention to detail? The food was good enough, but if that's all that you need to earn one, every city around the world would be rife with them.
Bo Innovation was the last Chinese restaurant I visited, though it's unfair to characterize it as merely Chinese. This tiny three-star spot is the home of "Demon Chef" Alvin Leung, who popularized modernist cooking in Hong Kong. His inventive menu takes Chinese staples like preserved mustard greens and soup dumplings and puts them through Lewis Carroll's looking-glass. The mustard greens are turned into a powder, a chip and an ice cream. The flavors and textures of the dumpling are stripped down and re-imagined into a one-bite sphere that pops in your mouth. The service was excellent and nearly every dish from the eight-course chef's tasting had a "wow" factor that very clearly justified the three-star rating.
Venturing back to European cuisine, I had dinner at 8 ½ Otto e Mezzo Bombana, a mouthful of a name that earned three Michelin stars…inside of a mall. While malls may be a big part of Hong Kong culture, if you ignore the setting, this absolutely fits the profile of a Michelin three-star. The dining room is dark but inviting, the staff thoroughly knowledgeable and the food is probably the best Italian you'll find in Hong Kong. I particularly enjoyed the verdant short rib risotto and the taglialini with a heavy coat of black truffles shaved by famed chef/owner Umberto Bombana himself. The wine pairings were exquisite as well, which helped to explain the whole "three-star mall restaurant" thing.
One of the most enjoyable meals I had during my hunt was at The Steak House, an American-style steakhouse with the only charcoal grill in the entire territory. I loved every part, from the strong Manhattans to the Caesar salad to the 24-ounce tomahawk ribeye that could be certified as a lethal weapon. Speaking of lethal weapons, you can choose one of 10 knives from around the country. But I would never expect a place like this to earn a Michelin star. Yet it proudly holds one, as does Peter Luger in Brooklyn. What exactly does it take to get one? Does longevity figure in? Do the inspectors have a sweet spot for giant steaks? Here's my ultimate conclusion:
When a low-key dim sum spot can get the same marks as a high-class Cantonese restaurant and a unique American-style steakhouse, you have to start questioning the Michelin system as a whole. Did every restaurant I visited leave me satisfied? Definitely. Do I think they're better than a multitude of restaurants that don't have any stars at all? Not a chance. Therein lies the issue with any ranking system: the system is only as good as its depth.
As a Michelin Star Hunter, I can only make it to so many restaurants in my lifetime. Michelin inspectors face the same dilemma: they can't get to every single restaurant in the world — they can't even fairly compare one restaurant to another unless one person did all of the inspecting. That leaves us with an imperfect system that carries a lot of weight, not an uncommon problem in this day and age.
All of this questioning does not mean that my days of hunting Michelin Stars are over. I will continue to search like a post-presidency Teddy Roosevelt on the African tundra and in my quest I will keep trying to make sense of it all. I know one thing for sure: I ate 18 Michelin stars in the span of a week and each and every one deserves to be stuffed and mounted above my mantel – whenever I move into a house with a mantel.
Pierre
Mandarin Oriental Hong Kong
5 Connaught Rd.
Neighborhood: Central
+852 2825 4001
Caprice
Four Seasons Hong Kong
8 Finance St.
Neighborhood: Central
+852 3196 8888
Spoon
InterContinental Hong Kong
18 Salisbury Rd.
Neighborhood: Tsim Sha Shui
+852 2313 2323
Lung King Heen
Four Seasons Hong Kong
8 Finance St.
Neighborhood: Central
+852 3196 8888
Yan Toh Heen
InterContinental Hong Kong
18 Salisbury Rd.
Neighborhood: Tsim Sha Shui
+852 2313 2323
Tim Ho Wan
9-11 Fuk Wing Street
Neighborhood: Sham Shui Po
+852 2788 1226
Bo Innovation
60 Johnston Road
Shop 13, 2nd Floor, J Residence
Neighborhood: Wanchai
+852 2850 8371
8 ½ Otto e Mezzo Bombana
18 Chater Road
Landmark Alexandra
Shop 202
Neighborhood: Central
+852 2537 8859
The Steak House
InterContinental Hong Kong
18 Salisbury Rd
Neighborhood: Tsim Sha Shui
+852 2313 2323
More international travel on Food Republic: