Here's How To Drink Better Cerveza This Cinco De Mayo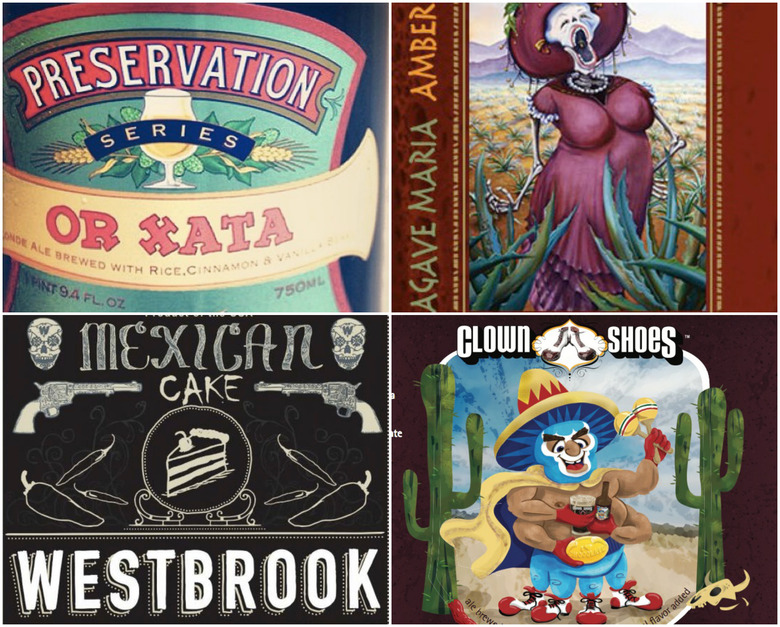 Cinco De Mayo is fast approaching, and let's not beat around the piñata: you're going to be drinking. It may not be quite such a big fiesta in Mexico, but in America, May 5th is a serious party fueled by tequila, cervezas and mas cervezas. Bars are going to be crowded and rowdy, think St. Patrick's Day but with less green and more sombreros. If you're into a little more space and a little less mayhem, throw a Cinco De Mayo bottle share. You'll need some great recipes (tacos, enchiladas and guac, anyone?) and I've got your tasting list covered.
Now I can get down with lime-spiked Corona on a hot day but Cinco is a celebration, so it's time to start thinking outside the clear bottle. It's great for marketing, but terrible for flavor — you're basically guaranteed a skunky brew, hence why it's essentially a vehicle for limes. Light lager has become synonymous with Mexican beers. In fact, the latest brand trying to break into the Mexican lager market isn't even from Mexico, it's from France! This Cinco de Mayo, revelers across the country will see the U.S. debut of Heineken-owned Desperados, a lager with tequila flavoring. In a pinch, I recommend Negra Modelo, a great Vienna lager which, I'll add, pairs nicely with Chipotle.
However, there are simply so many other Mexican and Mexican-inspired beers out there that you owe it to yourself to try something different. Whatever you do, avoid Bud Lime-a-Ritas and Straw-ber-itas. Appealing as they might sound, they're a sugary expressway to hangover city. Instead, put a proper sombrero on your Cinco De Mayo with these outstanding brews.
Make micheladas
If you like a little heat with your brew, the idea is to combine hot sauce, Worcestershire sauce, Clamato (tomato-clam juice), salt and lime juice. For an alternative to Corona, try Bohemia, an excellent German-style pilsener from Cervecería Cuauhtémoc Moctezuma, the makers of Dos Equis, which is refreshing with a nice floral hop flavor. He might not say it on TV, but this is a beer cocktail The Most Interesting Man in the World would definitely get down with.
Try a spicy beer that'll kick your burro
If you like absolute pain with your brew, this for you — hey what's a party without a daredevil? Pop a bottle of Stone Brewing's Punishment, their Double Bastard Ale aged in bourbon barrels with peppers, for the most severely spicy beer-drinking experience I know. Punishment is infused with traditional Mexican peppers like jalapeños and habanero, but pushes into the extreme category with Trinidad Scorpion peppers, ghost chilis and Black Naga peppers among others. The end result is actually quite tasty, with notes of bourbon and a deeply complex, fiery pepper flavor. Celebrate tonight, but drink too much of this and I have a gut feeling you'll curse el diablo in the morning.
Have a horchata in beer form
Horchata is a traditional drink popular in Latin America and Spain, made from rice, almonds and cinnamon. One beer that gets the flavors just right is The Bruery's Or Xata, brewed with rice, cinnamon and vanilla beans. It's basically boozy liquid rice pudding, though it was a Reserve Society exclusive, so you'll almost definitely need to trade for it or look out for it on tap. A more accessible example is Colorado's Elevation Beer Company's Señorita Horchata Imperial Porter, which blends the traditional notes of vanilla and cinnamon with a porter base.
A beer that's worth a tequila shot
The Lost Abbey in San Marcos, CA isn't far from the Mexican border and pays tribute to tequila in their latest release, Agave Maria. This sister is an American strong ale aged in both anejo and reposado barrels and clock in at a whopping 12.7% ABV. This is miles away the best tequila-flavored beer out there, capturing the flavor without the intensity of a shot. For a beer this strong, it's surprisingly smooth with hints of sugary caramel, oak, chocolate and of course, that sweet agave goodness.
Wrestling with what to drink? This beer is for you!
Lucha libre is the popular sport of Mexican free-wrestling where masked luchadores push, grapple and fly across the ring. Clown Shoes Brewery is clearly a big fan and their brewers created a fitting tribute: Chocolate Sombrero. This Mexican-Style stout uses roasted dark malts plus extra chocolate malts, ancho chile, cinnamon and organic vanilla extract. If you want to kick things up a notch, check out Luchador En Fuego, which takes Chocolate Sombrero as a base, adds chipotle pepper and ages it in Wild Turkey and Heaven Hill bourbon barrels, cranking it the ABV up to 11%. If you're a craft fanatic and are sore about missing out on Westbrook's excellent but limited Mexican Cake Imperial Stout, this is an alternative worth its weight in the ring.
More beer on Food Republic: