The 9 People You Need To Know In American Wine Right Now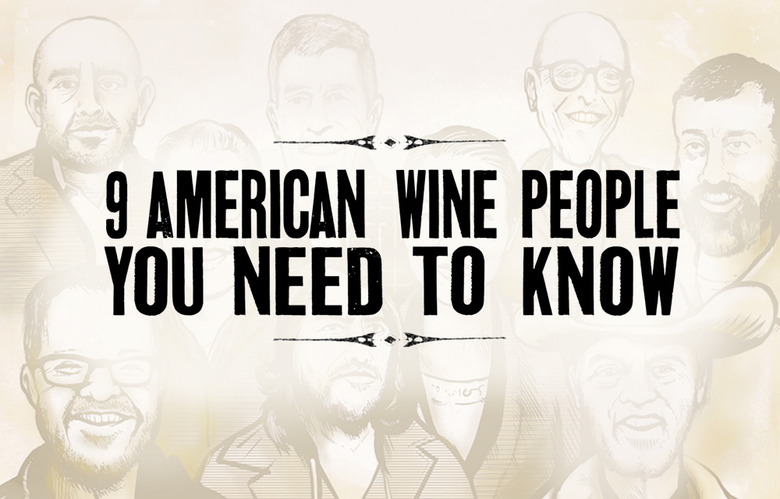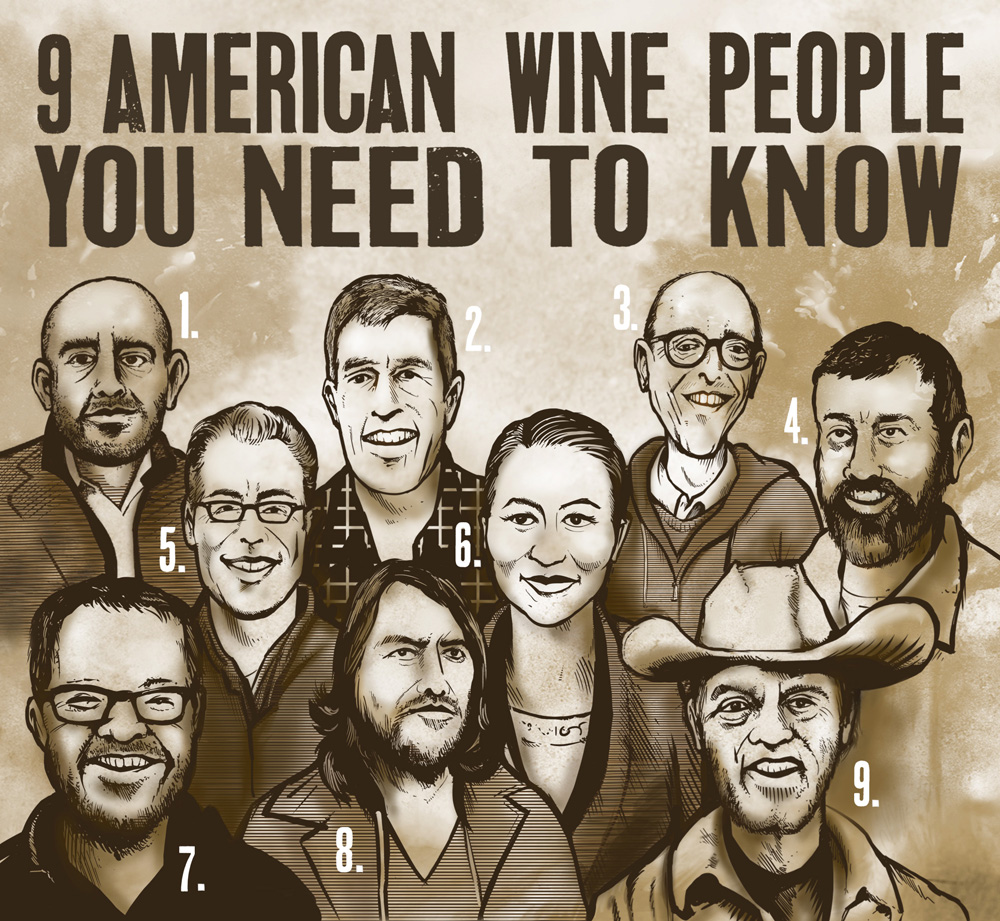 When Jon Bonné released New California Wine, it gave a name to the weird combination of new-school and super-old-school producers making great wine without a lot of manipulation. Although it would have been nice for him to have written New American Wine, because there is great stuff happening in other states, Bonné writes for the San Francisco Chronicle and one has to start somewhere. Here's a list of the nine people you need to know about right now in American wine, in no particular order:
Rajat Parr
Ostensibly the wine director for Michael Mina, Parr's hands are in a lot of different projects. He is a winemaker, working with Charles Banks (see #2) among others to produce wines such as El Dorado Gamay under RPM; fancy Chardonnay in Santa Barbara with Sandhi; pretty serious Burgundy at the negociant Maison l'Oree; and soon, wine from Oregon. He is a writer, and his book Secrets of the Sommeliers, pulled back the curtain on the craft for a huge audience, and won a James Beard in 2011. With Jasmine Hirsch (see $6), he hosts In Pursuit of Balance, and still manages to show up to RN74 to pull some corks. Look to this guy to be a bit of a kingmaker, if not the king himself.
Charles Banks
With his wife Ali, Banks is becoming a sort of Warren Buffett of the wine world, who first came on to the scene with the transformation of the Jonata cattle ranch in Santa Barbara, way outside of the typical Pinot Noir/Chardonnay territory, to produce serious and expensive wine from varieties like his rumored favorite, cool-climate Syrah. The initial release was sensational, egged on by word that Banks and a partner had taken over cult Napa producer Screaming Eagle; suddenly, no one in the world was making more money from younger vines. When Banks exited his roles at both properties to begin his company, Terroir Selections, a blitzkrieg should have been obvious, but even insiders are impressed by the moves made last year. Helped by low prices after the global economic slump, Banks has acquired everything from Mulderbosch, the South African giant, and Trinity Hill, in New Zealand, while creating #1 Parr's Sandhi and Maison l'Oree lables. In a separate deal, he took over Mayacamas, the classic Napa Cabernet-specialist, and installed Andy Erickson, late of Screaming Eagle and current partner with vineyard-manager-extraordinaire David Abreu in Ovid, as the winemaker. The latest acquisition, the legendary Rhone Ranger Bob Linquist's Qupe, which he opened beside Jim Clendenen's more Burgundian house Au Bon Climat at the giant Bien Nacido vineyard in Santa Barbara's Santa Maria Valley in 1982, is a game changer.  Although he doesn't seem to have an activist, or intervention-driven, strategy with prior acquisitions, partly because he seems to actually trust the people who are already in the cellar and the vineyard, with the kind of holdings and sales that he has, his influence will only be limited by his ambition.
Mark Tarlov
You may have seen a later John Waters film, like Pecker, and thought, "I like the people that got this film made."  Tarlov was that guy, a producer and director on films like Serial Mom and The Man Who Knew Too Little, and now he has redirected his energy, and money, on making wine.  He created a sensation in 2007 with the release of his Evening Land wines, Oregon Pinot Noir, Gamay, and Chardonnay, made by Burgundy-based Dominique Lafon, a star in the world of Meursault and Montrachet. Tarlov eventually left, and some holdings were sold to #1 Parr for his upcoming Domaine de la Côte label.  Tarlov is back, though, with a new venture called Chapter 24, and a new leading man, Louis-Michel Liger-Belair, of Vosne-Romanée, working alongside the Robin to his Batman, Mikey Etzel, son of the winemaker at the renowned Beaux-Freres, also in the Willamette Valley. Recognizing the duality of Oregon terroir, they are making two cuvees for their higher-end release, one from the unique volcanic soil that is so distinct from anything you might find in Burgundy (Fire), as well as something from the more similar sedimentary soils (Flood). If the evolution of Evening Land was any indication, look for a lot more to come.
Barnaby Tuttle
Although his handlebar mustache, newscaster father and twee labeling might seem ripe for Portlandia-style satire, Tuttle and his wife Olga are making Alpine (a.k.a. Teutonic*) style wines, like Schwarzriesling (otherwise known as the blending grape of Champagne, Pinot Meunier), Pinot Noir made Blanc de Noir, or skinless, and blended with Müller-Thurgau, as well as Gewurtztraminer, Chasselas, and Sylvaner — not to mention straight, if delicately colored, Pinot Noir. Their preference is to work with sites far from the Willamette A.V.A.s, in the portions of the region too exposed, and too cold, to ripen every vintage. The rugged climes of the extended Willamette Valley aren't too dissimilar to the steep and stony hills of German and Austrian vineyards, and the early releases have been so drinkable as to outstrip the trickle that makes it to New York almost immediately.
Sam Bilbro
Nepotism is kind of okay when the son is doing something that takes the father's work and runs with it, right? Marietta Cellars was founded in 1979 in Sonoma by Chris Bilbro, and has been making very special old-vine, dry-farmed Zinfandel (among Cabernet Sauvignon and other varieties) ever since. His son Sam had every opportunity to observe and learn, and when he met his wife Jessica, who had made wine at Armida and Passalacqua, they decided to start a new venture, Idlewild, focusing their attention on unique varieties, like plantings of Gavi di Gavi's Cortese in the Fox Hill Vineyard of Mendocino. Sam, with the guys behind the similarly well-connected Arnot-Roberts project, invited a group of winemakers to become the very unofficial "Seven Percenters," a reference to the percentage of wine made in California from grapes that aren't the usual favorites (Cabernet, Chardonnay, Pinot Noir, Syrah, Merlot, Sauvignon Blanc, Zinfandel, and Petite Sirah). Together, they're trying to shine a bright light on forgotten vines of Carignan, Gamay and Semillon, with the help of people like Hardy Wallace (see #7) and Pax Mahle of Wind Gap.
Jasmine Hirsch
Her position as the representative of her father's eponymous winery would put her into a lot of conversations automatically, the site is a veritable "Grand Cru" of the large and variable Sonoma Coast, but it's what Hirsch has done for the California wine community at large that puts her on this list. Long before Bonné's book was released, she was planning In Pursuit of Balance, a tasting in San Francisco that collected a group of like-minded wineries making "balanced" Chardonnay and Pinot Noir, who might not have a distributor, or retailer, in common. Taking it to New York, while keeping it open to the public, has helped to drive an attitude change among a lot of California wine consumers. Super-extracted, oak-driven expressions aren't cool anymore, and wines like what Papa Hirsch has been producing all along have gained a new level of appreciation.
Hardy Wallace
If this were the music business, and I were an A&R guy, I would be working hard to sign Hardy Wallace to my label. He came out of nowhere (Atlanta, really), via a somewhat ridiculous publicity stunt in which the Murphy-Goode winery offered their guest house for a half a year, free, provided you handle their social media and write a blog about it, oh yeah, and get paid. It sounds more American Idol than origin of something you might want to drink, but if there is a wine made based purely on the strength of personality, it's Dirty and Rowdy, a natural wine collaboration with Mrs. Kate Wallace and their lifelong friends Matt and Amy Richardson (Matt was the guy behind the camera in the video that landed Hardy the contest win). Despite having some of the best labels in the biz, the wine is actually delicious, and inventive. Working with old-vine Napa Semillon fermented on its skins (an age old method that reduces the need for added sulphur), and Mourvedre picked long before their neighbors who are looking for high-octane and brooding masterpieces like Sine Qua Non, not carbonic funky freshness made with the professed intention "...to be good with fried chicken." Production can't even come close to demand thus far, but if a recent tasting, where the scrum around Pearl and Ash's Patrick Capiello became a mega-scrum around Wallace, the next few years could be big for this guy.
Kevin Kelley
The mad genius behind Hardy Wallace's first individually released wine was not Cathy Corison, but a young winemaker with an actual winery, Kevin Kelley of Salinia.  Making stunning, if not controversial, examples of old Chardonnay vineyards like Charles Heintz's Sonoma plantings, the wines are beguiling. Kelley is making wines for the ages, which means that he is not afraid of bottling with tons of acidity (read: longevity), but, also, after an extended time in oak barrels.  Although he was involved in making the lean, Chablis-esque wines from Lioco, which favor fermentation in tank so that they are enjoyable soon after release, he doesn't eschew the richness and development that occurs in the barrels that have long been used in Burgundy and the Jura. The clincher, though, was not a wine he expected to make when he started Salinia, but a field blend of both red and white mostly Rhone varieties (Syrah, Grenache, Mourvedre, Counoise, Cabernet Sauvignon, Marsanne, Rousanne, Viognier, Picpoul Blanc and Muscat Blanc), all fermented in Acacia oak barrels together.  Coming from the Sun Hawk Farm, near Hopland in Mendocino County, it is beautiful, unique and promising.
Matthew Rorick
Forlorn Hope is only a name you would attach to your winemaker if you're sure your audience doesn't mind the image of a bunch of soldiers getting slaughtered by muskets, or if they do it's only because it turns them on. 'Que Saudade,' the name given to a cuvee of Verdelho, the Iberian white variety, is hard to translate from the Portuguese: it generally refers to that feeling of missing someone that is far away and maybe won't come back any time soon. He's been making small batches of these fascinating, often very old, plantings of the 'Seven Percenters' like Alvarelhão, which, in 2012, produced one of my favorite wines in California: the so-called 'Suspiro del Moro' out of a site in Lodi.  Dark purple, like something you'd expect from a rugged hill alongside the Duoro, but with a unique, super-floral perfume, and fresh, almost crackling, acidity, it was California's answer to Kermit Lynch's Berkeley-based influx of fresh red wine from France. The clincher, though, is the recent purchase of a collection of vineyards and winemaking facility in Calaveras county valued at over four million dollars, best known previously as the Stevenot winery. It isn't just the 50-year-old own-rooted Chardonnay that has the wine world excited; it's the ability of a full-scale winery to produce "pourable" amounts of Rorick's juice.
Contributor Chad Walsh writes about wine and other beverages. He is also beverage manager for The Dutch in NYC.