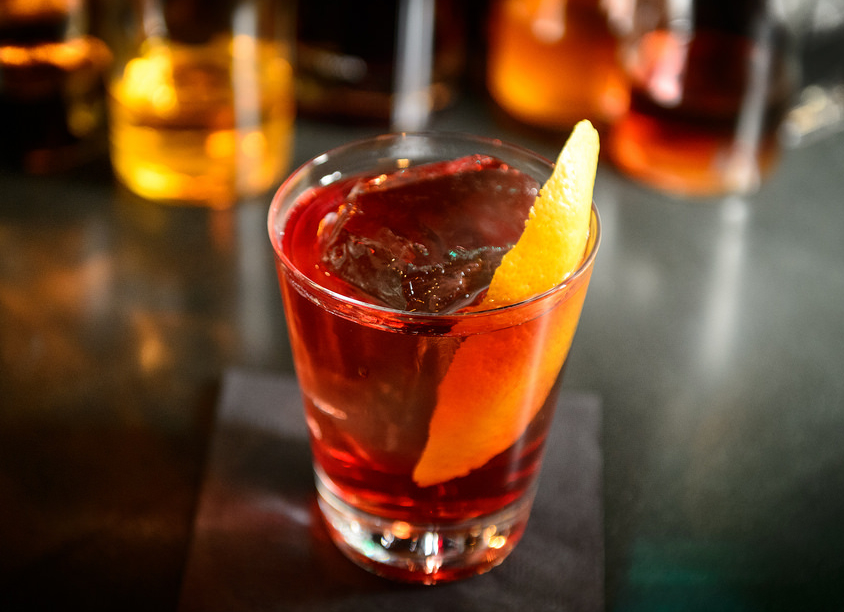 Is the world ready for another fruit-flavored booze?
For anyone who has experienced bottom-shelf brands like DuBouchett, DeKuyper and Alize, the answer is likely a resounding "no." After all, with flavors ranging from oversweet artificial banana to oversweet artificial cherry to oversweet artificial peach, the usual fruit liqueur selection shows all the depth and sophistication of a bag of Skittles.
Obviously, it doesn't have to be this way. At their best, fruit liqueurs not only perk up cocktails, they also offer a creative option for bringing fresh flavors to the bar. Embracing this approach requires a major shift in perspective and ingredients: rather than using sugar and artificial flavorings to cover up the burn of cheap booze, liqueur producers need to turn the perspective around and view alcohol as a way to preserve the flavor of fresh fruit. From this angle, cheap alcohol is a no-no, and sugar must used sparingly.
One way to rediscover the joys of intense fruit liqueurs is through the kitchen. D.I.Y. liqueurs, after all, are easy to make, and they offer a range of flavors that put the local liquor store to shame. However, for those who don't want to grate limes or hunt up grain alcohol, things are looking up — over the last few years, high-quality fruit liqueurs have become increasingly common as small producers, and a growing number of large ones, are realizing that there's a market for lower-proof blends that are distinctive, flavorful and low in sugar.
Pama pomegranate liqueur, a recent addition to the top-shelf liqueur trend, suggests how high-quality liqueurs can potentially be a game-changer. A low-proof (17% ABV) mix of pomegranate juice, vodka and tequila, it falls slightly on the tart side of the sweet/tart balance, offering a flavor that is intense and sweet, without being sugary. In terms of flavor profile, it has a tannic undertone not unlike wine, and makes an interesting mixer for a variety of flavors, including bitter and umami ingredients (which can be hard to work with).
Historically speaking, Pama fills a big empty spot in the liquor cabinet. After all, while they've been largely missing from bars for a long time, pomegranates have a long and symbolic history in mixology. A long time ago, pomegranate juice, or, as the French called it, "grenadine," was a bar standard, prized for its balance of sweet and sour. Of course, as pomegranates became more expensive, the juice was replaced with a bright red mix of high-fructose corn syrup and food coloring, yielding our current, lame bar mixer.
As a side note: the French also named their hand-held explosives after pomegranates. English speakers took the word, later adjusting it to "pineapple grenade" — a redundancy that also might make a good drink recipe.
Also see: 11 Things You Didn't Know About Pomegranates
For those who like their symbolism, pomegranates are a rich vein, playing into numerous religions and mythologies. The most notable is probably the ancient Greeks, who used Persephone's consumption of three pomegranate seeds (and subsequent three-month banishment to Hades) to explain why the earth gets cold every winter. More on that in a moment.
While Pama is fun to experiment with, it also makes an interesting addition to existing cocktails. Not surprisingly, it swaps out nicely for grenadine, making for a decidedly grown-up version of the classic Shirley Temple. And for heavier cocktails like the Manhattan, it offers a bright and fruity top note.
Play, the bar at New York's Museum of Sex, recently hosted some of America's top bartenders in a competition to find new and innovative cocktail recipes that use the product. The participants' offerings demonstrated the liqueur's ability to work with bitter ingredients like Campari, sweeter ones like Lillet and richer ones like sherry. If you're interested taking Pama for a spin, here are some great recipes to start with.
The Law Abiding Citizen
Ryan Gannon, a bartender at Cure New Orleans, won grand prize with this low-proof cocktail that combines Pama with sherry for a rich, well-balanced flavor.
¾ oz Pama Pomegranate Liqueur 

1 ½ oz Hidalgo Napoleon Amontillado Sherry

¾ oz lemon juice

¼ oz simple syrup (1:1)

Bittermens Tiki Bitters
Shake everything with ice and and double-strain into a coupe. 

Garnish with 4 drops Bittermens Tiki Bitters.
The Demeter
Julia Momose, a bartender at Chicago's The Aviary, created this bittersweet blend that evokes Persephone's mother.
½ oz Pama Pomegranate Liqueur 

2 oz Lunazul Reposado Tequila

½ oz Campari

2 dashes Angostura Bitters
Combine ingredients in a mixing glass. 

Add ice and stir. 

Strain into a chilled cocktail glass. 

Finish with lime zest expressed over the glass and garnished.
More craft spirits on Food Republic: