9 Places To Eat And Drink Incredibly Well In Brussels, Belgium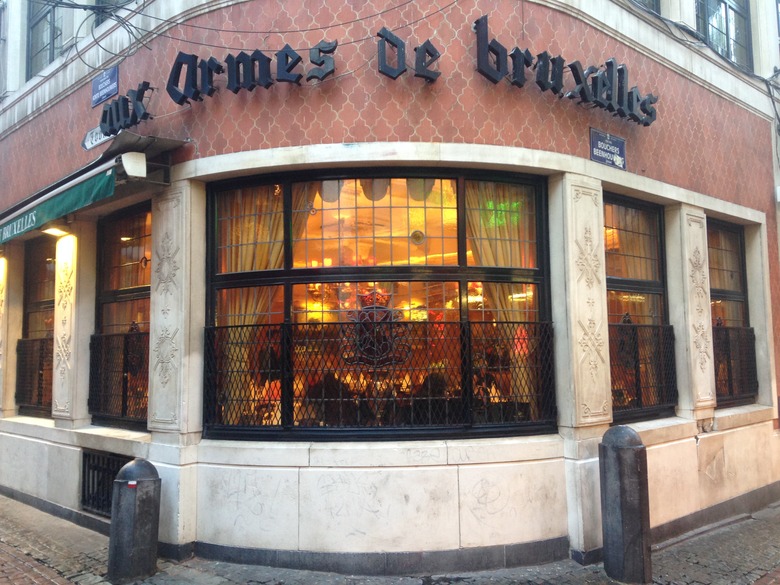 Les Armes de Bruxelles has served the best mussels in town for close to a cen
In Belgium, half the population is French-speaking (called Walloons), while the other half speaks, and is ethnically, Dutch (called Flemish). This unique cultural mash makes for a rich culinary landscape that borrows ingredients and techniques from both northern Europe and France. With that, Brussels (the country's largest urban center) may be one of the most underrated (and unpretentious — we're looking at you, Paris!) food cities in the world. Ok, so the first things that come to mind when thinking of Belgian cuisine are beer, mussels and French fries. But as we soon found out, there is so much more that the city has to offer. Here are 9 places to eat and drink incredibly well in Brussels.
1. Le Pigeon Noir
The most memorable meal on a recent trip was at Le Pigeon Noir, a 20-seat restaurant located in the upscale residential neighborhood of Uccle. Le Pigeon Noir serves traditional fare executed masterfully. I opted for roasted pigeon, which was crisp on the outside and moist on the inside. The salmis — a preparation rooted in classical French cooking, when a roast piece of meat is sliced and reheated in sauce — gave the bird a robust flavor. Pigeon paté and a red wine reduction spread on toast was the perfect accompaniment. The chef explained that the dish utilized every piece of the pigeon, together, then separately. The gestalt of pigeon? Definitely. Rue Geleytsbeek 2, 1180 Uccle, Brussels +32 2 375 23 74
2. Noordzee — La Mer du Nord
Located on the corner of a busy intersection, Nordzee is my kind of local spot: a roadside fish shack/bar right in the middle of the city that serves a handful of fresh specials, including seasonal seafood soup, mussels, shrimp croquettes, fried calamari with homemade mayo, swordfish à la plancha, scallops, razor clams...and that's about it. Each dish is served modestly on a small tin plate and will set you back anywhere from €2 to €8 ($3-$11). There is also a solid selection of beer and wine. The roadside bar has limited seating, but patrons (and the police) have no problem with taking the food and booze and moving over onto the sidewalks and surrounding streets, where it is perfectly acceptable to drink. Pick up some fresh fish to cook at home on your way out. 45 Rue Sainte Catherine, 1000 Brussels, +32 2 513 11 92
3. Vismet 
Another classic Belgian establishment is Vismet, a seafood restaurant where everything is made in-house by a classically trained Flemish chef. The specialty of the house is croquettes aux crevettes (shrimp croquettes), made with brown shrimp and béchamel. I know what you're thinking, but Belgian brown shrimp is a delicious local delicacy. The process of peeling the one-inch shrimp is known to be tedious, and each chef has their own techniques when it comes to peeling the stuff (some even ship the stuff all the way to Morocco, where labor is cheaper). But at Vismet, the chef's mother peels pounds of shrimp a day. It's that kind of place. Sint-Katelijneplein 23, 1000 Brussels, +32 2 218 85 45
4. Caffé al Dente
Nestled on a quite road is Caffé al Dente, an Italian restaurant that serves two daily specials (one fish and one meat), a few pastas and a handful of appetizers. You can see all the cooking happen behind the bar, where a hefty Italian nonna (who speaks no English, French or Dutch — just Italian) stirs large pots on a massive antique stove. Her sous-chef is a stocky young man who looks like he arrived from Napoli yesterday. Between the two of them, there's lots of yelling in Italian, resulting in some of the best Italian food you've ever had. The dishes are simple, straightforward and delicious. Rue du Doyenné 87, 1180 Uccle, +32 2 343 45 23
5. Friture René
Step into Friture René and you've stepped back in time. This gem is located in a somewhat out-of-the-way neighborhood, but definitely worth the trip. Here, everything is as Belgian as it gets, from the beer and fries to the waiters. The décor is perfect: Outdated bulky wood furniture, a well-stocked antique oak bar and black and white tile floor. Everything on the menu comes with a dish of perfect Belgian fries, which the waiters keep refilling. Bottomless Belgian fries? This is not a typo. The highlight of the menu is a 12-ounce horse steak (also not a typo), which arrives with several sauces to choose from. I skipped the sauce and thought that the meat was perfectly seasoned and tendered on its own. If you only have time for one restaurant in Brussels, go here. Place de la Résistance 14, 1070 Anderlecht, +32 2 523 28 76
6. L'Archiduc 
Longtime favorite L'Archiduc is located right in the center of Brussels and has been a popular bar amongst locals for decades. The bartenders are famous for their classic cocktails, so grab your favorite and sit in the courtyard with a full view of every angle of the bar. As with any respectable bar in Belgium, choose from more than 200 beers and see a jazz concert featuring local talent on the weekends. 6 Antoine Dansaertstraat 6, 1000 Brussels, +32 2 512 06 52
7. Aux Armes de Bruxelles
Aux Armes de Bruxelles is one of the oldest restaurants in the city and the go-to place for Belgian classics like moules frites and carbonade flamande (a sweet and sour beer and beef stew). Contrary to popular belief, Belgians hit up places like this to have their fix. "Mussels are not something we have at home," a Belgian friend explained to me. "We go out for mussels, and everyone has their favorite restaurant." At Aux Armes de Bruxelles, you can choose from an array of sauces, such as the classic marinières, Provençale and à la créme, amongst others. Other standouts from the menu include the sole meuniére, and the rib-eye with French fries. Legend has it that King Leopold III visited Aux Armes de Bruxelles once a month. Today, you can spot politicians, celebrities and people from all walks of life at the age-old establishment.
Beenhouwesstraat 13, 1000 Brussels, +32 2 511 55 98
8. Umamido 
Are you ready for this? Umamido is a tiny ramen shop in Brussels in the hip Flagey neighborhood founded by a Belgian dude who used to live in Kyoto, Japan. Upon his return to Belgium, he hired a Polish chef to whip up some the best (and probably only) tonkotsu ramen around. When asked about hiring a Polish chef (as opposed to Japanese) the owner told us that some of the best broth he ever had was actually in Poland. He thought that if traditional Polish soup-making technique was applied to Japanese flavor, the result would be awesome. And it is. Chaussée de Vleurgat 1, 1050 Ixelles, +32 2 640 40 57
9. Chez Antoine
Fries are a huge part of Belgium's culinary and cultural heritage. Legend has it that they were named "French fries" due to a linguistic misunderstanding: In old English "to French" meant "to cut into sticks." According to the Belgian historian (and fries know-it-all) Jo Gerard, chips appeared on the dining tables in Namur, Belgium in the latter half of the 17th century. Poor inhabitants in Namur used to fry tiny fish, and when the river froze in the winter, the fish were replaced by sticks of potatoes cut to the same small size of the fish. Today, fries continue to be made with traditional Bintje potatoes (a type of potato grown in Europe and North Africa, sadly unavailable in the US).
The fries are cooked twice and served in a paper cone with a sauce — traditionally thick, homemade mayo — but some places have over 50 dipping sauces to chose from. People go to fritures (fry houses), little shacks you'll see all over Belgium. There are approximately 4,000 in the country. One of the most respected fritures in Brussels is Chez Antoine, located in Place Jourdan. The fries are perfect every single day and at every hour. Fritures are probably the only places in Europe that are open 7 days a week and sometimes 24/7! Place Jourdan 1, 1040 Brussels, +32 2 230 54 56
Read more about Belgium on Food Republic: