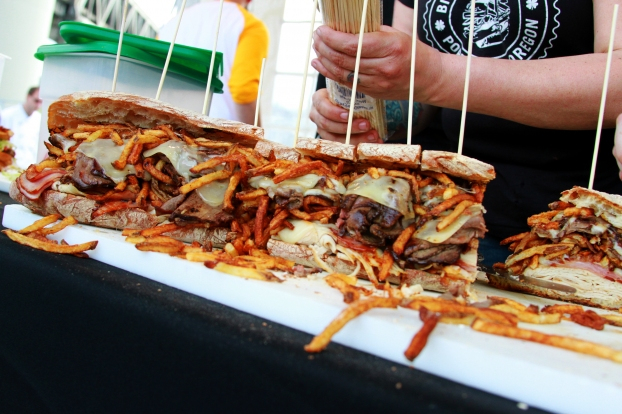 We know that in a week you'll be reading our awesome accounts of the Austin Food & Wine Festival and salivating over photos of all the tacos we ate. So instead of stewing in jealousy, why not hop on a plane and meet us there? Consider this your official invite to Austin Food & Wine and more of this week's best food festivals around the nation.
Elsewhere in food festival land, watch a film about world champion pit masters before digging in to a plate of smoked brisket and chicken at the Charleston Food Film Festival, or indulge in dishes from over 60 world-class Boston chefs at Taste of the Nation. If you like your quesadillas stuffed with kimchi, head to Portland Eat Mobile where you can order the best fusion street grub fresh from the food truck. Check out what else is going on.
Charleston Food Film Festival
Charleston, SC
April 24-26
The Brooklyn-born Food Film Festival screens mouthwatering films starring food, then satisfies your cravings by providing some seriously delicious snacks. This weekend, the festival is headed south to celebrate its second year in Charleston. Kick off with a screening of The Kings of BBQ Kuwait, which chronicles the story of world champion pit masters cooking a feast for 5,000 troops in Kuwait, followed by an all-you-can-eat smoked brisket and chicken dinner. And for the 10th installment of the festival's Edible Adventure series, Ramen Burger creator Keizo Shimamoto will serve his signature dish after the premier of Director Mike Fox's Biting into the Ramen Burger.
Austin Food & Wine Festival
Austin, TX
April 25-27
Food & Wine Magazine's Austin Food & Wine Festival is out to prove, once again, that everything's bigger in Texas. This year's festival will feature over 50 chefs, plus celebrity favorites Andrew Zimmern, Richard Blais and Rick Bayless. The festival kicks off with The Taste of Texas, which serves up dishes from a lineup of 20 chefs. At the festival's Rock Your Taco, 14 chefs, including last year's champion Tyson Cole — we were there, the tacos were AWESOME — woo a panel of judges with their tortilla-clad creations. Grab bite-sized samples to judge for yourself whose taco reigns supreme. Need more reasons to go? Get the lowdown here and come say hi at the Food Republic interview lounge at the W Hotel.
Portland Eat Mobile
Portland, OR
April 27
Willamette Week's 7th annual Eat Mobile festival showcases Portland's impressive street food scene, allowing attendees to sample from more than 30 food trucks while the vendors compete for a "Carty Award" in three different categories. Head to Maine Lobster Co. for your fix of Northeast seafood, sample a sweet of savory crepe from Creperie du Lys and hit up previous Style Award winner KOI fusion for a hot dog loaded with Japanese mayo and Korean BBQ meat or a kimchi-packed quesadilla.
Taste of the Nation
Boston, MA
April 29
Last year, Taste of the Nation raised over $95,000 in the fight to end childhood hunger, and this year's event hopes to do even better with 100% of ticket proceeds supporting No Kid Hungry. Honorary chefs Jody Adams, Joanne Chang, Gordon Hamersley, Andy Husbands and Tony Maws will join more than 60 Boston-area chefs to create dishes that pair perfectly with the city's best beers, wines and spirits. There's no better cause.
Upcoming:
Agave Fest
Tucson, AZ
May 2
Tucson's Agave Fest celebrates Cinco de Mayo a few days early with a booze-centric party featuring the city's most talented bartenders. Guests receive tasting tickets to sample more than 50 tequilas, mezcals, sotols and bacanoras and then cast their vote for Tuscon's best agave cocktail of 2014. Last year's winner John Herrera of Tavolino competes to keep his title, along with Tucson favorites Allie Baron of La Cocina and Matt Talevra of USBG. That's going to be a fun afterparty.
The Taste of the North End
Boston, MA
May 2
If plane tickets to Italy seem a little steep, head to Boston this Friday for some seriously good Italian food that won't break your budget. The 21st annual Taste of the North End brings Boston's favorite North Italian eateries under one roof. Ticket proceeds benefit North End Waterfront Health. Sample from a spread of appetizers, cheeses, entrees, desserts and libations from more than 30 of the neighborhood's best restaurants, like Antico Forno, Paliuca and Mike's Pastry.
Las Olas Wine & Food Festival
Fort Lauderdale, FL
May 2
Fort Lauderdale's Las Olas Wine & Food Festival showcases the best tastes of South Florida with samplings from 70 local restaurants and breweries and 32 wineries from around the country. Land a personalized bottle of William Hill wine at the VIP party, sip more wine at the Art Institute Fashion Show and make sure to spend some time in the Shellback Caribbean Rum Hut. But take breaks in between, obviously. If your five o'clock shadow is getting out of hand, visit the New Amsterdam Shave Lounge, where you can order a razor-straight shave, a shoeshine and a manly cocktail to wash it all down.
Mobile Food Rodeo
Seattle, WA
May 3-4
This weekend, Seattle's International District transforms into a Mobile Food Rodeo, staffed with "Truck Wranglers" to help you rope in grub from any of the 45 food trucks. Don't miss the Taco Libre Showdown, in which 25 trucks whip up tacos stuffed with anything from beer-battered cod to smoked pork with Sriracha aoli, and then compete for the Golden Taco Award. The competition continues later as the Lucha Libre Volcancia troup performs live mariachi and luchador wrestling at the Taco Libre Smackdown. End the night working off the day's eats at the Barrio China Dance Party hosted by DJ Swervewon.