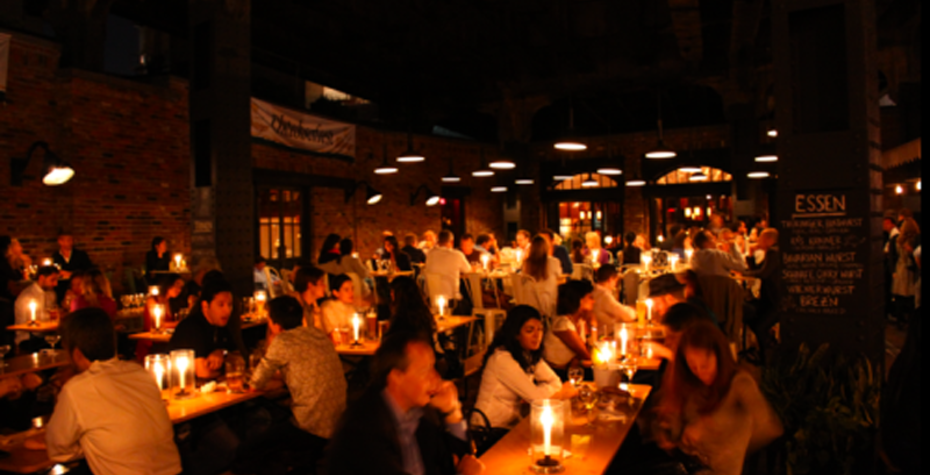 Awesome as beer gardens are for their communal tables, their plentiful selections of brews and sating foods to match, not to mention the typically laidback atmosphere, one descriptor you don't often hear associated with these popular watering holes is chic. That changed in 2009 when the André Balazs' boutique hotel group opened a German-style biergarten at its Standard Highline location in New York's Meatpacking District.
This spring, another boutique hotel is turning this into something of a trend. At Providence, Rhode Island's newly opened Dean Hotel, there's Faust, a classic "hofbrauhaus" styled out for hipsters, born from the owners' appreciation for traditional German-style beergardens and the communal spirit they engender. When you think about it, beer gardens make ideal hotel drinking spots. Unlike many hotel bars, they carry almost zero intimidation factor, making them easy destinations for guests to drop in, at whatever hour, and clink steins with locals who feel just as welcome. And thanks to these subtle but impactful hotel upgrades, the humble, no-frills beer garden proves its potential can match any other hot new arrival, both in appearance and in menu offerings.
The idea certainly proved to be a popular one at the Standard, which opened a second Biergarten on the roof of its downtown Los Angeles location in late 2011. In the near future, we hope to see more hotel venues like these where travelers and locals come together to break bread—er, pretzels.