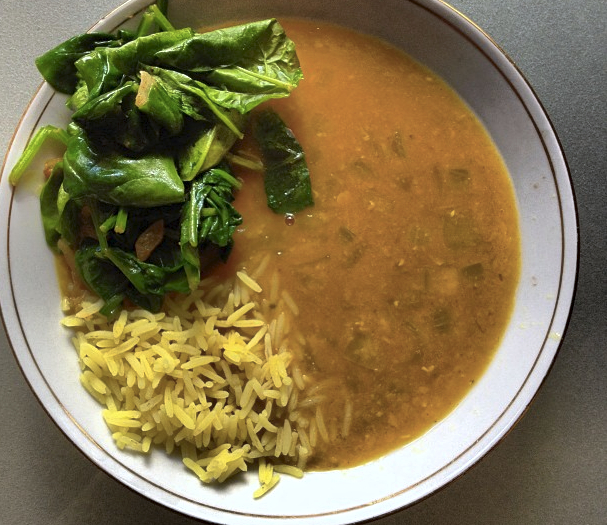 I have fairly old-school first memories of Indian food: picking little stones out of rice with my grandmother in Bombay, eating cheese and coriander chutney sandwiches at the Willingdon Country Club, snacking on smoky roasted peanuts with chili powder in a tight paper cone made from yesterday's Times of India as pedicabs buzzed past, kicking up the dust of a billion people.
I also have pretty badass recent memories of Indian food: marinating 10 pounds of tandoori chicken thighs daily at my mom's Indian fusion restaurant, World Flavor Café. (She is a blonde American, by the way). Uh…owning, and often using, an electric non-stick crepe griddle for dosas. Trying and failing about a dozen times to grow fresh curry leaves. That's not badass, that's just relevent. Finding a spot for an electric crepe griddle in a studio apartment's kitchenette is badass.
It's not that the other foods of my childhood, like matzo ball soup, stuffed cabbage and related Jewish deli stuff didn't have an impact on me. I live on the Upper West Side for schmaltz's sake, specifically because I need that stuff. But if Indian food had enough of an effect on my mom to whip her into a chef having never tried it before a date with my Bombay-born dad circa 1980, it had the same effect when it came time for me as a food writer to determine my pet favorite cuisine. Hands down, no contest, it's desi khana. My parents used to call me Jesi Khana. True story.
Though my knowledge of Indian cuisine is pretty good (for an American), I'll never learn enough. But no matter how many dishes I can identify by region, break down and cook, however much respect I have for the advanced concepts of chefs like Floyd Cardoz, Vikas Khanna and Aliya LeeKong, what I really want at the end of the day is a bowl of Indian kitchen doyenne emeritus Madhur Jaffrey's khichuri, simple spiced stewed rice and lentils, a healthy dollop of yogurt and a spoonful of spicy mustard-oil pickled green mangos or carrots for heat and acid. It's a perfectly balanced, salty-savory-umami bite that's one of the rare nutritionally complete utter comfort foods.
Today on Around The World In Five Editors, find out where in the States to eat my favorite street food (hold the street), learn an ancient recipe for chicken curry I've put my own spin on over the past decade, peep a true street food speed master and meet my uncle Ra, better known as Rahul Akerkar, king of the Bombay (and now Delhi) fine dining scene.
I'd offer the equivalent of bon appétit, but I don't speak Hindi. All the more reason to do a year abroad.