Heads Up NYC: Asha Gomez Is Coming To Town To Cook The Flavors Of Kerala. Yes!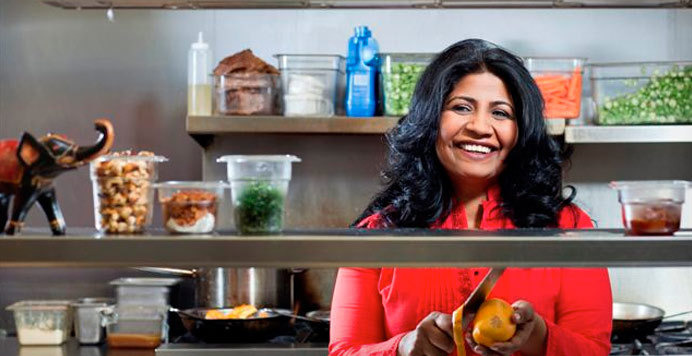 Asha Gomez had her "South India meets Southern America fried chicken" long before she was named a James Beard Award Semifinalist and editors from Bon Appetit, Food & Wine, Country Living and Garden & Gun started calling up her Atlanta restaurant Cardamom Hill. Yelpers cooed. Critics dropped stars. "This is sexy food — dinner as a serious booty call for the taste buds," wrote the city's well-regarded restaurant reviewer, John Kessler, in the Atlanta Journal Constitution.
The dish was simply electric. Exotic enough for cries of what? But above all, it was familiar, expertly fried deliciousness for a unanimous yum! In Gomez's kitchen, boneless chicken thighs are brined not in buttermilk, but coconut milk, with ginger, garlic and a spice base that Asha keeps close to her heart. Once fried, the pieces are drizzled with coconut oil and a mango sauce and served with a rice flour waffle covered with syrup spiced with toasted coriander, cumin and red chili flakes.
For Atlantans, where easygoing fried chicken has been a fixture of Sunday suppers for generations, this was a wake-up call. For Gomez, it was an opportunity to introduce the world to her unique approach behind the burners — the union of her ancestral home in Kerala (located at the very tip of Southern India) — with the American South, where she has lived for the past decade.
If you live in Atlanta, of course you know about Asha Gomez. But if you are in NYC — and surrounding areas — she might be a little new to you. But, good news, Gomez is paying a visit to our favorite culinary salon City Grit with a guest dinner on Saturday, April 26. You can find all sorts of details here.
Read more about India food culture on Food Republic: