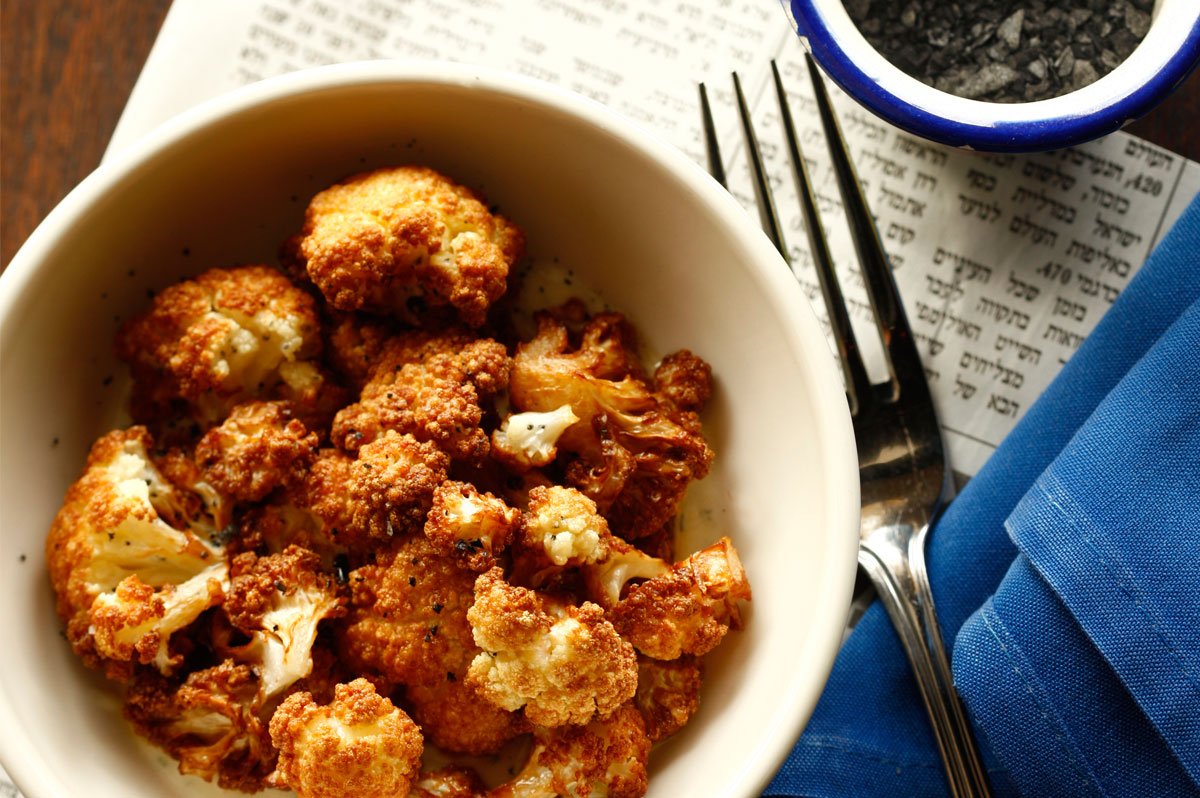 Our table is absolutely feeling the roasted fresh chickpeas that have arrived warm and still in their shell, dusted with cumin and pinched like a Middle Eastern edamame. Nearby a table erupts into applause (well, they all fire up the Instagram; applause 2.0) with the sudden appearance of a single toasted bagel. This bagel — irregular and slightly oblong, baked earlier that morning — is served with a small bowl of golden olive oil and za'atar, a spice mixture made with sesame seeds, dried sumac, marjoram and thyme. This bagel, which is called a "bread course" by our server, costs six dollars. It's the most expensive bagel I've ever seen, a full dollar more than at the St. Regis in Aspen.
But nobody thinks anything of it. And why should they? Hey, it's the West Village, 8:45 p.m., there's been a 30-minute wait on top of our reservation time (flutes of Champagne smooth things over) and we've finally got a seat in one of New York City's hottest new restaurants, Bar Bolonat. And these chickpeas are so genius! It turns out that in the year 2014 Israeli food, as they say, is all happening.
"For a long time it was very hard to call anything Israeli," says Einat Admony, the restaurant's 42-year-old chef, sitting in her quiet dining room a few hours earlier. Cooking since the age of five, Admony grew up near Tel Aviv to a mother born in Iran, and a father with Yemenite lineage. After serving in the army ("of course I was doing the cooking") with stops in Germany and Holland, she hunkered down for a life cooking on the line at high-end restaurants in New York City including Danube and Bolo, run by a pre-celebrity Bobby Flay. But it was the food memories of her homeland, the mingling of the Sephardic and Ashkenazi influences along with the Holy Land products like feta, soft and rich like butter, and refreshing green harissa, that inspired her to open a tiny falafel stand on Waverly Place, Taïm. With a combination of sharp business sense and a high culinary IQ that earned the nascent shop "best falafel in town" superlatives, the success was profound — and soon a second location and mobile operation was up and running.
But Taïm, as Admony is quick to point out, sure isn't Israeli food. "What we're doing there is a Middle Eastern falafel shop," she says. "Hummus is not Israeli; it can be Syrian, Egyptian, Lebanese." As for Admony's next project, would the upstart restaurateur pay tribute to the foods of her youth by opening a full-throttle Israeli restaurant? Not even close.
When Balaboosta first opened its doors on the edge of Little Italy in early 2010, it enchanted the New York City food world. Beginning with what is one of the best restaurant names ever committed to Open Table (it means "perfect housewife" in Yiddish) and continuing with a comforting, if not a little safe at times, menu of Mediterranean dishes like Swiss chard spaghetti and cantaloupe gazpacho, the Mulberry Street canteen has remained ever-crowded neighborhood staple ever since. Always good for a meaty turn-of-phrase, then New York Times restaurant critic Sam Sifton called it a "Middle Eastern trattoria" in his positive one-star review. Balaboosta, most certainly an earner and the inspiration for a best-selling cookbook of the same name, was most certainly not an Israeli restaurant.
"This is totally Israel," says Admony, emphatically, when pressed for Bolonat's place in the complicated New York City ethnic food taxonomy. And, true to the chef's words, Bolonat offers diners a short cruise through the country's highly specific food culture. Along with the six-buck Jerusalem bagel, a tribute to those sold by Palestinian street vendors at Old City's Western Wall, there is duqqa — an Egyptian style of za'atar that is married with yogurt enriched by Sicilian pistachios. The creamy sauce goes atop tender baby artichokes and has become one of Bar Bolonat's early favorites with diners. The chef lets slip that editors from The New York Times, Saveur, Food & Wine and Bon Appétit have already visited for plates of cauliflower "bamba" (an airy packaged snack food, reimagined with vegetables) and fried olives with homemade labneh during the restaurant's two-week infancy. So why has it taken this long for Israeli cuisine to find a spokeswoman, though a sometimes reluctant one at that?
"There are a lot of incredible Israeli talents who are doing strictly Italian or Spanish food, which I can relate to," she says. "I'm not sure if they are afraid to do Israeli food, but I know they are all comfortable with the flavors. She mentions Ori Menashe, the beast in the kitchen at well-regarded Los Angeles enoteca Bestia. "He's doing just incredible Italian food." She also names Efraim Nahon of New York City pan-Mediterranean Barbounia and Scott Snyder of Levant in Portland, Oregon. Then, of course, there's Michael Solomonov — chef-owner of Zahav in Philadelphia.     
"I don't know if you want to call it a movement, which sounds so, curious," says the chef from his Society Hill kitchen. Like Admony, Solomonov, 34, has been considered the youthful face of Israeli cooking in America — and for good reason. Born in Tel Aviv, he grew up in Pittsburgh and moved back to Israel, where he fell for kitchen life while firing laffa at a bakery. Back in the States, he honed his raw talents at a Florida culinary school and later while working under Marc Vetri. He eventually opened Zahav (the Hebrew word for gold) in 2008.
Before Zahav's opening, Israeli cuisine was hardly on the radar in the United States, and most certainly not in the slightly provincial culinary scene in Philadelphia. Many knew about the country's incredible produce and green falafels sold on the city streets. But Israeli cooking translated with a mezze of raw lamb, walnuts and sumac shallots, or fried haloumi paired with dates, almonds and mustard greens with golden-fried cauliflower florets? Solomonov was making some serious noise, and the James Beard Foundation was listening — awarding him the highest honor of Best Chef Mid-Atlantic in 2011.
It makes sense that the chef is resistant to fall into this writer's trap of calling his life's work (both past and future) some kind of trend or, even worse, "next big thing." After all, to track the food of modern Israel is to dive head first into the country's complicated — and politically charged — mix of ancient, and more modern, immigration histories. Next big thing? We're still tyring to figure out what that thing actually is. But one thing is certain, Solomonov has big plans, with a hummusiya (a casual hummus and pickles restaurant) set to open later this year, with a second Israeli restaurant on deck.
"There are so many cultures that have moved back there even within a hundred years, he says. "People brought all these different traditions and techniques and all these spices — looking at Moroccan, Portuguese and Sephardic Jews. There are many things going on in every Jewish home during the Sabbath. So honing in on these different nuances is what modern Jewish cooking is all about right now. And it's so much fun as a chef."
Solomonov credits his restaurant's success with the ability to instill trust. "People are willing to come in and eat, which was not happening a decade ago." He says his customers are more educated and don't just want to know about the pomegranate lamb shoulder or the grilled duck kebabs with huckleberries special, but about the culture of Israel and the regionality of the country's cuisine.
A part of the education process is the chef's frequent travel back to Israel (between two and three times a year) to lead culinary tours with chefs and, most recently, to film a television series In Search Of Israeli Cuisine (see below) with director Roger Sherman (The Restaurateur, Medal of Honor). Last year Solomonov invited a diverse group of chefs from around the United States to eat their way through the country, including Nate Appleman, the James Beard Award winner and current executive chef at Chipotle, Mourad Lahlou of San Francisco's Aziza, Israeli-born chef Alon Shaya from Domenica in New Orleans and Jason Marcus, chef and owner Traif and Xixa in Brooklyn.
When asked about the places he's visited in Israel — the farmers, producers and chefs who have inspired him most — Solomonov shifts to a high gear. He talks, emphatically, about a farmer who collects flood water in the middle of the dessert, irrigating his plants only a miraculous three or four days a year. "This dude is growing guava, figs, grapes and I'm like, what is your problem? Back in the day, the tribes that controlled the spiced routes, the Nabataeans, used to farm like that. Everything you eat there is like the first time you've tried it. Celery, Swiss chard, the figs dude. It was all life changing."
As for the chefs utilizing the products, it's a whole new world. "What's cool is that Israeli chefs are proud of Israeli food now. They used to leave and cook French or Italian or Spanish. But now they are back and cooking for real." And with hopes, we will be seeing more of that cooking around the United. But in the meantime, we've got a few hard-earned winners to rely on. "Balaboosta is killing and I can't wait to try her new place," says Solomonov before hanging up to prepare for a busy evening service.
Read more about the food culture of Israel on Food Republic: