DJ Neil Armstrong Ate Robot Sushi, Went Fishing Inside A Tokyo Restaurant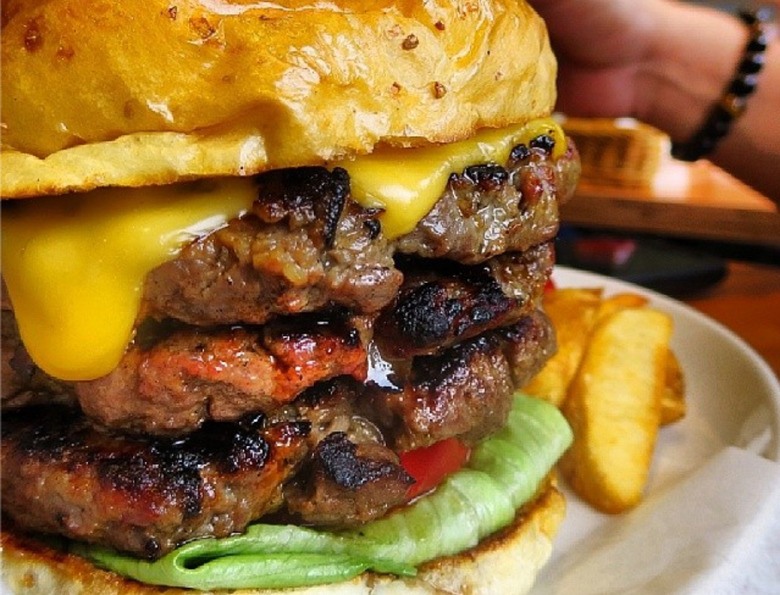 Each day this week during Around The World In 5 Editors, one of the editors breaks in with a lineup of stories, recipes, interviews and personal essays dedicated to their respective country. Here is why today is dedicated to the food of Japan.
DJ Neil Armstrong needs no introduction for hip-hop fans. He was Jay-Z's touring DJ for all of 2008 and 2009 and has shared the stage with the likes of Rihanna, Beyonce, Kanye West, Young Jeezy and Timbaland in a storied career. He's also performed at the 2008 Beijing Summer Olympics and spun alongside Common, Neil Young, Coldplay and Linkin Park. Talk about an eclectic mix. Neil recently took over our Instagram during a four-week trip to Asia (he visited Tokyo, Kyoto, Seoul, Shanghai, Hong Kong and Beijing, as well as Australia) and it turns out that music is not his only flavor. The DJ took our followers on an incredible tour of Tokyo, snapping photos and videos of robot sushi, turtle soup and multiple versions of fluffly pancakes and gigantic burgers. We caught up to discuss how Japan's culinary scene is much more diverse than you might expect. 
What were the best meals you ate in Japan?
I've been pretty lucky to have a great food guide through Japan, and almost every meal I've had was something special – from the weird fast food variants at McDonald's to the great street food to the omakase shimasu tasting menu, I think a better way to answer this question is by recapping my most memorable meals.
1. I had turtle soup at a 300 year-old restaurant in Kyoto called Daiichi. The house was around during samurai times, and has served the same secret turtle soup recipe for 17 generations. The restaurant has existed all this time with no advertisement and is strictly word of mouth. In order to get a reservation, you kind of have to be introduced by someone else. No walk-ins, etc etc. I guess that food snobbery has been around for a long time! There is no website, but a couple of people have blogged about the place.
2. The burgers at Hungry Heaven – in particular the Heavenly Burger. I had to smush it like an accordion to take a bite! Just take a look at the burger below to see why it's one of my most memorable.
3. Robot sushi. There is a company called genki that has sushi delivered via touch screen on moving robotic platters that zoom back and forth. The sushi is super cheap, maybe a dollar a plate (depending on what you are ordering), and although it's inexpensive, it's still head and shoulders above 90% of the sushi you can get in America. You can go pretty late and eat like a king. If I lived next to one, let's just say I'd be there every day. It's my guilty pleasure, a bit like how I take down a case of White Castle burgers every so often back home.
What surprised you most about the food scene in Japan?
I think a valid blanket statement is that their palates are "simpler". They want to taste the fish and the beef, and not have it covered by a lot of extras to make up for poor quality ingredients. 
A lot of what we think of as "Japanese" back home in the States is Americanized versions of the food. It's similar to how Chinese food has morphed from how dishes are presented in China to our standard fare of General Tso's and Kung Pao chicken. 
Our California rolls, spider rolls, etc. are American inventions. Sushi does not have the rice on the outside in Japan (some places have it but it's definitely not traditional). Again, this is most likely an American morphing. 
Japanese people like to eat well, and they are willing to wait for their food. They love lines out there. LOVE. THEM. Being from New York, I don't want to go to a restaurant if I have to wait more then 20 minutes, and our food culture reflects that. You get a pager so you can walk around while you wait for a table and can get a text alert to come back when it's ready.
For all of the technological achievements in Japan, they do implement them during waits for food. The wait and the anticipation are both parts of the food "journey". The longer the wait, the more you will appreciate the food you get. It's such a small thing, but I think it shows a general cultural difference. Patience used to be a virtue, and still is out in Japan when it comes to the enjoyment of food.
You posted a lot of burger and pancake photos during your Instagram takeover. Can you talk a bit about eating these seemingly American items in Japan?
Japan certainly has an intense love for these two American items, which I think would rightfully surprise most people.
From what I've been told, pancakes were usually seen as a sweet snack, and not a full meal. But then stuff got crazy around four years ago. They started importing so many American pancake spots to Japan – Clinton Street Bakery from NYC, Eggs 'N Things from Hawaii (which, FYI, I hear has no true affiliation with the American institution).
There are also a lot of "local" Japanese pancake spots. They serve them for breakfast, lunch and dinner out in Japan, and they do crazy things here. We're talking marshmallow pancakes, coffee cream pancakes, green tea pancakes. One of my favorite pancakes is from a coffee chain out there called Hoshino. That's like getting the best pancakes from Starbucks!
On the whole, the pancakes in Japan are much lighter and fluffier then the average pancake you'll get elsewhere. The Japanese versions tend to be a lot thicker as well. And seriously, you can get pancakes almost anywhere. Here in NYC for example, to get them you'll need to go to a breakfast/brunch spot, or an IHOP or diner. In the Shibuya area of Tokyo, sort of like the city's Times Square, you can get them at around five different places in the same department store. They have them at cafés and at places where they also serve burgers and pizza. If you love pancakes, believe me, Japan is paradise.
The other thing they love out there is the burgers. They make them delicious, and they make them crazy.
Remember how I said that their palates are simple? Well, the good burger spots start with good meat. It's always fresh, and it's seasoned in such a way that even when there are a million toppings on the sandwich, the meat flavor still comes through as the highlight.
Now, why do the Japanese love burgers so much? I don't know, but who out there doesn't love a great burger? I think that burgers are one of those universal foods that every culture has (it is, of course, a subset of the sandwich in a larger sense). Japan loves to take things and bring them to the upteenth level.
Did you eat much sushi while you were there? How was it?
Sushi is, of course, the dish that we most closely associate with Japan, especially in America. In the States, a lot of people use sushi and sashimi interchangeably to mean "raw fish". That, of course, is not correct. Sashimi is just the raw fish, and sushi is the combination of rice with some other ingredient (often fish). 
I remember the first time I went to Japan and met with one of my Japanese friends. She asked me what I wanted to eat, and of course I said sushi. She replied, "Hmmm, okay. I haven't had that in like six months." I guess it's along the lines of assuming that all Americans eat every day is hotdogs and French fries!
I've eaten a lot more sashimi then sushi. Remember that the sushi we eat back home is American variants. Ask for a spider roll out here, and they might laugh at you. 
Sashimi is often served with meals as one of the courses of a menu. As you can imagine out here in Japan, its delicious... so much so that I am at the point where I don't really eat it outside of the country. I've learned enough about how sushi and sashimi should taste and the texture of it, that I've come to realize that most places in the States just don't get it quite right.
Yes, that's definitely fresh.
Specialty dishes like fugu (blowfish) and lobster sashimi are available at a relatively reasonable price. Like I wrote before, even the cheaper places like "robot sushi" are better then some of the more expensive Japanese restaurants I've been to in NYC. I've even been to a spot in Tokyo where you can actually fish for the seafood that comes out on your plate!
I would say for the first time traveller to Japan, definitely hit up the Tokyo fish market, and get your fill of uni (sea urchin) and sashimi. But, focusing on just that cuisine would be like pointing at the moon and missing all the heavenly glory around it. Try the Katsu, the noodles, the ramen, the udon, the soba, the Kushiage (fried yumminess), the yakitori, the Kaiseki and Irori yaki (charcoal BBQ), the chicken dishes from Miyazaki, and of course, the burgers and the pancakes!
Remember people, a well-fed traveller is a happy one!
Read more about Japanese cuisine on Food Republic: