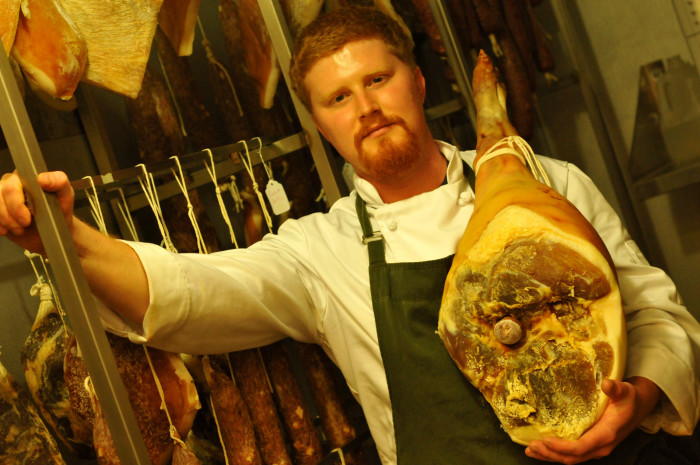 In a fancier setting, sliced meats like these — coppa, mortadella, nduja — would merit a fancier menu heading.
Amid the candle-lit smug of your average wine-centric corner bistro, this sort of stuff is commonly called "charcuterie" and it typically arrives served on a wood plank with pickles, olives and maybe, if you're truly lucky, a tiny shrimp fork to stab yourself with.
Here at Baltimore's Parts & Labor, a former tire depot turned butcher shop and beer hall with a big wood-burning hearth, the language is a little different. You find a lot of similar things: salami, country ham, corned beef tongue. On the menu, though, you'll find them listed under a quainter title: "From the Salt House."
That's because the bearded guy with the band saw behind the butcher case isn't especially fond of the usual butcher-board terminology. "To call it 'charcuterie' doesn't make a whole lot of sense to me," says P&L's executive chef and head butcher George Marsh.
Like the modernist cooks who eschew the rocket-science-sounding "molecular gastronomy" label, or bartenders whose mustaches droop when you call them a "mixologist," Marsh is as much of a stickler for wording as he is a passionate advocate of his craft. In his case, we're talking about the practice of seam butchery, a European technique that involves as little cutting as possible. "The idea is to get the most out of each muscle we can," says Marsh.
As the former chef de cuisine under Spike Gjerde, Marsh was responsible for breaking down whole animals from local farms and developing the entire smoked and cured meats program at Woodberry Kitchen. Parts & Labor, which Gjerde also runs, gives Marsh and his crew vastly more elbow room and some sharp new equipment to ramp up the meat prep for both places. Very sharp! "We went from a five-pound, hand-crank, F.Dick sausage stuffer, to this monster that will do 45 pounds," notes Marsh.
Charcuterie, as Marsh duly points out, is a French term — and, as the plain-spoken sausage maker ably demonstrates, "I'm not French." Neither are many of his meats. A preliminary menu features a diverse lineup, including Lebanon bologna and Krakowska kielbasa. You might also see a Filipino-style longganisa from time to time. Another house specialty is a brightly pickled sausage called Americana, which Marsh describes as "kind of like a hotdog" that's smoked and then bathed in spicy brine.
Just imagine trying to recast a hotdog as charcuterie in some fussy French restaurant. "I just don't feel an extreme connection to that word for what we do," Marsh says.
He makes an interesting point. As fine meats transcend their traditional stuffy, white-table-clothed environs and casually cross into the ex-auto shops of the world (see also M. Wells Steakhouse in New York), maybe it's time to move on from the classical way of classifying them, as well. Or, maybe not: "Charcuterie is an old term," says Michael Ruhlman, co-author of the 2005 cookbook Charcuterie: The Craft of Salting, Smoking, and Curing. "It's here to stay."
Labels, after all, can be tough to shake. Just ask Marsh about the whole farm-to-table descriptor, often applied to Woodberry Kitchen, for better or worse.
"We've gotten to the point where, you know, 'What does farm-to-table even mean?'" says Marsh. "I don't even like saying it, anymore, because I don't think it means anything. Anybody can say they're farm to table. We're focused on working within a local food system. That's our whole thing."
Parts & Labor 2600 N. Howard St., Baltimore, MD; 443-873-8887
More butchery and charcuterie on Food Republic: