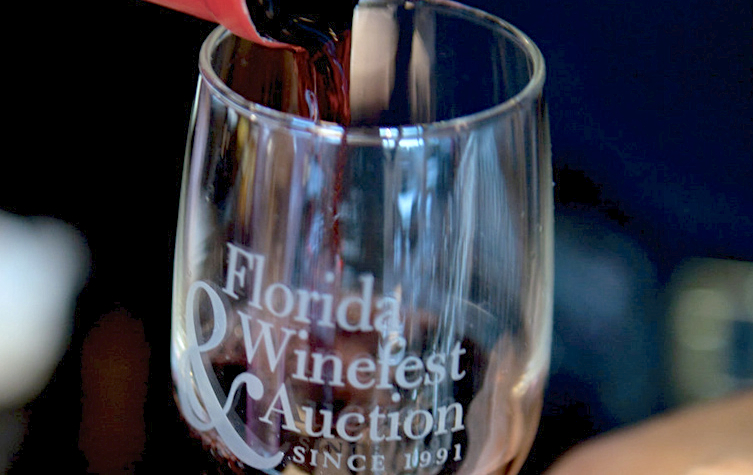 This week, The Scottsdale Culinary Festival brings red-hot culinary talent to the Southwest, complete with a "tequila deck" for all the breaks you'll be taking. For al freso wine tastings, head to Sarasota's Florida Winefest & Auction, and if you want to catch Andrew Zimmern, Carla Hall and Tyler Florence all in the same place, ship out to California for the Pebble Beach Food & Wine Festival. Speaking of the Golden State, score a ticket to the four-course Rose Garden Dinner at Coachella. This and more, going now and just around the corner.
Scottsdale Culinary Festival
Scottsdale, AZ
April 8-13
This year marks the 36th anniversary of the Scottsdale Culinary Festival, making it the longest running event of its kind in the nation. This year, the six-day festival host more than 35,000 guests, 20 events, 100 restaurants and top chefs and spirit makers including Chopped judge Maneet Chauhan and master mixologist Clint Spotleson. The Civic Mall in downtown Scottsdale will transform into a market for the festival's signature event, the Great Arizona Picnic, outfitted with sampling stands, cooking demos, live music and a "tequila deck" for when you're ready to kick back with a cocktail.
Florida Winefest & Auction
Sarasota, FL
April 10-13
Florida Suncoast culinary talent bands together to fund charities in Sarasota and Manatee Counties during the Florida Winefest & Auction. At the auction's opening Winemaker Dinner, held at Bijou Café, owner Jean-Pierre Knaggs and Executive Chef Bob Camilli will serve a multi-course dinner to pair with a selection of wines from Collier Falls Vineyard. The three-day celebration ends with Wine On The Water, where guests can bid on wines, dinners, trips and more while enjoying an al fresco wine tasting overlooking Sarasota Bay.
Pebble Beach Food & Wine
Pebble Beach, CA
April 10-13
The seventh annual Pebble Beach Food & Wine festival packs 100 chefs, 200 wines and more than 50 events into just four days. Tee up at the celebrity chef and winemaker golf tournament (with supplemental wine and beverage stations, of course) then attend cooking demos with Food Network favorites Carla Hall, Tyler Florence and Andrew Zimmern. Don't miss the Junk Food and Wine Seminar where Anthony Giglio will teach you which wine to pair with your favorite snack-in-a-crinkly-bag.
French Quarter Festival
New Orleans, LA
April 10-13
The 31st annual French Quarter Festival was created to bring the community together in the French Quarter to celebrate its iconic food and drink culture. The festival kicks off with the Opening Day Gala at Antoine's Restaurant where guests can enjoy an open bar courtesy of Abita Brewing Company and dance to jazz tunes from the New Orleans Moonshiners Trio. The festivities continue all weekend with jitterbug dance lessons, a crawfish-eating contest and more.
Coachella's Outstanding in The Field: Rose Garden Dinner
Indio, CA
April 11
There's a lot to be excited about if you're attending the first weekend of Coachella Valley Musical and Arts Festival (we just call it Coachella) but after killer performances by Arcade Fire, Outkast, Pharrell Williams, Grouplove and Beck, catch a delicious four-course meal in the Festival's beautiful Rose Garden. Have a welcome cocktail, then keep it going with beer, wine and a menu curated by chefs Casey Lane of The Tasting Kitchen, Steve Samson of Sotto and Greg A. Daniels of Salt Air.
Upcoming:
KTown Night Market
Los Angeles, CA
April 18-19
Downtown L.A.'s vibrant Koreatown neightborhood transforms into a night market with over 100 food booths serving up the city's best multi-ethnic street cuisine. The market's Food Truck Alley, curated by Seoul Sausage Company, will feature award-winning food trucks including East LA Tacos, The Lime Truck and Jogasaki Sushi Burrito (where you can get your spicy salmon roll supersized!) In between samples, be sure to check out performances from local dance crews, and jam out to sets from live bands and DJs.
Beaufort Wine & Food Weekend
Beaufort, NC
April 23-27
The 10th annual Beaufort Wine and Food Weekend pairs the best wines from around the world with dishes prepared by local, regional and visiting chefs. At "Pints & Pairings" enjoy a 4-course lunch paired with craft beers from Colorado's famed Oskar Blues Brewery, sip expertly crafted Moscow Mules at the "In Good Spirits," bar event and make sure you get a chance to wander around Vin de Mer Epicurean Village, where you can sample from a selection of more than 300 wines.
Charleston Food Film Festival
Charleston, SC
April 24-26
The Brooklyn-born Food Film Festival screens mouthwatering films involving food, and then satiates your cravings by providing some seriously delicious movie snacks. This weekend, the Festival is headed South to celebrate its second year in Charleston. The Festival kicks off with a screening of The Kings of BBQ Kuwait, which chronicles the story of world champion pit masters cooking a feast for 5,000 troops in Kuwait, followed by an all-you-can-eat smoked brisket and chicken dinner. And for the 10th installment of the Festival's Edible Adventure series, Ramen Burger creator Keizo Shimamoto will serve his signature dish after the premier of Director Mike Fox's Biting into the Ramen Burger.
Sugar Land Wine & Food Affair
Houston, TX
April 23-27
The Sugar Land Wine & Food Affair attracts more than 7,500 food-lovers each year with its jam-packed schedule of tastings, cooking demos, dinners and seminars featuring world-renowned chefs and sommeliers. This year, the festival's Judgment of Paris Kick-Off Dinner will recreate a famous tasting in 1976 in which Parisians were served California wines. At the end of this five-course meal, paired with both old and new-world wines, guests can judge which variety wins out. Also not to miss: a Herradura Tequila seminar, a bistro brunch with live Latin music, and of course the Grand Tasting.
Austin Food & Wine Festival
Austin, TX
April 25-27
Food & Wine Magazine's Austin Food & Wine Festival is out to prove, once again, that everything's bigger in Texas. This year's festival will feature over 50 chefs, plus celebrity favorites Andrew Zimmern, Richard Blais and Rick Bayless. The festival kicks off with The Taste of Texas, which serves up dishes from a lineup of 20 chefs. At the festival's Rock Your Taco, 14 chefs, including last year's champion Tyson Cole — we were there, the tacos were AWESOME — woo a panel of judges with their tortilla-clad creations. Grab bite-sized samples to judge for yourself whose taco reigns supreme. Need more reasons to go? Get the lowdown here.