10 Places To Eat And Drink Incredibly Well In Reykjavik, Iceland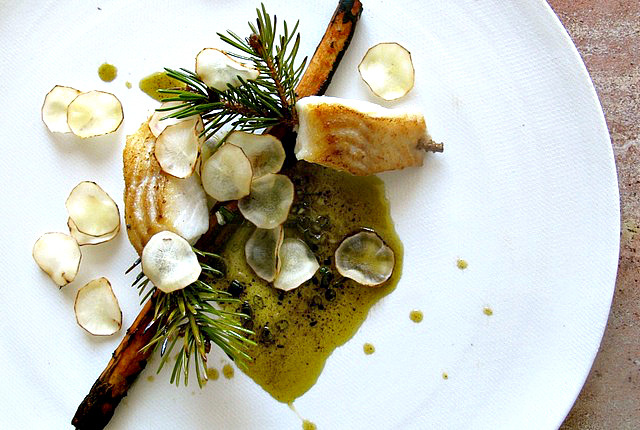 We may receive a commission on purchases made from links.
In 2009, Iceland suffered one of the biggest bankruptcies in the history of the world. As the economy fell apart around them, bank accounts shrunk, interest rates soared and Icelanders no longer had the funds to import expensive food products from the rest of the world. They were forced to look internally at their own natural resources. What they discovered were pristine ingredients raised in a virtually pollution-free environment like Arctic char, blue mussels, lamb, barley and herbs such as sorrel and angelica that were worthy of celebration. Today, Iceland's capital of Reykjavik, which hovers close to the Arctic Circle but is only a six hour flight from JFK airport, is experiencing a food renaissance as chefs proudly serve dishes hovering at New York City restaurant rates comprised of fresh, Icelandic ingredients in a contemporary, Nordic style.
Notoriously difficult items such as fermented shark and pickled lamb brain are still served at a few traditional Icelandic restaurants but rarely, if ever, do they make their way onto the menus of a new crop of establishments focused on promoting the nation's ingredients in creative and innovative ways. It's a good time to be a farmer, or chef, in Iceland and it's an even better time to be a diner. We rounded up 10 of the city's best places to experience all that Iceland has to offer from a culinary perspective and the good news is that there's barely a rotten shark in sight.
1. Kaloportid Flea Market
The best place to shop for traditional Icelandic foods from all the scary things you hear about like fermented shark and pickled lamb testicles to more appetizing items like pastries, dulse and cheese is Kolaportid, just steps from Reykjavik's harbor. The indoor food market is located next door to Iceland's biggest flea market, which is fun to peruse for hip Nordic style at a discount, offbeat Scandinavian music and all the Icelandic kitsch that space in your suitcase will allow. The food market vendors offer tastings galore and while horse sausage might not be your thing, addictive Icelandic birch cheese just might be. Tryggvagötu 19, Old Harbour, Grófin kolaportid.is/Index.aspx
2. The Roadhouse
When you need a break from traditional Icelandic ingredients like Arctic char, cod and lamb — and are ready for an unforgettable burger and fries — this is the place. The Roadhouse, just a few blocks from downtown Reykjavik, offers a dizzying array of burgers on its menu that also features beer on tap, ribs, shakes and fries. Burgers include the Cadillac, featuring pickled red onions, arugula and blue cheese, and The Doughnut — with a doughnut bun, a burger, smoked pork and an egg. Healthy? No. Fun and delicious? Absolutely. Snorrabraut 56 roadhouse.is/matsedill
3. Icelandic Fish and Chips
This is hands down the best fish and chips in Reykjavik. The family-owned restaurant serves up fresh, sustainably caught, fish fried in an airy spelt and barley batter. The selection rotates based upon the day's catch. Thick cut, dill-flecked fries, pickled vegetables, fresh salads and skyr dipping sauces in a wide variety of flavors make this a fish and chips experience to remember. Organic Icelandic brews are on tap along other beverage options such as champagne or freshly squeezed juices. The location right next to the harbor makes this busy eatery an easy stop for lunch or dinner during a tour of Reykjavik. Tryggvagata 8, 101 fishandchips.is
4. Kex
Kex means biscuit in Icelandic and this is an appropriate name for this former biscuit factory overlooking Reykjavik's harbor. The industrial hostel and gastropub's vibe feels like the Ace Hotel's Reykjavik extension. The rooms are trendy and sophisticated, with Icelandic wool blankets and kitschy art on the walls. But it's the food that keeps locals, and the visiting trendsetters who flock to Iceland each summer, coming back for more. The taps pour local beer brewed with Icelandic ingredients like angelica and arctic thyme and the menu is comprised of fresh salads, pristine seafood and Icelandic lamb burgers infused with the whimsy reflected throughout every quirky corner of Kex. There's free wifi and large, wooden communal tables inviting guests to linger for a pint and a leisurely lunch, or to catch one of the free shows from some of the best musicians in town. Skúlagata 28, 101 kexhostel.is
5. Dill
Dill is easily the best restaurant in Reykjavik. Its chef, Gunnar Karl Gislason, is a pioneer in the contemporary Nordic food movement, having introduced new Nordic cuisine to his nation. While his dishes are decidedly modern, what really makes Gislason's cuisine sing is his commitment to local producers and Icelandic traditions that are quickly being forgotten in the wake of industrialization. Service is impeccable, as is the wine and cocktail selection. It includes Gunnar's very own birch liqueur and schnapps, reflecting his philosophy that using the ingredients around you results in recipes unsurpassed anywhere else in the country. The restaurant has recently relocated to a larger, more accessible space awaiting culinary travelers seeking out the best food Iceland has to offer.  Gunnar has spent the past two years co-writing a cookbook with the author of this article, profiling the traditional food producers of Iceland through the lens of his contemporary Nordic cooking style. Entitled North: The New Nordic Cuisine of Iceland, the book will be published by Ten Speed Press in September, 2014. Hverfisgötu 12 dillrestaurant.is
6. Reykjavik Roasters
Reykjavik Roasters serves the best coffee in Iceland. There is just no contest. Its co-owners are internationally award-winning roasters who view their work as an art rather than just a job. One of its owners, an Icelandic native, was trained to roast beans at The Coffee Collective in Copenhagen — Denmark's best coffee shop. He was the only non-Danish person ever allowed to do so and his years of diligent work paid off now that he's back home, resulting in silky rich coffee that locals and in-the-know tourists return for again and again. The inviting, corner space is just a few blocks from Reykjavik's iconic church Hallgrímskirkja, making it an ideal stop during a day of sightseeing. Kárastígur 1 reykjavikroasters.is
7. Slippbarrin at the Marina Hotel
The restaurant Slippbarrin is located inside the quirky Marina Hotel right next to Reykjavik's busy shipping harbor. The fresh, sunlit space serves some of the city's best cocktails creatively designed by some of the nation's most well respected bartenders including the T-Bird, featuring angelica-infused gin. The Pippi Gonzales is made with dill aquavit. They're a perfect way to jumpstart a meal comprised of locally sourced ingredients, resulting in salted cod flatbread and blue mussel stew. Slippbarinn is worth a visit even if you're not staying in one of the Marina hotel's chicly designed rooms.  Myrargata 2, 101 Reykjavík icelandairhotels.com/en/hotels/marina
8. Salt Eldhus
If you prefer to prepare your Icelandic meal before eating it, then this is the place. Salt Eldhus is a gem of a cookery school just off the main shopping street of Laugavegur in Reykjavik. Its owner, Tilefni Audur Orn, has outfitted her inviting space with cooking utensils, furniture and design worthy of a glossy magazine spread which equates to classes that are as aesthetically appealing as they are fun and educational. She invites guest chefs in on a weekly basis to teach locals and tourists alike about both Icelandic cooking traditions as well as the cuisines of other nations. No matter what the subject, one thing that makes each class special is that students break in the middle of it for a comforting dinner of home-baked bread and homemade soup at the school's large farmhouse table in order to fortify them in the final few hours. Laugavegur 1 salteldhus.is/en
9. 3 Frakkar
Chefs in Reykjavik rarely serve the traditional Icelandic ingredient that has earned the cuisine of this nation its notorious reputation: fermented shark. But if you'd like to give it a try, 3 Frakkar is the place. The perpetually busy restaurant, located a few blocks from the city's main commercial center, serves Icelandic classics like horse, whale, puffin, seal and shark with a nostalgic pride, reflecting a time not so long ago when Icelanders ate for survival, not fashion. Baldursgata, 14, 101 3frakkar.com/
10. Hradlestin
If you're looking for a little Bollywood in Reykjavik (and let's face it, who isn't?), this is the place. The restaurant just off of the city's main shopping street and a few blocks from its famed Harpa opera house features a festive, Indian cinema–themed décor. Dishes are served in metal tiffin boxes, as an homage to Mumbai's dabawallas, the men who deliver millions of lunches each day throughout the city. Hradlestin does a stellar job of blending Icelandic ingredients into Indian classics, like smoked lamb samosas and cod curry. When accompanied with one of their spicy cocktails served in a tin cup, you'll taste Bollywood cuisine at its best. Laekjargata 8 en.hradlestin.is
More city guides on Food Republic: