The Nitro Beer Can Is Here, And Will Change The World Of Craft Brewing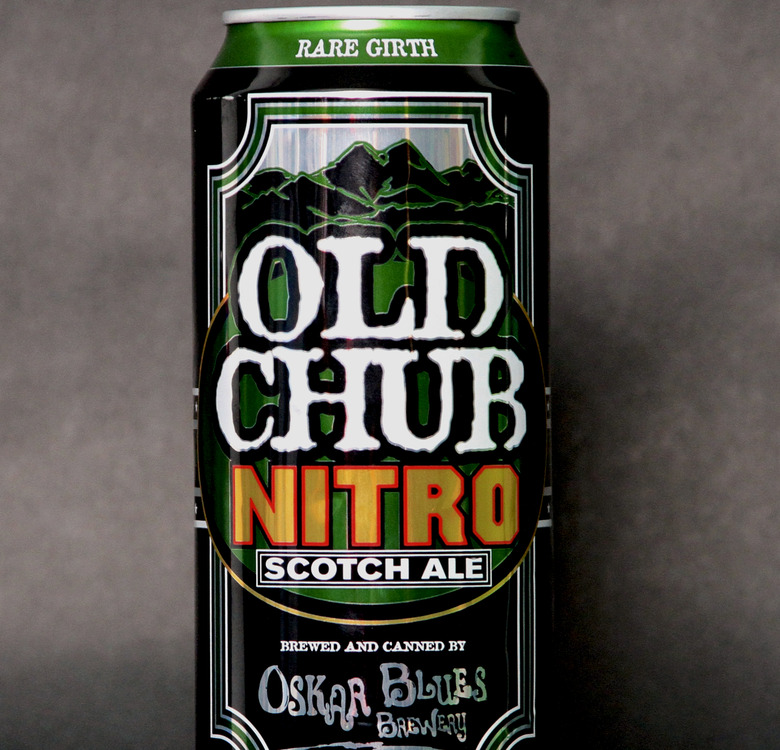 If you've ever enjoyed a Guinness or Left Hand Brewery's Milk Stout, two of the more well-known nitro stouts on draft or bottle, here's some really exciting news: nitro craft beer is finally coming to cans. Allow us to welcome Oskar Blues Brewery Old Chub Scotch Ale to the party!
A pioneer in the craft can world — they became the first U.S. craft brewery to can their own beers in 2002 — Oskar Blues will release Old Chub in honor of the 2014 Craft Brewers Conference in Denver, marking the first craft nitro can in history. Oskar Blues partnered with Ball Corporation (you've seen their iconic glass jars) to design the new 16-ounce can, which contains a nitrogen-filled widget that activates when the can is opened.
Nitro (short for "nitrogenated") is a process that mixes nitrogen and oxygen to pressurize beer for dispensing, which creates a creamy body with a thick, cascading head. Nitro smoothes bitterness considerably, although there are some great examples of hoppy beers on nitro — Victory's Hop Devil comes to mind. The smoothness of nitro lends itself to malt-forward beers, which means you'll typically see nitro taps dedicated to stouts and porters. Oskar Blues' fellow Longmont, CO brewers and craft nitro leaders, Left Hand Brewing Company, recently came out with their Sawtooth Extra Special Bitter, setting the stage for a wider array of nitro styles.
Scotch ale is a strong, sweet, full-bodied ale which originated in Scotland but has now been adopted as a popular style amongst American brewers, especially those with a knack for boozier brews. Old Chub, one of the best-known examples, is already available in cans and is one of our favorite beers to drink during grilling season because of its smoky malt flavor (think peaty Scotch) and remarkable smoothness for its 8% ABV. One of my favorite beer bars recently did a side-by-side tap comparison between the nitro and original versions and I can confirm the difference is definitely noticeable: on nitro, the smokiness is accentuated and it's overall creamier and sweeter.
Nitro cans won't be going mainstream anytime soon, but look for distribution immediately in the Denver area and (hopefully) across the country after that. Now, what did we learn? Adding nitro to really great beers makes them kick even more ass.
More beer news on Food Republic: