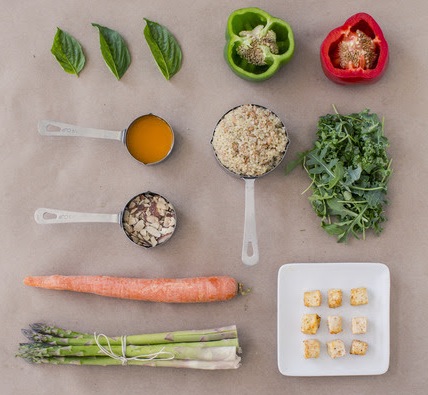 Cookbook author and New York Times columnist Mark Bittman certainly needs no introduction to health nuts. He's the man behind the VB6 diet, which dictates that individuals eat only vegan food before 6 p.m. each day to lose weight and restore health. And now, thanks to Sweetgreen, he's the mind behind the chain's latest creation of the month: the April VB6 Salad.
Related: Salad Is Healthy, Fun, Tastes Really Good. And Sweetgreen Is Just Getting Started.
Available at all 24 Sweetgreen locations in the United States, the seasonal salad is composed of cooled quinoa and faro with organic arugula, shredded kale, organic roasted tofu, roasted asparagus, green and red peppers, shredded carrots, fresh basil, toasted almonds and topped with house-made carrot-chili vinaigrette. A similar recipe will be included in Bittman's upcoming VB6 Cookbook, to be released on May 6. Fear not, West Coasters. The company recently announced that the organic, farm-to-table salad shop will open in Los Angeles – its first location outside the Northeast – in early 2015.
Read more about Sweetgreen on Food Republic: