The San Gabriel Valley, a sprawling area east of downtown Los Angeles that encompasses almost 300 square miles, houses the best regional Chinese cuisine in the U.S., plus impressive representatives from countries like Vietnam, Japan and Indonesia. Navigating the vast expanse can be a challenge. We started in the west and conclude our tour in the eastern SGV, which extends from San Dimas and Diamond Bar west to the 605 Freeway. Here are 13 of the east's best dishes.
Bizarra Capital Taco de Chorizo
Ricardo Diaz is hardly Christopher Columbus, but the adventurous chef did chart fairly new ground in burgeoning Uptown Whittier with Bizarra Capital, a red brick building with wood booths, full bar and faux roses. Diaz, who co-founded Guisados, is no stranger to good tacos, and his Taco de Chorizo is especially satisfying, with house-made pork chorizo, crumbled queso fresco, creamy avocado and smoky morita salsa on a thick, house-made corn tortilla that could potentially double as a delicious life raft for a small animal. 12706 Philadelphia Street, Whittier, 562-945-2426
Class 302 Mango Strawberry Shaved Snow
School's in session in a Rowland Heights strip mall, where area teenagers flock for Taiwan-style shaved snow. Class 302 was one of the first snowy imports to hit the SGV, specializing in shaved ribbons of flavored ice, which staffers bomb with fresh fruit, condensed milk, pudding and more. Stick with snow flavored with mango or condensed milk, topped with strawberries, ripe cubes of mango, chewy mochi and condensed milk. 1015 South Nogales Street, Rowland Heights, 626-965-5809
The Donut Man Strawberry Donut
East LA native Jim Nakano and wife Miyako have been selling prized donuts along Route 66 since 1972, when they took over an Orange Julius. Nakano has mastered all manner of donuts in over four decades of business, including crullers, two-toned tiger tails and crusty old fashioneds, but it's his fruit-filled behemoths that made The Donut Man a destination. In season, they slice open an airy, hole-free, lightly glazed donut and cram more than eight ounces of fresh strawberries into the mouth. In summer, they switch to peach. 915 East Route 66, Glendora, 626-335-9111, thedonutmanca.com
Four Sea Fried Radish Cake
Order at the counter at this Taiwanese restaurant, named for the four seas that supposedly framed ancient China, signifying the North, East, South and West. Red, blue and yellow boards list dozens of high-value options in Chinese, including a wide array of savory pastries and rice dishes, plus these stellar fried radish cakes. Crispy rectangles arrive golden brown, in a row of four, topped with pungent minced garlic and scallions. 2020 South Hacienda Boulevard, Hacienda Heights, 626-330-3088, foursearestaurant.com
Colonia Taco Lounge Pork & Pumpkin Taco
Diaz struck taco gold again in 2013 with this low-key lounge near the 605 freeway. Goat is the animal that graces the sign, but so far, pig provides the best result on the chef's sturdy corn tortillas. Diaz teams tender chunks of pork shoulder with a smoky salsa crafted from ancho chiles, Kabocha squash, cumin, coriander, onions, chiles and manteca, lard made from earth's most magical animal. Crunchy pumpkin seeds complete the savory picture. 13030 East Valley Boulevard, La Puente, 626-363-4691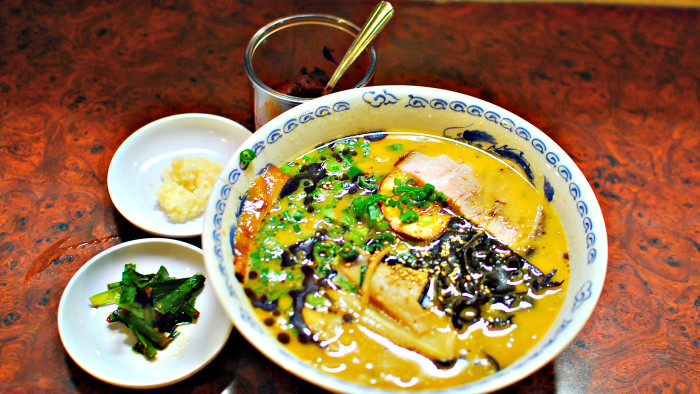 Fujin Ramen Miso Ramen
Believe it or not, but good ramen's available beyond Sawtelle and the South Bay, and Fujin serves the San Gabriel Valley's best bowl. Miso Ramen coaxes savory layers from pork head and knuckle bones, chicken feet, and "ocean product" like clams. Two different miso pastes luxuriate in the rich broth for a full day, helping to create a welcoming environment for tender slabs of pork belly, firm egg noodles, floppy wood ear mushrooms, bamboo shoots, crunchy bean sprouts and scallions. To augment the already flavorful ramen, spoon on spicy chopped garlic, kara-miso paste and pungent nira kimchi (fermented flat chives). 1017 South Glendora Avenue, West Covina, 626-814-2020, fujinramen.us
The Ice Bar Korean Pear Blueberry Popsicle
Eugene Mar was planning to open a fire-and-ice concept in Las Vegas, with Taiwanese-style hot pots and ice pops, but couldn't find the right location. Vegas' loss is the San Gabriel Valley's gain. He took over a frozen yogurt shop that touts a Tetris-like wall with grey, white and aqua panels, and installed the city's most ambitious popsicles. The Ice Bar serves plain pops, but go for House combinations, including "tangy & sour" Strawberry Lemonade and "sweet & creamy" Nutella Bananas & Cream. We suggest "light & refreshing" Korean Pear Blueberry, a two-toned ice fruit bar with Calpico and blueberry gels, fresh frozen blueberries and tweezer-placed herbs: lemon thyme and Thai basil. 550 South Glendora Avenue, West Covina, 626-338-8770, the-ice-bar.com
Java Spice Cah Kangkung
The Nanda family opened this Indonesian restaurant in a Rowland Heights strip mall in 2006. One of their best dishes Cah Kangkung. By all means order the crunchy, hollow-stemmed ong choy "sizzling." Steamy greens come on an incendiary cast iron platter with soft-boiled quail eggs, fresh shrimp and garlic-pepper sauce that caramelizes on the metal, helping to form an intense, saucy pool in a matter of minutes. 1743 Fullerton Road, Rowland Heights, 626-810-1366, javaspice.us
Monja Red Grain Pork Rice
Paul Wang and wife Enya honor Taiwan in a City of Industry mega mall. Pork is a healthy part of their homeland's diet and features prominently on the menu at Monja, a restaurant that resembles a night market, complete with overhead lanterns and a huge photo of a vivid red temple. Red grain pork rice includes a dome of steamed white rice, tangy pickled choy stalks and pork two ways: stewed and roasted with red rims. 18558 East Gale Avenue, City of Industry, 626-839-3355, monjaca.com
No. 1 Noodle House Dan Dan Noodles
In the same strip mall as Java Space, you'll find a façade that resembles a Hollywood back-lot, complete with candy colored architecture. The ground floor houses a row of restaurants, including No. 1 Noodle House, a stall devoted to notoriously spicy Sichuan cuisine. Of course they have dan dan noodles, probably the region's most famous noodle dish. Firm flour noodles host stir-fried ground pork, pickled vegetables, scallions, molten peanut sauce, a sizeable mound of chile flakes and a tongue-numbing pool of chile oil. Mix the ingredients to achieve a balance of spice and textures. 18180 Colima Road, Rowland Heights, 626-839-7093
Remy's Noodle Palace Special Pork Pot Sticker
Taipei native Remy Liu delivers a different take on Taiwanese food down the street from Monja. Her restaurant touts green and orange walls, and a substantial checklist menu that includes Special Pork Pot Sticker. These scallion-flecked pork dumplings are a revelation, sporting thin, griddled wrappers that are open at both ends. Be careful when dipping the lengthy, juicy dumplings in soy sauce. Tart pickles help tame their rich flavor. 18211 East Gale Avenue, City of Industry, 626-965-2887
Rika's Empanadas
Glendora isn't just a destination for donuts thanks to the Rico family. These Argentina natives have delivered L.A.'s best empanadas to a strip mall at the base of the mighty San Gabriel Mountains. A mustard colored, art-lined wall and wine-red wall lined with gaucho implements like belts and knives frame empanada fiends, who flock to Rika's for supple dough molded in basket, triangle, half-moon or square shapes. Fillings include an array of meats and vegetables. Particularly intriguing is Bacon & Prune, a plump packet containing sweet prunes and smoky cured pig meat. 150 South Grand Avenue, Glendora, 626-914-3472, rikasempanadas.com
Sate House Nasi Goreng
Walnut is another mysterious town on the outer ring of the San Gabriel Valley, and they're home to some of L.A. County's best Indonesian restaurants. Yes, this spot from Cheong Hi Cheung and wife Lie Ing Kwee, who grew up in Surabaya, serves terrific namesake skewers of pork, chicken, beef and lamb. Still, it's their nasi goreng that should act as the restaurant's bat signal for food lovers. This fierce fried rice features chicken, pork and shrimp, pungent shrimp paste that coats the rice, a fried egg and tart pickled vegetables on the side. 812 Nogales Street, Walnut, 626-581-7726
Joshua Lurie is the L.A. based founder of Food GPS.
Read about what is going on in Los Angeles on Food Republic: