What's In Season In Early April: Fresh Ricotta, Artichokes, Asparagus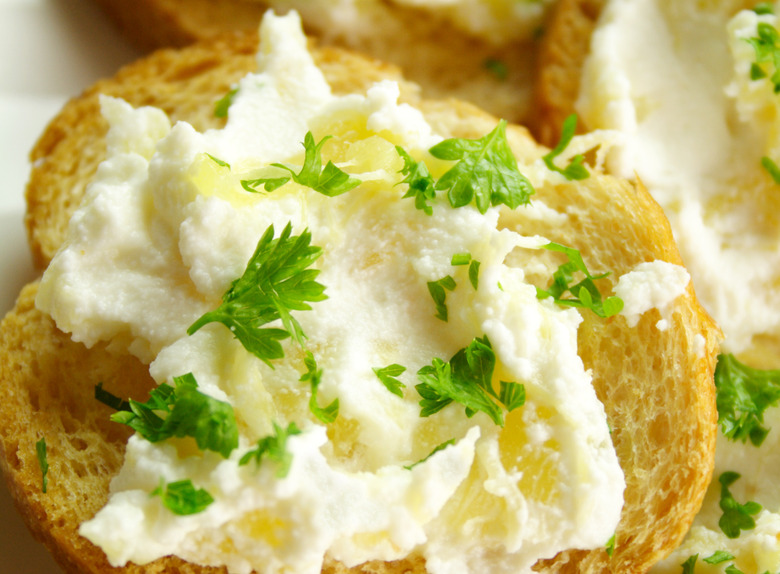 After one of the coldest, wettest and most extreme winters across the country, it's no surprise we are getting giddy for spring. As the weather slowly starts to warm up, the season of new life has begun to show its face, and what better place to witness this change than at the farmers market, or in chef Alex Seidel's case, his actual farm in Colorado. "Right now you may see hearty greens, parsnips that are over-wintered, spring parsnips and the spinach that grows throughout the winter, which is amazingly sweet, much like candy," says Seidel, the owner of Fruition, a popular restaurant in Denver. "Right now we are starting to germinate several varieties of heirloom tomatoes, planting summer squash, putting potatoes in the ground and growing eggplant." When we talked to Seidel, he had just worked on a batch of fresh ricotta, another spring staple that you will start to see. Green is the theme this month, so be on the lookout for the first artichokes, tangy chives and sweet asparagus.
Artichoke
This tasty thistle comes in two colors, green and purple, and the fresher it is, the brighter these hues appear. Hailing from the aster family, most people think only of eating the heart of this flower, that tender center part that goes so well tossed with spring peas, parmesan, fresh pasta and olive oil. However, when buying an artichoke in the farmers market you look for the smaller, whole buds that prove heavier, with the leaves snuggled tightly to the body. You can even get a healthy squeak out of the plant if you rub the leaves together — another indication that it's a good specimen. Next, take it home, store unwashed in the fridge for up to four days. From there you can peel them to get to the heart, or simply steam the whole thing and suck the flesh off each petal, either plain or dipped into a bit of lemon-tinged mayonnaise.
Ricotta
One of the finer things in life can be found in a simple plate of fresh ricotta with a sprinkling of Moldova sea salt and a drizzle of fine, light olive oil. While you can buy this cheese in a grocery store year-round, fresh ricotta brings a whole new level to the cheese world, and spring is when many cheesemongers and dairy farmers make it. "For us, it's a matter of how we practice our animal husbandry," says Seidel. "We birth on natural cycles, in the spring, so all the fresh ricotta is made with the fresh milk." Many farmers let their goats, sheep and cows graze for the summer, so you won't see much fresh cheese after May, making this moment a great time to get acquainted with your local ricotta provider. This light, airy cheese is great smeared on a piece of fresh bread, tossed into a pasta dish, on your cheeseboard with a bit of honey, or baked into a cheesecake like the one Seidel shared with us (see the recipe below).
Chives
You probably don't think about chives, but really, you can find this slightly oniony herb in all sorts of dishes, and right now, fresh in the farmers market. Look for crisp strands of this grass-green plant, and avoid any that have discoloration or shriveling at the tips. Like hearty greens and other herbs, leave them unwashed until you are ready to use, and store them in a plastic bag, avoiding the cooler areas of the fridge. As for in the kitchen, you can dice up some chives and add them to soups, top salads, mix with cream cheese and smear on a bagel, whip into biscuits, or pretty much anything that could benefit from a little allium kick.
Asparagus
Fruition Farms Ricotta Cheesecake Recipe
Servings: 2 cups
Ingredients
2 pounds rhubarb, medium diced
1/2 cup sugar
1 tablespoon butter
pinch of salt
1/4 cup red wine
1/8 cup red wine vinegar
1 tablespoon lemon juice
1 tablespoon cornstarch
In a pot, sweat butter and diced rhubarb.
Add sugar, salt, red wine, vinegar and cook until rhubarb is just starting to break down.
In a small mixing bowl, whisk together lemon juice and cornstarch. Add to rhubarb pot to thicken.
Cook until rhubarb is cooked through, then chill.
Pistachio Granola

Servings: 2 cups
Ingredients
1 1/4 cup oats
1/2 cup pistachios, roughly chopped
1/4 teaspoon cinnamon
1/4 cup and 2 teaspoons brown sugar
1/4 cup honey
1/4 cup canola oil
salt to taste
1. In small pot, heat 1/4 cup brown sugar, honey, and canola oil to make a syrup.
2. In a bowl mix oats, cinnamon, remaining brown sugar, and salt.
3. Pour melted syrup over oats and stir.
4. Bake at 325F for 45 minutes or somewhat golden, then add the pistachios and continue cooking for about 20 to 30 minutes, or until pistachios and oats are nicely toasted and the color is not too dark.
This post is brought to you by our friends at Pure Leaf
Read more Market Watch columns on Food Republic: