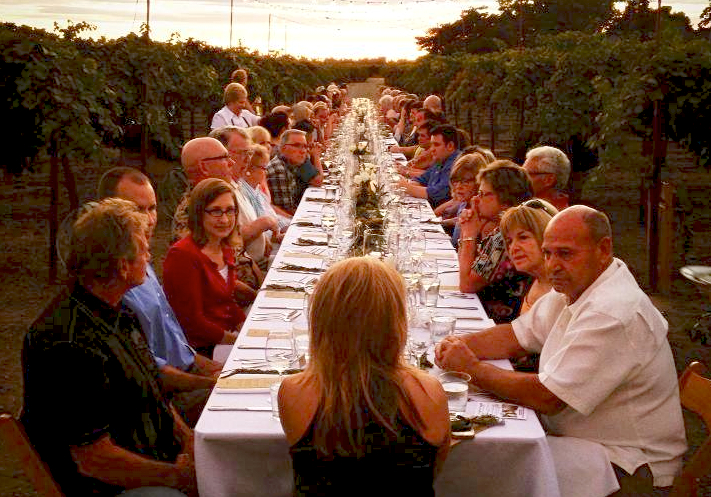 This week in food festivals: San Diego takes on the California wine world at Vin Diego Wine & Food Festival. Brooklyn weekend outdoors food crawl Smorgasburg comes out of hibernation if it's been too long since your last awesome schnitzel sandwich. If the weather's not warming up fast enough for you, grab tickets to the Iron Chef Competition at the Houston Press Menu of Menus Extravaganza or jet over to Saborea Puerto Rico's Culinary Extravaganza. It's prime time for great food events.
Vin Diego Wine & Food Festival
San Diego, CA
April 4-5
The 2nd annual Vin Diego will showcase over 200 wines from across the West Coast. Grab a glass and sample wines from favorites like Ahnfeld and Sokol Blosser. Every wine festival is better when paired with good food and music, so enjoy gourmet meals from some of San Diego favorites Mimi's Café and Royal India to a steady stream of live music.
Saborea Puerto Rico: A Culinary Extravaganza
Balneario El Escambrón, Puerto Rico
April 4-6
What's one thing that could improve on a beach day in San Juan. Saborea Puerto Rico: A Culinary Extravaganza. The festival is hosts 60 chefs from around the world for cooking demos, tastings, seminars and sit-down events. At the Bubbles & Bites kick-off party, local chefs boast their favorite champagne-pairing hors d'oeuvres. Secure a seat at "A Privileged Taste of Saborea," where 20 of Puerto Rico's most distinguished chefs, including Ariel Rodríguez of Augusto's Cuisine and José Carles of Royal Isabela, will prepare menus for 10-person tables.
Smorgasburg
Brooklyn, NY
April 5
New York's favorite waterfront weekend food festival comes back to Brooklyn this weekend! You may remember Smorgasburg as the place where you had your first ramen burger, but with 100+ vendors to sample from, there's always something new to try — sticky rice snacks from Bamboo Bites, schnitzel sandwiches from Schnitz and barbecue from Mighty Quinn's, to name a few. Make sure to get the venue straight: the festival is held in Williamsburg on Saturdays and Brooklyn Bridge Park on Sundays. And if you're rusty on sampling etiquette, make sure to brush up before you go.
Houston Press Menu of Menus Extravaganza
Houston, TX
April 8
Houston Press hosts one of Houston's biggest food events featuring more than 40 local restaurants and beer, wine and spirit stations. Sample food from Houston favorites Danton's Gulf Coast Seafood Kitchen, Fluff Bake Bar and many more. And at this year's 3rd annual Iron Fork Competition, returning champion Kevin Naderi of Roost pits his talents against challenger Kevin Byrant of Eleven XI Restaurant to create a series of dishes from a basket of secret ingredients.
Upcoming:
Scottsdale Culinary Festival
Scottsdale, AZ
April 8-13
This year marks the 36th anniversary of the Scottsdale Culinary Festival, making it the longest running event of its kind in the nation. This year, the six-day festival host more than 35,000 guests, 20 events, 100 restaurants and top chefs and spirit makers including Chopped judge Maneet Chauhan and master mixologist Clint Spotleson. The Civic Mall in downtown Scottsdale will transform into a market for the festival's signature event, the Great Arizona Picnic, outfitted with sampling stands, cooking demos, live music, and a "tequila deck" for when you're ready to kick back with a cocktail.
Florida Winefest & Auction
Sarasota, FL
April 10-13
Florida Suncoast culinary talent bands together to fund charities in Sarasota and Manatee Counties during the Florida Winefest & Auction. At the auction's opening Winemaker Dinner, held at Bijou Café, owner Jean-Pierre Knaggs and Executive Chef Bob Camilli will serve a multi-course dinner to pair with a selection of wines from Collier Falls Vineyard. The three-day celebration ends with Wine On The Water, where guests can bid on wines, dinners, trips and more while enjoying an al fresco wine tasting overlooking Sarasota Bay.
Pebble Beach Food & Wine
Pebble Beach, CA
April 10-13
The seventh annual Pebble Beach Food & Wine festival packs 100 chefs, 200 wines and more than 50 events into just four days. Tee up at the celebrity chef and winemaker golf tournament (with supplemental wine and beverage stations, of course) then attend cooking demos with Food Network favorites Carla Hall, Tyler Florence and Andrew Zimmern. Don't miss the Junk Food and Wine Seminar, Anthony Giglio will teach you which wine to pair with your favorite snack-in-a-crinkly-bag.
French Quarter Festival
New Orleans, LA
April 10-13
The 31st annual French Quarter Festival was created to bring the community together in the French Quarter to celebrate its iconic food and drink culture. The festival kicks off with the Opening Day Gala at Antoine's Restaurant where guests can enjoy an open bar courtesy of Abita Brewing Company and dance to jazz tunes from the New Orleans Moonshiners Trio. The festivities continue all weekend with jitterbug dance lessons, a crawfish eating contest and more.
Coachella's Outstanding in The Field: Rose Garden Dinner
Indio, CA
April 11
There's a lot to be excited about if you're attending weekend 1 of Coachella Valley Musical and Arts Festival, but between killer performance by Arcade Fire, Outkast, Pharrell Williams, Grouplove and Beck, you can also look forward to a delicious four-course meal in the Festival's beautiful Rose Garden. Guests will enjoy a welcome cocktail with unlimited beer and wine and a menu curated by Chefs Casey Lane of The Tasting Kitchen, Steve Samson of Sotto and Greg A. Daniels of Salt Air.